Sabrent Rocket V60 UHS-II SD Up to 512GB Memory Cards Rated at 270MB/s
Up to 60MB/s sustained writes and 1,500/500 RW IO/s
This is a Press Release edited by StorageNewsletter.com on September 22, 2022 at 2:01 pm
Sabrent releases Rocket V60 UHS-II SD memory cards, rated at 270MB/s.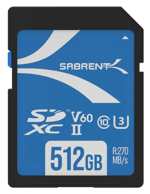 Always capture the right shot with Rocket V60 SD UHS-II memory cards – with the performance to make sure it's recorded and the capacity to let you explore every angle. Don't hold back your creativity; the company's memory cards meet major standards and work with a variety of cameras and other devices. New technology ensures your storage is reliable when you need it, backed by warranty and including a manual write-protect switch for peace of mind
The firm makes a variety of products and is famous for its envelope-pushing solid state storage. Its memory cards are another favorite companion for user to enjoy, fitting easily into your active lifestyle. opt for reliability and a name user know to make for an easy decision and one less thing to worry about. The Rocket V60 SD UHS-II are fast and consistent so you can get to shooting and transferring without hesitation.
Film away in HD: Rocket V60 SD UHS-II Memory Cards are for 8K, 4K, and 1,080p video, plus everything in between. These cards maintain above 60MB/s sustained writes to ensure lag-free recording. Also for picture-taking and other types of real-time, fast-paced capture.

Store even more: Up to 512GB of capacity, if user need it. Have fewer cards to carry around, or just devote a card to a single project. A variety of capacity options helps user choose the right amount of storage for needs.

Performance: These cards meet the V60 standard, exceeding UHS Speed Class 3 (U3) requirements. They also meet A1 Application Performance Class specifications for guaranteed 1,500/500 RW IO/s. Flexible performance for content creation.

Hardware:  Rocket V60 SD UHS-II memory cards are using a controller combined with 112-layer TLC. This ensures reliable performance of up to 270/170MB/s or more for sequential RW.


Investment: Registration secures 2 years of warranty support. The memory cards also have a mechanical write-protect switch that ensures you never accidentally erase or overwrite user content. Inside, protective flash technologies help prolong product lifespan.
Resources :
Rocket V60 128GB SD UHS-II memory card
Rocket V60 256GB SD UHS-II memory card
Rocket V60 512GB SD UHS-II memory card
Read also :