With Speedb, XM Cyber Overcomes Metadata Bottlenecks With "Up to 10x" Greater Performance
Apache Flink stream processing engine simply flies with Speedb drop-in replacement for RocksDB; enables better scale, more features for customers.
This is a Press Release edited by StorageNewsletter.com on July 25, 2022 at 2:00 pm
Israeli company Speedb Ltd., maker of a next-gen data engine that helps organizations evolve their hyper-scale data operations, announced that its customer XM Cyber improved metadata memory performance up to 10x by implementing Speedb's drop-in replacement for the RocksDB key value storage engine.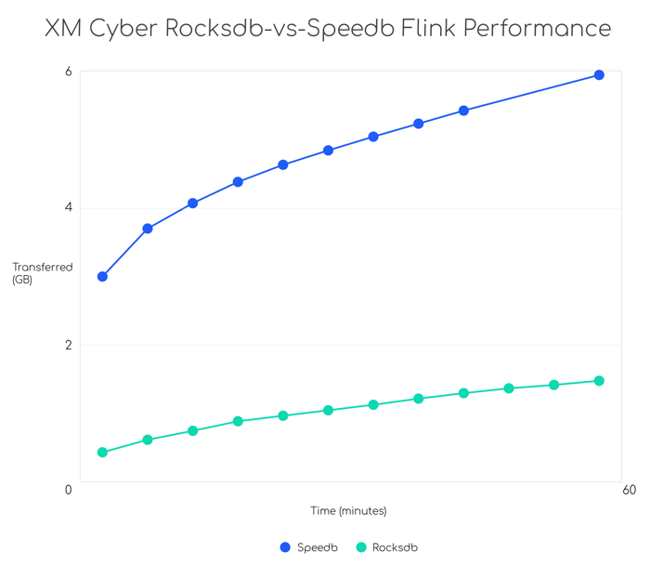 With efficient metadata processing becoming critical to service levels, XM Cyber's platform used Speedb to overcome memory bottlenecks and free developers from sharding, tuning and other operational tasks so they can spend time creating new features.
"I've rarely seen such a fast, elegant and simple solution to a deep-tech challenge as we experienced with Speedb," said Yaron Shani, senior researcher and technology lead, XM Cyber, a hybrid cloud security company. "Speedb's impact was instantaneous, after simply replacing a few lines in the Docker files. Its dramatic improvement in memory utilization and performance allows us to give our customers better products and service than ever before. During the process of working together we even discovered unique problems we were unaware of. Speedb is now deployed in our main build that goes to all customers, large and small."
XM Cyber, a Schwarz Group company, provides an Attack Path Management platform that lets customers continuously see their on-premises and cloud networks through the eyes of an attacker, and spot attacks before they happen. The platform's simulations of attack paths rely on processing large scale data streams of metadata in Apache Flink, which in turn uses RocksDB, a key value storage engine, to handle data operations.
Yet as XM Cyber's data and metadata grew, RocksDB began to stutter, causing memory bottlenecks and performance degradation. Developer workarounds like splitting jobs, building a hashmap or performing extensive sharding were driving mounting costs, inefficient resource allocation and memory usage, and diverting precious engineering resources from more business-growing work. Existing solutions such as costly in-memory options also required a highly accurate capacity planning, with the risk of error being potentially catastrophic.
Speedb pioneered an approach that eliminates the need for sharding by allowing customers to grow unlimited on a single instance while maintaining low memory consumption. Proven to minimize CPU and memory usage to handle more data and achieve scalability while reducing storage and networking costs, the company helped XM Cyber to take data operations to the next level.
"By using Speedb, we can now deliver powerful attack simulation techniques that were not possible due to RocksDB memory bottlenecks. We have achieved between 8.7 and 10.2x greater performance, giving a new option for our customers to scale seamlessly. Moreover, we're spending less human resources addressing RocksDB issues – time that allows us to focus on providing better products and services than ever before," Shani said.
During its Speedb deployment, XM Cyber also discovered hidden opportunities for improvement, such as improving read performance when large volumes of deletions exist. Backed by a scalable, highly performant data engine, the XM Cyber engineering team has been able to move forward with other breakthrough new technologies, knowing its architecture can better scale.
"Modern data-driven organizations need an infrastructure as forward-thinking as they are, without being forced to improve performance at the expense of scalability or vice versa," said Adi Gelvan, CEO and co-founder, Speedb. "We're proud to have helped XM Cyber to solve its data and metadata memory bottlenecks and discover a new source of competitive advantage."
Resources:
XM Cyber-Speedb case study    
Unlocking The Business Benefits of Speedb Data Engine
Read also :