InnoGrit Sampling Tacoma IG5669 PCIe 5.0 x4/NVMe 2.0 SSD Controller
Capacity size up to 32TB, up to 14 and 11GB/s RW speeds, and 3,000,000 and 2,500,000 IO/s random RW
This is a Press Release edited by StorageNewsletter.com on June 15, 2022 at 2:02 pm
InnoGrit Corp. announced PCIe 5.0 x4/NVMe 2.0 SSD controller Tacoma IG5669, which is sampling.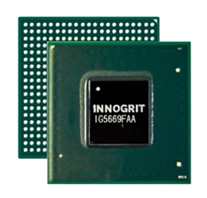 IT strives to unleash the potential limited by traditional data processing architectures and enable a new class of products for consumer, data center, and enterprise applications. The Tacoma architecture supports SLC/MLC/TLC/QLC NAND, MRAM, XL-flash and other Storage Class Memory (SCM) and provides a storage solution for high-end computers and data center applications to meet the demand for faster and larger data storage and computation in the current market.
Tacoma IG5669, continuing the firm's design expertise in developing PCIe SSD controllers, is a Gen5 x4, NVMe 2.0 SSD controller with 16/18 NAND channels. It supports the technology protocols such as DDR5 and ONFI 5.0 with capacity size up to 32TB. At the same time, it adopts a parallel command processing method exploiting 10 CPU cores to fully utilize the bandwidth advantages of PCIe Gen5 and DDR5.
Compared with Rainier IG5636 – the company's PCIe Gen4 x4 SSD controller, Tacoma IG5669 is designed to double Rainier's IG5636 performance. Tacoma's sequential RW speeds can reach up to 14GB/s and 11GB/s. It incorporates high level security with multiple data encryption and protection schemes. Leveraging the firm's proprietary ECC technology with 4K LDPC, data endurance and retention are enhanced to deliver reliability and high performance for SSD solutions.
In addition, Tacoma IG5669 supports multiple features, including Smart Cache, multi-level power management, multi-Namespaces, SR-IOV, thermal throttling protection, various peripheral interfaces such as I3C. It also optimizes HW-assisted ZNS (Zoned Namespace) technology to achieve data isolation and provide higher throughput, lower latency, and more flexible customization.
Dr. Zining Wu, co-founder and CEO, noted that the company has relentlessly pursued continuous innovation in SSD controllers by taking advantage of the latest available IP and silicon technologies over the past 5 years. He further noted that the firm's team will continue R&D SSD controllers, working in partnership with its customers to meet the market expectations of next gen SSDs.
Reference designs based on Tacoma IG5669:
Interface : PCIe 5×4

Form factor : E1.S / E1.L / AIC / E3.S / U.2

Capacity : Up to 32TB

NVMe : NVMe 2.0

NAND : Speed up to 2,667MT/s; compliance with Toggle 5.0 and ONFI 5.0

Nand channels : 16/18 channels

Sequential read : Up to 14GB/s

Sequential write : Up to 11GB/s

Random read : 3,000,000 IO/s

Random write : 2,500,000 IO/s

QoS : Up to 99.9999%

Applications : High-end computers, data centers, enterprise
Features :
| | |
| --- | --- |
| Ultra-low Latency | ECC protection for SRAM/DDR |
| InnoGrit's proprietary ECC technology with 4K LDPC | AES, RSA, SHA3-256/384/512, SM2/3/4 |
| Multiple namespaces | DDR4/LPDDR4/DDR5 |
| NAND Interface up to 2667MT/s; Compliance with Toggle 5.0 and ONFI 5.0 | Atomic write and in-storage computation with a deep learning accelerator |
| SR-IOV | Zoned Namespace |
Read also :