Innogrit Sampling RainierQX SSD DRAM-Less Controller With Support of NVMe 1.4 Protocol
Up to 7GB/s and 6GB/s sequential RW speeds, PCIe Gen4 solution with 4 PCIe lanes, supporting 4 NAND channels with each channel up to 8 CEs
This is a Press Release edited by StorageNewsletter.com on September 14, 2021 at 1:31 pm
Innogrit Corporation announced the addition to its Rainier Family of SSD controllers, the RainierQX, which is sampling.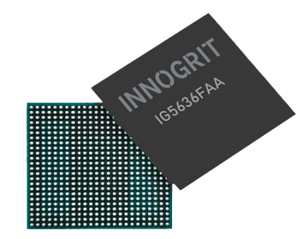 RainierQX is a PCIe Gen4 solution with 4 PCIe lanes, supporting 4 NAND channels with each channel up to 8 CEs. A solution for the PC OEM market, it is a DRAM-less controller in 12nm FinFET design offering low power consumption and lower BOM cost for an SSD.
Dr. Zining Wu, CEO and president, stated:"The PC OEM and channel markets are facing tremendous cost pressure due to increased cost of DRAM, making RainierQX an excellent solution as a DRAM-less controller with the same peak performance as those with DRAM, benefiting from industry's fastest 2400MT/s NAND channel interface and proprietary data path accelerators. RainierQX solution clearly outperforms other solutions in its class."
RainierQX stands out as:
Edge technology enabling independent plane access and achieving the fastest possible read access time boosting 4K random read performance over 1 million IO/s with limited die count

Sequential read performance over 7GB/s and sequential write performance over 6GB/s

Proprietary ECC solution featuring advanced 4K LDPC technology which provides error correction capability for latest TLC and QLC, as well as power awareness multi-level decoding strategy

Large SSD capacity up to 4TB

Support of NVMe 1.4 protocol
"The SSD industry is quickly shifting from PCIe Gen3 to PCIe Gen4 technology. At the same time, single NAND die capacity is getting bigger and bigger, making high random performance harder to achieve. The RainierQX' unique data path accelerator and independent plane operation fully take advantage of the latest NAND technology to achieve high random performance, while at the same time reducing DRAM cost. As the market builds momentum on PCIe Gen4 and beyond, InnoGrit has stayed on task, developing a well-timed roadmap of controllers, with the latest addition of RainierQX, ready to meet today's market needs as well as addressing the next gen of SSD Platforms launching in late 2021-22," stated Greg Wong, president, Forward Insights.
Read also :