35TB HDD by FY25 and 40TB+ With HAMR Beyond That
Toshiba rolls out technology and capacity roadmap.
This is a Press Release edited by StorageNewsletter.com on February 14, 2022 at 2:02 pm
This is an Executive Brief published on February 11, 2022 by Trendfocus Inc.'s Information Services
Toshiba Rolls Out HDD Technology and Capacity Roadmap
President and CEO of Toshiba Electronic Devices & Storage Corporation (TDSC), Hiroyuki Sato, unveiled what the company calls a descriptive roadmap for high-capacity HDDs during an investor relations event last week in Japan.
In the past year, the HDD solutions provider outlined some key technologies for next-gen drives, including Flux-Control MAMR, or FC-MAMR, an enhanced PMR recording technology that utilizes some features of the spin torque oscillator of MAMR to achieve 2TB/disk capacities.
FC-MAMR supports the company's current volume production of a 9-disk, 18TB nearline drive and will also enable 20TB on a 10-disk design, which is expected to roll out this year.
The technology,as announced, is intended to be a stepping stone on the way to launching full MAMR, or MAS-MAMR drives. In order to archive the promised areal density boosts from MAS-MAMR, significant changes to the recording media are required to address the potential microwave resonance issues that can limit areal density. Like other full-energy assist technologies such as HAMR, the promised rollout has been long in coming, with delays caused by technical and commercialization challenges.
In TDSC's roadmap, seen below, the company expects to release a 26TB, 10-disk HDD in FY22 (sometime before the end of March 2023) and plans for a 30TB MAS-MAMR model in FY23. In the company's illustrated roadmap, HAMR also appears sometime in FY24 or later to drive higher capacities, but both MAS-MAMR and HAMR technologies run concurrently, possibly indicating that MAS-MAMR may support mainstream volumes for 35TB by fiscal year 2025 and that HAMR will support 40TB+ capacities beyond that. Interestingly, the roadmap also points to 11-disk drives combining with MAS-MAMR to enable 30TB and greater capacities.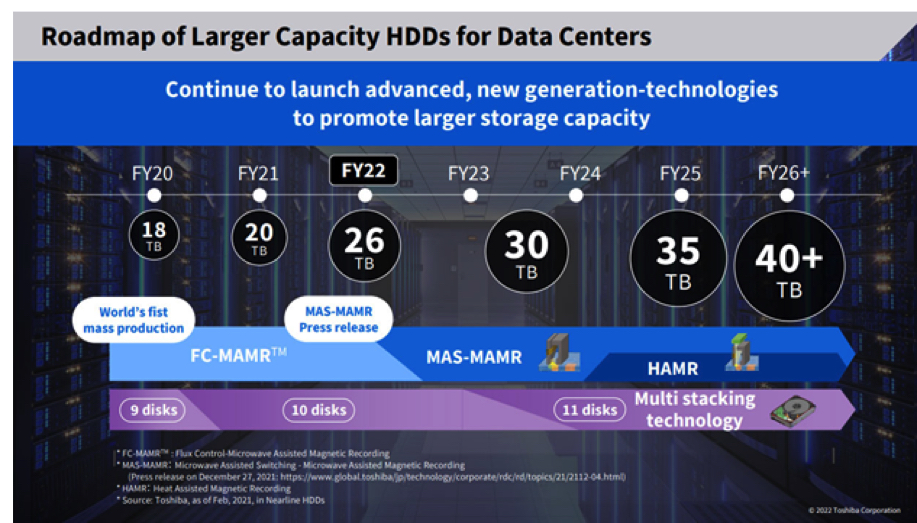 Trendfocus has recently published its latest long-term HDD forecast with a more conservative outlook on nearline capacity increases, expecting CMR capacities to move in 2TB increments through at least 30TB. Since last year, long-term forecasts also included the possibility of 11-disk HDDs supporting these capacity increases, factoring into the media and substrate forecasts. With Western Digital also pointing to 11-disk drives in its future, demand for components will continue to grow and require significant investments in capacity expansion over the next several years.
While HDD companies are universally pointing to full energy assist technologies supporting capacities at or above 30TB in the future, the challenge remains how to move through capacity generations between 24TB and 30TB. Each vendor has outlined different approaches, with Seagate expecting HAMR to potentially enable a larger capacity jump than what the forecast lays out. Western Digital expects its technology platform of ePMR and OptiNAND to support it products at least up to 30TB. Toshiba's roadmap announcement points to aggressive capacity steps over the next 2 years, supported by a transition to MAS-MAMR. Such divergent approaches to HDD designs clearly point to the challenging nature of HDD technology development today, and aggressive competition between the three remaining suppliers continues.
If HDDs function to a customer's specifications, the underlying technologies supporting those drives, even if different between suppliers, is irrelevant. So, divergent technology roadmaps could be accepted by the market. However, such large differences in direction are unprecedented, as eventually, the industry has ended up adopting similar design approaches even if starting off with different plans.
Helium-sealed HDDs, pioneered by HGST (now Western Digital) were eventually universally adopted by the other suppliers and the move up through 8-, 9- and 10-disk platforms were followed by the industry at large. The next several years promise significant uncertainties and risks, conditions that hyperscale customers, especially, are closely scrutinizing.
Read also :