Catalogic Updated DPX V4.8 Data Protection Software
Enhancements to agentless backups for virtual environments, enhanced cloud archiving, and advanced capabilities for compliance and ransomware protection
This is a Press Release edited by StorageNewsletter.com on January 20, 2022 at 2:02 pm
Catalogic Software announced the availability of DPX 4.8, the version of the company's enterprise data protection software.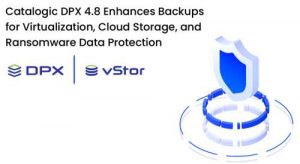 DPX 4.8 brings enhancements to agentless backups for virtual environments, enhanced cloud archiving, and advanced capabilities for compliance and ransomware protection. The firm confirms DPX is not affected by the critical Apache Log4j vulnerability.
Agentless or proxy-based backups continue to be a hoice for virtual environments, eliminating the need to install and maintain a backup agent on each VM.
The reliability and performance enhancements in the agentless backup in DPX 4.8 include:
Single file recovery enabling restoration of specific files or directories from VMware and Hyper-V agentless backups

Support for protecting data attached to SATA and NVMe controllers for VMware

Option to run only full backups of VDI VMs
Click to enlarge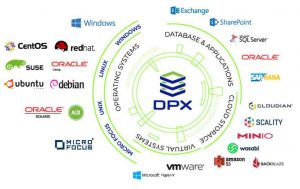 DPX vStor was announced in 2018 as a software-defined backup appliance included in DPX. vStor provides do-it-yourself flexibility for customers and partners to build their own backup targets to meet performance and capacity requirements. vStor backup nodes can be deployed on bare metal servers or as virtual appliances, with choices of disk, tape or cloud object storage for long-term backup retention and ransomware protection.
Enhancements to vStor in DPX 4.8 include:
Software appliance configuration via a HTML5 user interface of DPX

Ability to replicate encrypted volumes to secondary vStor appliances, management of replication bandwidth, and ability to prioritize volume replication

Amazon S3 Object Lock to set compliance and governance modes for cloud object storage. Once data is archived to the cloud and locked, it cannot be modified or deleted, even by an administrator, protecting cloud backups vs. early deletion and providing an extra layer of protection vs. ransomware and data loss
DPX vStor supports a set of features for archiving backups to cloud object storage via the S3 object storage protocol. Cloud storage with S3 Object Lock provides a cost-effective, long-term storage solution for data that must remain under a user's control for compliance or data governance reasons.
"In this day and age of the everyday cyber-attack, the importance of a reliable and secure data protection solution like DPX cannot be overstated:" said Sathya Sankaran, COO. "Our newest version of DPX takes into account today's threat landscape and regulatory requirements. Our vStor appliance adds support for leading cloud storage vendors Backblaze and Wasabi that provide low cost, rapid archiving and recovery, and support for Amazon S3 Glacier and Glacier Deep Archive for long term, very low-cost data retention."
Resource:
What's New in DPX 4.8.0

Read also :