16 Companies in Storage Unicorn or Valuated at More Than $1 Billion
DataCore only new member
By Philippe Nicolas | December 30, 2021 at 2:01 pm
Coldago Research, a storage and data management research and analysis firm, released its last storage unicorn report with 16 companies for the 10th edition.
A unicorn is a private company with a $1 billion valuation minimum. It includes companies belonging to private equity firms such Veeam, Barracuda Networks or Veritas Technologies for instance.
The list is pretty stable and several of these companies have accelerated their growth during Covid. At the same time, the pandemic was probably not the best time for IPOs. Several companies were doing their IPO and even Backblaze decided to join the public market November 11.
Few days ago that Cohesity filled its Form S-1 for an IPO scheduled in the coming weeks. Will this introduction invite other companies to mimic Cohesity and Backblaze, we'll see, but we anticipate that at least 3 of them think seriously about it?
Famous for more than 2 decades, DataCore joined the list following an interesting trajectory fueled by its classic solution but also due to Caringo and MayaData acquisitions and their strong position on the market.
16 seems to be a big number but confirms the dynamism of the segment. It illustrates the growth of some players and their rapid products adoption on the market, not so rapid for some of them, but also shows the difficulty to reach the next step raising a new round, morphing into a public company or becoming a decacorn.
The 16 companies in alphabetic order are : Acronis, Barracuda Networks, Cohesity, DataCore, DDN, Druva, Infinidat, Kaseya, Nasuni, OwnBackup, Qumulo, Rubrik, VAST Data, Veeam Software, Veritas Technologies and Wasabi Technologies.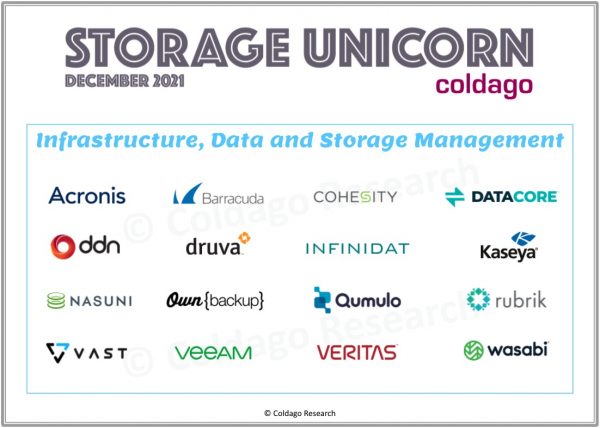 Read also :