Toshiba: 18TB N300 NAS and X300 Performance 3.5-Inch HDD
Third gen 9-disk helium-sealed design with FC-MAMR technology
This is a Press Release edited by StorageNewsletter.com on September 22, 2021 at 1:32 pm
Toshiba Electronics Europe GmbH has added 18TB models to its N300 NAS HDD and X300 Performance HDD portfolios.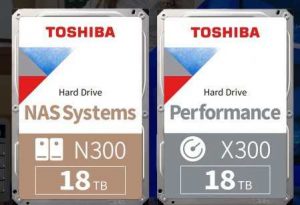 These drives incorporate the company's game-changing Flux Control – Microwave Assisted Magnetic Recording (FC-MAMR) technology, which was announced earlier this year.
With FC-MAMR a 'Spin Torque Oscillator' (STO) is used to better control and effectively focus the magnetic flux generated in the HDDs write head. The focused flux allows more accurate writing operation leading to a smaller magnetic area per bit and higher data densities compared to the previous gen of CMR HDDs.
Use of FC-MAMR has led to the drive density being raised by an extra 12.5% – thereby adding 2TB [1] per disk to the capacity of the firm's previous 16TB models [1].
These N300 and X300 drives come in an industry-standard 3.5-inch [2] format enclosure but utilises a proprietary 9-disk Helium-sealed design. The company's advanced laser welding techniques keep the Helium securely sealed inside.
The N300 Series is optimised for home office and small business NAS and private cloud storage applications, with up to eight drive bays being accommodated [3]. These drives deliver 7,200rpm performance and have integrated RV sensors to compensate for the effects of rotational vibrations. Designed for reliable 24/7 operation and offering a meantime to failure rate (MTTF) of 1.2 million hours, they attain a workload [4] rating of up to 180TB/year.
Intended for PC and high-end desktop workstations, gaming consoles and home media equipment, the X300 Series drives also deliver 7,200rpm performance. Their drive stabilisation mechanisms result in improved operational reliability, plus firm group's cache technology optimises cache allocation during R/W so as to provide high-level performance in real time.
N300 Series drives all come with a 3-year limited warranty, while the X300 Series drives have a 2-year limited warranty.
The 18TB N300 and X300 models are expected to be available in 4Q21.
[1] Definition of capacity: Toshiba defines a MB as 1 000 000 bytes, a gigabyte (GB) as 1 000 000 000 bytes and a terabyte (TB) as 1 000 000 000 000 bytes. A computer OS, however, reports storage capacity using powers of two for the definition of 1GB = 230 = 1 073 741 824 bytes and therefore shows less storage capacity. Available storage capacity (including examples of various media files) will vary based on file size, formatting, settings, software and OS, such as Microsoft OS and/or pre-installed software applications, or media content. Actual formatted capacity may vary.
[2] '3.5-inch' means the form factor of HDDs. They do not indicate drive's physical size.
[3] As for 'Drive Bays Supported', contact your solutions provider because the compatibility with the host device will vary based on the RAID system.
[4] Workload is a measure of the data written, read or verified by commands from the host system over a calendar year.
Read also :