LTO-9 Tape Cartridge Available From OpenStorage
With 18TB native capacity
This is a Press Release edited by StorageNewsletter.com on September 13, 2021 at 1:31 pm
After passing all quality tests of LTO consortium (IBM, HPE, Quantum) the LTO-9 tape cartridge is available from OpenStorage AG.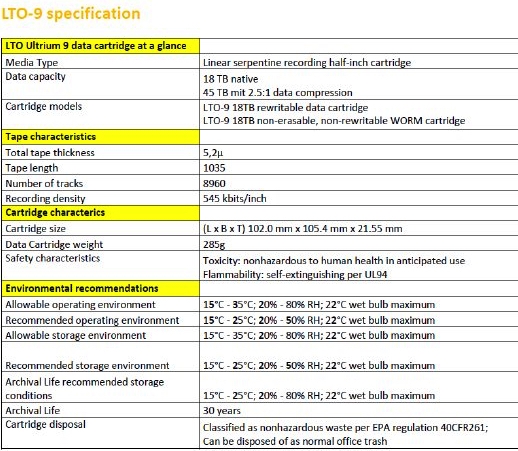 Storing up to 18TB native (45TB assuming 2.5:1 compression), LTO-9 achieves a capacity 50% better than LTO-8 (12TB native / 30TB compressed).
Execute faster restores with 400MB/s native (1,000MB/s compressed) transfer rate, 11% better than LTO-8 (360MB/s native / 900MB/s compressed). You can store up to 3.6TB/h of compressed data.
All former features since LTO-5 remain unchanged. LTO-5 through LTO-9 supports native tape device data encryption for enhanced data security – granted FIPS140-2 Level 1 certification, WORM functionality and support for LTFS.
LTO-9 tape drives can read and write LTO-8 data cartridges.LTO Ultrium formats are open standards. This means that data written on any certified LTO Ultrium tape drive can be interchanged directly with Ultrium tape drives from different vendors.
Read also :