Spectra Logic Tfinity ExaScale Tape Library With LTO-9
Storing world's record of 1EB uncompressed
This is a Press Release edited by StorageNewsletter.com on October 1, 2020 at 2:09 pm
Spectra Logic Corp. released Tfinity ExaScale tape library that will store 1EB of uncompressed data in a 45-frame system leveraging LTO-9 tape technology.

The Tfinity tape library is a standard in data-driven computing environments, providing storage density, scalability, reliability and affordability in the small footprint.
Along with this news, the company is offering an available e-book that outlines the most cost-effective and beneficial approaches to storing and protecting massive data sets that are exponentially growing from 5PB to 1EB.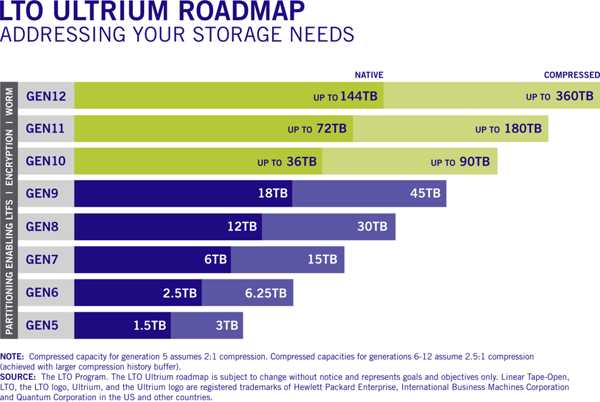 The ninth gen of LTO technology surpasses the per-cartridge capacity of LTO-8 by 50% to 18TB native, and advances full height LTO-9 drive performance by 15% to 400MB/s native. Extending to gen 12, the LTO roadmap outlines future per-cartridge capacities of LTO technology, with LTO-10 achieving up to 36TB native; LTO-11 up to 72TB native, and LTO-12 up to 144TB native. This progression provides tape users with the assurance that their investment in tape is secure and that they will benefit from cost per gigabyte to store their data over its lifespan.
"We're pleased to have the increased capacity and performance of LTO-9 tape technology, as well as the roadmap to LTO-12," said Nathan Thompson, CEO. "The native 400MB/second transfer rate of the LTO-9 full height drive now matches the high performance enterprise tape drive. We're gratified to be the first in the industry to deliver a tape library that can store an astounding exabyte of native data with LTO-9 drives and media – and are pleased with the long-term roadmap of LTO."
The company's tape libraries have been selected to safeguard data for such organisations as British Film Institute, Imperial War Museums, Lawrence Livermore National Laboratory, Minnesota Supercomputing Institute, Oak Ridge National Laboratory, Rutherford Appleton Laboratory and University of Bristol.
The firm's line of tape libraries, including the TFinity ExaScale, T950, T950v, T680, T380 T200, T120, T50e and Stack, will integrate with LTO-9 tape technology, and support LTFS, WORM, hardware encryption, and the company's Media Lifecycle Management. Certified with major ISV packages for the data center, the tape libraries also integrate with BlackPearlObject storage platform, allowing users to create a multi-storage ecosystem for maximum data access, storage and preservation to disk, tape and cloud.
"Spectra's tape libraries provide dependable protection for data at a cost lower than flash or cloud," said Fred Moore, president, Horison Information Strategies. "In addition, Spectra's tape libraries offer users an extra layer of protection because tape is an "air gap" technology. There is no electronic connection to the data on a removable tape cartridge, which prevents malware and ransomware attacks. Unlike disk systems that remain online and vulnerable to a cybercrime attack, tape is the ideal safety net for long-term data preservation."
Features of TFinity ExaScale tape library
In addition to delivering an 1EB of uncompressed storage capacity in a single system, it addresses data growth in such industries as HPC, scientific research, M&E, cloud storage, education, healthcare, finance and traditional IT. It provides organisations with the capacity, performance, reliability and flexibility at a lower price point than other storage options.
Click to enlarge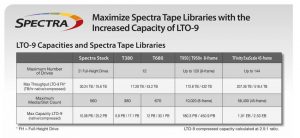 Highlights of TFinity include:
Tri-Media – The tape library supports 3 tape technologies in the same library (LTO, IBM's TS 11xx and Oracle's T10000)

Scalable from 3 to 45 frames, over 56,000 slots, with bulk load capability  

Robotics for higher performance and reliability 

Tape library with isolation service frames for HA robotic serviceability 

Linear design fits in standard rack-row data centre environment 

Enhanced management controls with user-friendly interface for productivity 

Modular design that allows for service and upgradeability 

Compatibility to work with any third-party software package

Media lifecycle management, data integrity verification and CarbideClean make the firm's certified media high quality media

Custom front library panels to showcase customer brand 
Click to enlarge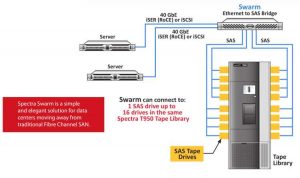 To make connectivity, the company offers Swarm, which adds Ethernet connectivity to the firm's LTO tape libraries. It adds an interface to LTO tape libraries by leveraging all of the same infrastructure and networking, capabilities as the rest of the equipment in a data centre. It works with the company's LTO tape libraries, from Stack through TFinity.
(*) 2.5:1 compression ratio
Resources:
TFinity DS
LTO-9 DS

(*) 2.5:1 compression ratio
Read also:
Evaluator Group Validates Spectra Logic StorCycle Software
As valuable tool for storage lifecycle management
June 17, 2020 | Press Release
Remote Installation Program From Spectra Logic
Enabling to configure and deploy company's equipment remotely during coronavirus outbreak
May 18, 2020 | Press Release
LTO-9 Expected to Ship in Fall 2020
Revealed Spectra Logic.
by Jean Jacques Maleval | April 10, 2020 | News
Comments
The battle continues between tape libraries vendors even if less and less players exist in a very competitive storage industry globally.
Hyperscalers have joined the pack pushing providers for more scalability, flexibility and of course cost reduction. Such giant libraries are chosen, for the majority of them, by research centers, government entities and labs, large corporations and surprisingly movies studios.
As for tape, what is critical is the capacity of the media itself and the recent LTO-9 announcement disappoints users and tape libraries manufacturers. Originally we saw a double of capacity for each LTO iteration like it is illustrated with the LTO roadmap above, LTO-9 should have offered 24TB raw instead of 18TB today which is 25% less. With the Spectra TFinity ExaScale at full scale and same footprint it means 1.35EB instead of 1.01EB, so 350PB difference is significant.
To refresh our readers, the LTO consortium groups HP, IBM and Quantum. It published last July its tape shipment for 2019 with 114,079 PB of total tape capacity (compressed). LTO tape drives are produced by IBM and cartridges by Sony and Fujifilm. With this LTO-9, the consortium has the pressure to deliver the roadmap on time with the capacity promised. As of today the LTO-9 offers less than the IBM 3592 tape with 20TB.
At scale only few players compete: HPE, Spectra Logic, Qualstar, Quantum, IBM and previously Oracle.
For LTO-9, Spectra Logic is the first to announce a new record capacity with its current high-end library, passing the 1EB raw barrier, then Quantum also entered into this new cartridge type for its libraries. HPE and IBM has not yet announced anything but it will happen probably very soon.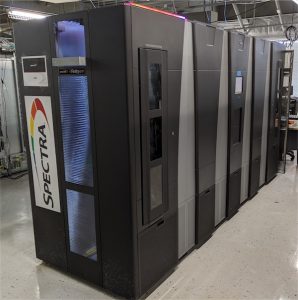 For a few decades there is a move down the data stack for tape usage, tape being the preferred media for backup and archive then restricted to archive and even later to deep archive. Pressure came from new developments for disk-based secondary storage with data reduction, erasure coding, hyper scalability with object storage and new interfaces. But cloud has also generated tough times for tape vendors, several of them even disappeared and others merged to build big enough players to sustain pressure and new developments. Today how many vendors exist to resist to that erosion solving a serious pain for hyperscalers, we mentioned a few names above. We also saw recently some interesting developments around S3 gateway to tape libraries with offering from Spectra, Fujifilm, Point Software and Systems, QStar, StrongBox Data Solutions and AWS extending the concept of VTL and augmenting the distance between a data source and the final tape destination.
Users consider a flow like on-prem primary storage to secondary being tape then cloud. Of course many of them run applications also directly in the cloud and the story is obviously different. Cloud storage vendors, at least giant ones, add tape natively in their environment to its properties but also because it's a passive media at a very compelling cost.
The table below show some cloud storage offerings for cold data: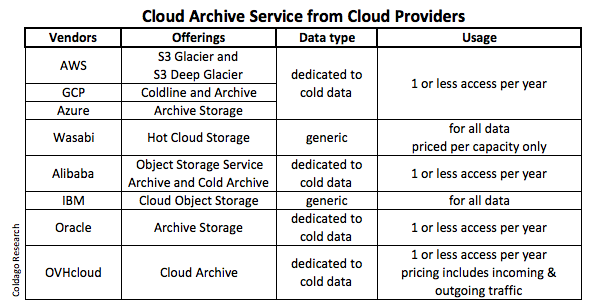 Hyperscalers have really seeded a new wave, reviving a bit the sector, adopting large and high capacity models for deep archive needs. But also several of them have started some research projects on high capacities media, around glass, for example Microsoft with project Silica, holographic initiated many years ago, new optical research directions and of course DNA storage with Twist Bioscience, Catalog, etc. And refer to Piql on microfilm, a story published last August.