Greenliant Samples High Endurance Industrial SATA EX/PX SSDs
Support 60,000, 120,000 and 300,000 P/E cycles, and operate at temperatures between -40°C and +85°C.
This is a Press Release edited by StorageNewsletter.com on August 2, 2021 at 1:02 pm
Greenliant Systems Inc. is sampling SATA M.2 2242 ArmourDrive PX Series SSDs that support 5,000 program-erase (P/E) cycles and advanced EX series SSDs with superior data retention and high endurance that support 60,000, 120,000 and 300,000 P/E cycles.

SATA M.2 2242 ArmourDrive SSDs operate at industrial temperatures (-40°C to +85°C) and are tested for shock and vibration to withstand extreme environments.
Designed with the company's EnduroSLC technology, the EX Series SSDs are available in 4, 8, 20, 40, 80, 160 and 320GB capacities, and are included in the firm's Long-Term Availability (LTA) program for 1-bit-per-cell (SLC) NAND based products.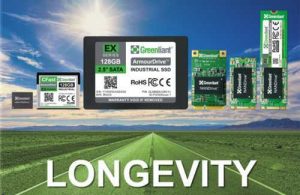 The PX Series SSDs, available in 64, 128, 256 and 512GB capacities, use 3-bit-per-cell (TLC) 3D NAND flash memory to provide cost-effective industrial storage.
ArmourDrive EX and PX Series SSDs  with power-fail data protection, hardware ECC capabilities and NAND flash management algorithms-are for demanding industrial, medical, networking and transportation applications. Built with a thin profile, single-sided M.2 form factor to operate in space constrained systems, the EX and PX Series SSDs support the 6Gb SATA interface and SMART commands.
The company is sampling the SATA M.2 2242 ArmourDrive EX and PX Series SSDs and plans to start volume shipping in late September 2021.
The firm expects to start sampling ATA M.2 2280 and mSATA EX and PX Series SSDs in September and October 2021, respectively.
Read also :