Magneto Resistive RAM Market to Reach $1.3 Billion by 2026
From $254.1 million in 2020
This is a Press Release edited by StorageNewsletter.com on July 1, 2021 at 2:33 pm
A market study published by Global Industry Analysts Inc. (GIA) is released, entitled Magneto Resistive RAM (MRAM) – Global Market Trajectory & Analytics ($5,450, 221 pages).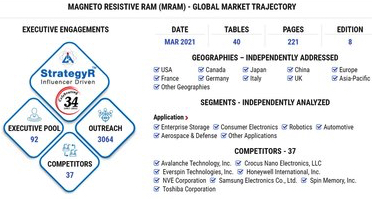 The report presents perspectives on opportunities and challenges in a transformed post Covid-19 marketplace.
MRAM represents a non-volatile random access memory for storing bits of data. Growth in the global market is being driven mainly by the increasing demand for cost-effective, power-efficient, fast, highly scalable, and non-volatile memory from several end-user industries, rising demand for wearable and flexible electronics, and expanding research and development activities.
Advancements in technology are also expected to boost market growth. The MRAM demand will be particularly driven by applications in enterprise storage, aerospace and defense industries, and consumer electronics.
At present, many consumer electronics applications use advanced memory devices for benefits of data integrity and reliability. This is expected to open new opportunities for the global MRAM market. The MRAM space is also witnessing increased investment in R&D for developing more advanced technology. Such researches are anticipated to open doors for newer applications for the product and fuel market growth further.
Amid the Covid-19 crisis, the global market for MRAM estimated at $254.1 million in the year 2020, is projected to reach a revised size of $1.3 billion by 2026, growing at a CAGR of 32.1% over the analysis period.
Enterprise storage, one of the segments analyzed in the report, is projected to grow at a 36.4% CAGR to reach $634 million by the end of the analysis period.
After a thorough analysis of the business implications of the pandemic and its induced economic crisis, growth in the CE segment is readjusted to a revised 32.3% CAGR for the next 7-year period. This segment currently accounts for a 23.8% share of the global MRAM market.
A key driver behind the steady growth in use of MRAM for enterprise storage applications is the increasing number of data centers, where enterprise storage functions as mass storage. Enterprise storage application is also poised to benefit from the use of less power by MRAM compared to flash, resulting in improved operational efficiency, which is critical in enterprise storage applications.
The MRAM market in the US is estimated at $134 million in the year 2021. The country currently accounts for a 42.98% share in the market.
China, the world's second largest economy, is forecast to reach an estimated market size of $398 million in the year 2026 trailing a CAGR of 41.9% through the analysis period.
Among the other noteworthy geographic markets are Japan and Canada, each forecast to grow at 24.8% and 27.6% respectively over the analysis period.
Within Europe, Germany is forecast to grow at approximately 31.6% CAGR while rest of european market will reach $557.2 million by the end of the analysis period.
North America is expected to continue leading the global market led by increased focus on R&D activities, rising demand from several end-user industries for memory solutions with advanced technologies, and the presence of major players in the region.
MRAM is also witnessing increased demand in the automotive sector, wherein it finds use in engine control units, in-car data log, multimedia systems and advanced transmission control among others. The medical devices market is also anticipated to provide major opportunities. The technology is expected to enable the development of next gen medical devices with sensors, which offer greater accuracy and sensitivity.
Growth in AsiaPac region is being driven by the increasing adoption of cloud computing applications, extended Internet penetration, expanding data center infrastructure, and rapid developments in the semiconductor industry, which is resulting in higher demand for advanced memory technology for the semiconductor industry. Rising sales of mobile phones and wearable electronics, presence of major producers of consumer goods, foundry service providers, and memory manufacturers present high growth opportunities.
In the robotics segment segment, USA, Canada, Japan, China and Europe will drive the 23.9% CAGR estimated for this segment. These regional markets accounting for a combined market size of $39.3 million in the year 2020 will reach a projected size of $176.3 million by the close of the analysis period. China will remain among the fastest growing in this cluster of regional markets. Led by countries such as Australia, India, and South Korea, the market in AsiaPac is forecast to reach $11.9 million by the year 2026. More
Players covered include Avalanche Technology, Inc., Crocus Nano Electronics, LLC, Everspin Technologies, Inc., Honeywell International, Inc., NVE Corporation, Samsung Electronics Co., Ltd., Spin Memory, Inc., and Toshiba Corporation.
Read also :