Netlist Ships N1962 Gen4 Enterprise NVMe Up to 15.36TB U.2 2.5-Inch SSDs
Up to 7GB/s sequential and 1.6 million IO/s random read speeds, customizable endurance features of up to 9 drive writes per day, and T10 PI for end-to-end data protection
This is a Press Release edited by StorageNewsletter.com on April 7, 2021 at 2:32 pm
Netlist, Inc. announced the availability and shipment of its N1962 Gen4 Enterprise NVMe SSDs to server and storage users.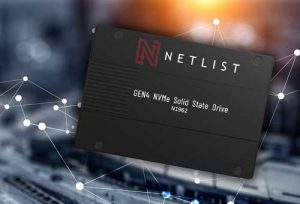 This SSD utilizes the PCIe Gen4 protocol with backward compatibility to Gen3, firmware, and an array of enterprise feature sets. The N1962 delivers performance and reliability to handle the tough computational and read/write intensive enterprise application workloads, including high-frequency trading, AI, content delivery, and database acceleration.
The use of Gen4 NVMe server and storage systems continues to expand, and has resulted in increased demand for performance enterprise SSDs. This has caused a tight supply environment for Gen4 SSDs and resulted in supply chain and operational disruptions in the marketplace. With availability in 8 and 16TB, and a robust feature set, N1962 SSDs provide the performance and supply requirements demanded by enterprise customers.
Tinh Ngo, VP, marketing, said: "We are excited to announce the availability and shipment of Netlist's Gen4 NVMe SSDs, which deliver exceptional performance and reliability. The Gen4 SSD market remains constrained and Netlist's ability to rapidly supply its customer with these enterprise SSDs will allow them to meet production schedules and ensure continuity of their supply chain."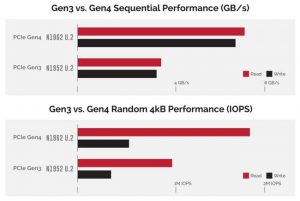 N1962 Enterprise SSD key specs and features:
Performance: 7GB/s sequential and 1.6 million IO/s random read speeds, topping other Gen4 solutions

Short lead times: <2 to 4 weeks for high-capacity drives (8 and 16TB)

Longer product lifecycle: extends in-field use and reduces overall engineering and test spend

NVMe compliant form factor U.2 (2.5″)

Capacity range: 3.2 to 15.36TB

Customizable endurance features of up to 9 drive writes per day (DWPD)

T10 PI for end-to-end data protection: supporting variable sector size for erasure coding as an example

NVMe feature additions: telemetry, sanitize, self-test enabling enhanced debugging and security capabilities

Customization capabilities: modifications of firmware for performance, and power; thermal and mechanical upgrades for extreme condition testing (e.g. shock and vibration)
Click to enlarge
Read also :