Netlist NS1552 NVMe M.2 NVMe V1.3 Up to 3.84TB SSD With 96-Layer 3D NAND
Up to 3.0GB/s sequential read, 440,000 random read IO/s, and AES-256 encryption
This is a Press Release edited by StorageNewsletter.com on May 26, 2020 at 2:19 pm
Netlist, Inc. announced the expansion of its NVMe portfolio with the introduction of the NS1552 NVMe M.2 SSD.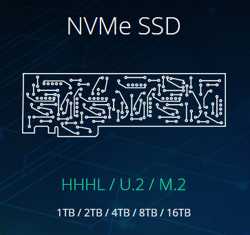 These next gen SSD drives use 96-layer 3D NAND technology and controller firmware, optimized to handle the demanding data center and enterprise application workloads.
Mario Martinez, senior director, product marketing, Netlist, said: "Building upon the success of our 64-layer SSDs, we continue to expand Netlist's NVMe portfolio with the introduction of 96-layer NAND M.2 SSDs. The M.2 line provides the speed and endurance customers require to boost performance for emerging caching, streaming, and storage applications."
Company's M.2 SSDs deliver:
Differentiating performance: Up to 3.0GB/s sequential read throughput and 440,000 random read IO/s.

Power Loss Protection (PLP): End-to-end data path protection.

Data security and protection: Disk encryption using AES-256 for the data integrity required for critical enterprise applications.

Flexible power management: User configurable power throttling enables efficient power consumption for dynamic workloads.

Customized over-provisioning: Over-provisioning options for higher endurances (>3DWPD) available.
The NS1552 NVMe family of M.2 SSDs are NVMe v1.3 compliant and are warrantied for 5 years. These drives deliver the optimum combination of read and write and low latency performance to handle various transactional workloads expected in data center and enterprise environments. Available form factors include 22x80mm (1TB) and 22x110mm (2TB and 4TB) with capacities ranging from 800GB-3.84TB.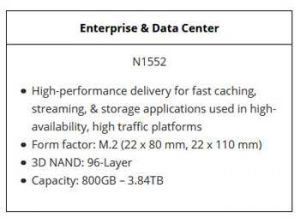 Customers can place production orders. Mass production shipments of NVMe M.2 SSDs will begin on May 25.
Resource:
NVMe SSD products (AIC HHHL, U.2, and M.2)
Read also:
Netlist: NVMe SSDs and NVvault DDR4 NVDIMM-N Validated on 2nd Gen AMD EPYC Processors
Enterprise and datacenter class drives available in 800GB to 15TB
November 13, 2019 | Press Release