Veeam Acquires Kasten for $150 Million
To accelerate cloud data management with Kubernetes-native backup and DR
This is a Press Release edited by StorageNewsletter.com on October 6, 2020 at 2:24 pm
Veeam Software, Inc. acquires Kasten, Inc., in data backup, disaster recovery and mobility for Kubernetes.
It has admired Kubernetes-native approach and recently announced a partnership with Kasten in May 2020. In many ways, Kasten's approach to Kubernetes mirrors the approach of Veeam to vSphere in the early days of virtualization. In collaboration with a set of customers, they developed and delivered a Kubernetes-native data management experience designed for cloud-native applications. Simple and fast to deploy, agnostic to infrastructure, familiar in experience to DevOps teams, and meeting a critical application need, Kasten has established a market leadership position.
This acquisition is the next step in a partnership and shared sense of passion for delivering cloud data management. It also represents a testament and critical milestone in firm's commitment to support its customers' business transformation to future-ready architectures.
Evolution of the market
The past few decades have brought technology changes at an increasingly accelerated pace. We've witnessed a shift in infrastructure from mainframe, to client-server, to virtualized workloads and now to the cloud. In parallel with this infrastructure shift, we've seen application design "shift to the left" with greater involvement from development. In fact, app builders and developers often lead the charge in transforming business services, internally and externally, to deliver greater operational efficiency, increased productivity and lower costs of day 2 operations. It has given birth to a new segment of application development methodology known as DevOps, which is designed to improve quality, increase scalability and accelerate application delivery while reducing daily management.
A critical component of this infrastructure and application modernization is found with containers. Gartner has predicted that by 2022, 75% of enterprises will be running containers in production. The 451 Group estimates that 95% of all new enterprise applications will be using containers. And finally, in an upcoming ESG report due out in November, they found that of those customers with a containers initiative, they expect that one third of their workloads would be running in containers within 24 months. This is a massive and rapid shift in the industry towards the modernization of workloads.
Why is the shift occurring? The simple fact is that containerized workloads offer benefits to customers of all sizes. Analysis by VMware indicates that customers can expect an 82% increase in software to production, 37% increase in developer productivity, 78% increase in operational efficiency, 93% increase in ability to scale the platform and 92% less time to patch the platform. All these benefits add up to increased business velocity with a reduced cost of operations.
Modernizing data management
As an organization modernizes its infrastructure and application delivery, it also makes sense to modernize the data management capabilities and platform. Veeam recognized this necessity at the advent of virtualization and built a $1 billion dollar business across all market segments with a purpose-built solution for the virtualized data center. This requirement played out yet again with the recent delivery of cloud-native data management capabilities for the AWS, Azure and Microsoft 365 as part of Veeam Cloud Data Management Platform.
Why is a native purpose-build solution so important for containers and especially the dominant containers orchestration platform – Kubernetes? The table below highlights the key reasons that we consistently hear from customers.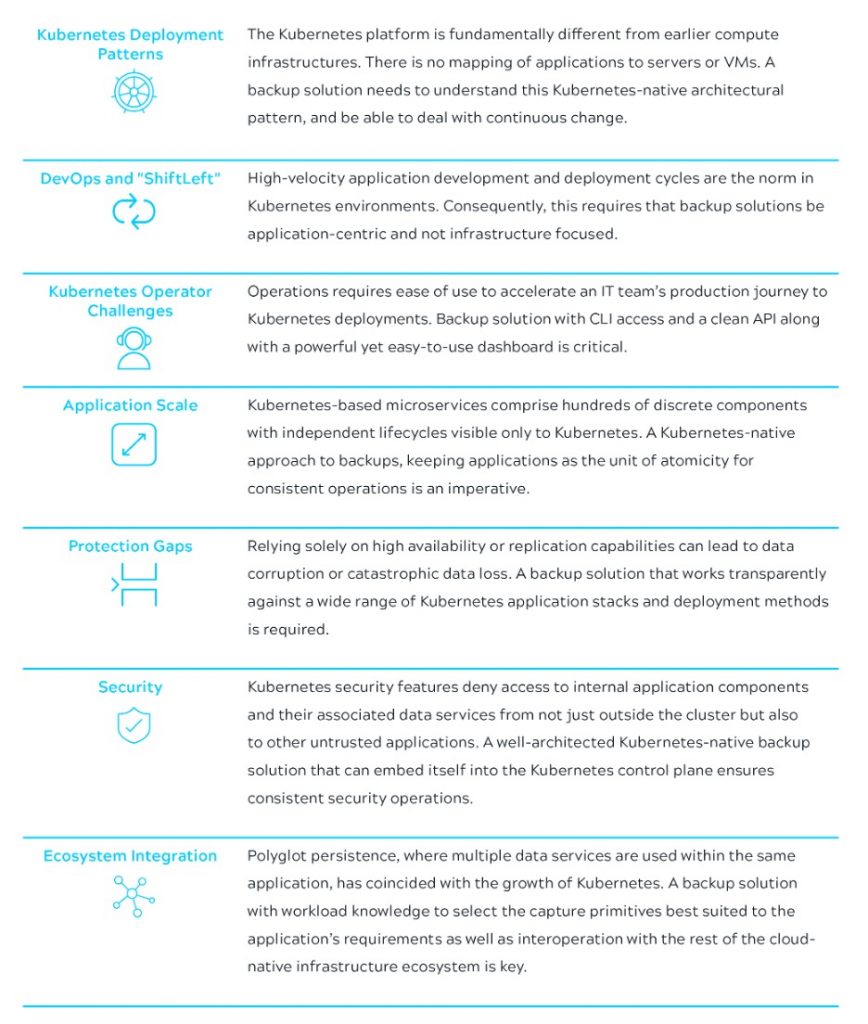 Modernizing application delivery is a fundamental shift in philosophy and culture, rather than a simple technology change. This shift requires modernized cloud data management techniques.
Introducing Kasten: Industry leader and purpose-built
Kasten's approach to Kubernetes data management matches perfectly to the necessity to modernize the business.
Their approach was founded on 4 principles:
Application-Centric – Unlike most other Kubernetes backup vendors in the space which manage backup at the storage layer, Kasten focuses on the application as the data management operational unit. This focus on the application enables the customer to abstract the complexity and diversity of the infrastructure.
Kubernetes Native – Built for cloud-native environments, the Kubernetes approach handles dynamic applications with ease and provides for fast and simple deployment and management.
Multi-Cloud – The K10 platform was designed to run on any public or private cloud Kubernetes deployment allowing the customer the flexibility of choice. Further, this model future proofs the customer as it enables the seamless movement of applications across the underlying infrastructure.
Database Aware – True application awareness requires data protection and migration specifically tailored and optimized for the database. The K10 platform includes support for popular relational and NoSQL databases.
This approach culminated in the easy-to-use, scalable and secure K10 platform. It is quick to deploy and easy to use via a web-based management interface or a cloud-native API. Its versatility and flexibility mean that it supports a rich ecosystem of components and supports user choice to pick the best tools of infrastructure for the business. Finally, security is built into the platform with a comprehensive end-to-end security model including enterprise-grade encryption, identity and access management roles, role-based access controls and more.
Veeam + Kasten: 1 + 1 = 3. Better Together
The component of this acquisition is what both companies bring to the market as a joint solution.
Breadth of data management
The combination enables customers to have a comprehensive and backup and DR solutions across the private, public and multi-cloud environments. The breadth of support for physical, virtual and cloud-based infrastructures, as well as traditional and cloud-native applications, is unmatched in the industry and gives customers the confidence they need to deliver on their strategic goals.
Application-Centric alignment with the business
Both firms have always focused on the unit of value for the business – the application. This application-centric approach means that the key cloud data management goals around backup and recovery, cloud mobility, monitoring and analytics, orchestration and automation, and governance and compliance can be implemented and measured at the application layer. This application-centric approach gives the customers the best model for measuring their business success and unleashing the business value of their data systems.
Power of platform
As Veeam has proven, through its 2020 placement in the Gartner Magic Quadrant as the highest in ability to execute and the only software vendor to achieve positive movement on both axes, its Cloud Data Management Platform is the foundation on which customers build their data management practices. With native intuitive experiences for the IT owners of SaaS, cloud and now Kubernetes, there is still the potential to leverage the power of the platform to provide consistent centralized reporting, data management and policy application. This native experience coupled with centralized management provides the optimal experience for the end users, while providing the organizational consistency demanded by the business.
Glimpse to the future
This is a critical and strategic milestone in the Veeam journey. It intends to retain, grow and invest in the team and technology which Kasten has started and will continue to invest in contributions to the open source Kubernetes community as well. Shared values around keeping things simple, innovating and iterating, and above all, a focus on ensuring customer's success, will continue to motivate and drive the two firms forward.
Similar to the Veeam cloud native solutions, such as Backup for AWS and Backup for Microsoft Azure (available standalone and as a part of Cloud Data Management Platform), the company intend to keep a stand-alone version of the Kubernetes solution. It will continue to invest and grow this technology.
While Kasten will continue to operate independently and form a business unit under Niraj Tolia, itss current CEO and founder, Veeam has already begun the journey of integrating the Kasten solution into the Veeam Platform so that customers can achieve unified cloud data management. Longer term, as announced in their partnership earlier this year and like its other cloud native solutions, you can expect to see capabilities like unified Veeam repositories with the all the value of data movement, tiering and management that comes with it. You can expect to see Kubernetes assets visible and integrated in the Cloud Data Management Platform. And you can continue to expect to see its continued focus on simplicity, flexibility and reliability.
"Containers in microservice architectures are foundational to many emerging cloud-native applications. Protecting and recovering containerized environments has very different requirements from virtual infrastructure alone. The Veeam-Kasten combination could allow enterprises to protect and recover Kubernetes-based cloud-native container applications along with virtual and physical workloads from a single cloud data management framework. With both vendors being part of the Insight Partner's portfolio, and Veeam already partnering with Kasten to enable application centric container data protection capabilities, this acquisition seems like a natural next step. Having Kasten now be a part of Veeam positions the combination very well to meet the majority of data protection and recovery needs for multi-cloud environments," said Phil Goodwin, research director, IDC.

"We are excited to see Veeam and Kasten coming together to deliver the leading Kubernetes-native Backup solution. Given our use of Veeam to protect our critical business data and infrastructure and the increasing footprint of Kubernetes in our environment, this combined solution will provide us with the flexibility to protect our applications and data, no matter what environment they are deployed in, and the ease-of-use to help scale our teams. Knowing that we have the right backup and disaster recovery infrastructure in place for both virtualized and cloud-native environments will allow our teams to move faster and with confidence," said Markus Kretzer, head of IT, Buhl Data Service.
Comments
Unlike Portworx acquisition by Pure Storage a few weeks ago, Veeam's acquisition of Kasten doesn't really surprise the market. And for an obvious reason: many established vendors in various areas are poor in Kubernetes-based data management and Veeam was one of these.
Let's put IT in perspective especially for the infrastructure side with clearly 4 main eras: mainframe, [bare-metal] servers, VMs and containers associated with some famous names for data protection such backup. We show also 4 evolutions in applications architecture over several decades. The image below illustrates these 4 waves in both domain and it doesn't mean a wave replaces a previous one but a wave is added to existing ones making the environment even more complex to manage and protect. These different steps are present simultaneously in large enterprises but less in SMB but all IT environments have seen such modernization.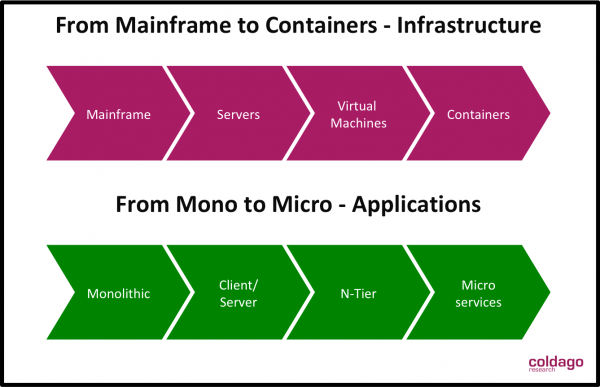 This acquisition confirms an attribute of an established vendor and by established it means large player here with $1 billion+ in annual revenue. They lose agility and need to acquire a small and dedicated player to seriously address a growing need.
This time to market approach is well shown here as Kasten gained visibility during the last few quarters with various partnerships, for example with Pure Storage and Veeam, and some positive noise made during several KubeCon conferences. On the other side, Veeam suffered from this lack of solutions for this IT environment, being at the same time the reference for VM backup and super poor in Kubernetes and more generally container protection. That move confirms that urgency. It marks as well a natural evolution from their partnership announced in May 2020. As Kasten also supports vSphere, Tanzu and AWS, it created a more compelling event for Veeam. Kasten K10 is available on VMware Cloud marketplace.
This acquisition illustrates the famous Build, Buy or Partner model with a rapid growing pressure from the market. Build is a default approach and Veeam would have been behind pure players with its own solution, guaranteed. And for Build you need time. Veeam and others don't have this option. Partner is what they did to tactically address the market even if they jumped late. But Kasten can sign and collaborate with other IT vendors. The advantage for Veeam would have been limited and similar with others without specific value except purchase from one vendor. So no hesitation, no option, no alternative, Veeam had to react and decided fast. The Buy solves the time to market, the hole in the product line, the difficulty for others to continue to use Kasten. Brilliant decision but honestly no alternative for a player who wishes to continue to lead the virtual IT environment backup category.
The acquisition of a specialist and pure player radically changes the message and brings quality for Veeam's customers with company enters into a new era.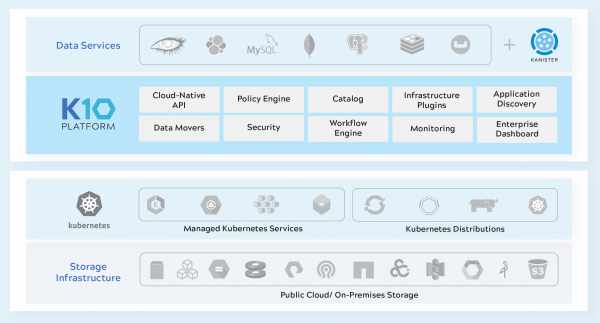 Since January 2020, there were already 3 acquisitions in Kubernetes landscape: Containership acquired by Hitachi Vantara, Rancher Labs by SUSE and Portworx by Pure Storage. In a recent article about Portworx joining Pure Storage, we have anticipated potential new moves in that segment. And we expect even more M&As in that area. And remember one of the seed in that container wave was the Makara acquisition by Red Hat in 2010 that became OpenShift.
We also mentioned several times that some companies mergers should happen within the Insight Partners portfolio and this is just a confirmation of that. We expect even more of this to consolidate the portfolio and increase the value of their assets. The transaction amount reaches $150 million in cash and stock. This acquisition ratio is superb, reaching almost 9 (8.82 = 150/17) if we consider what Kasten raised in total and the amount of this transaction.
Veeam decides to maintain Kasten as a business unit led by Niraj Tolia.
Now Veeam needs to address its second hole with SaaS application data protection like Salesforce, Workday, Google Drive as they support today only Office 365.
Formerly, Veeam acquires N2W Software, in IaaS data protection providing cloud-native backup solution AWS workloads for $42.5 million, and nworks, in enterprise management connectors bridging the gap between VMware virtual infrastructure and enterprise systems management tools from HP, both deal in 2018.
Read also:
Veeam and Kasten Partnering
To deliver Kubernetes-native backup
May 29, 2020 | Press Release
Kasten Secured $14 Million Series A
Offering data management platform using novel application-centric approach to data management for cloud-native applications
August 14, 2019 | Press Release