Retrospect Backup Software V.17.5 With Cloud Updates and Latest Apple Support
Certifies Amazon S3 Virtual-Host Style Buckets, Alibaba Cloud, Webair, and Backblaze B2 S3 API.
This is a Press Release edited by StorageNewsletter.com on October 2, 2020 at 2:17 pm
Retrospect, Inc., a StorCentric, Inc. company, announced the availability of Retrospect Backup 17.5, which includes cloud storage provider certifications and platform updates for Apple macOS, as well as performance enhancements to the company's Management Console.

The enhancements ensure customers can leverage the latest Apple technology and utilize a growing number of cloud providers for off-site data protection.
Click to enlarge

Product enhancements
Retrospect Backup 17.5 for Windows and Mac and Management Console include the following features:
Amazon S3 Virtual-Host Path support: It is certified for Amazon S3's bucket URL style, requiring virtual-host paths as of September 30, 2020. The company continues to support S3's original path-style URLs without any additional configuration. Existing customers do not need to update their settings.

Cloud certifications: It is certified for Alibaba Cloud, Webair, and Backblaze B2's S3 API.

macOS Big Sur support: The software is certified for Apple's latest macOS version: Big Sur, due out soon.

Apple Silicon support: Retrospect 17.5 is certified for Apple Silicon, the new chipset from Apple.

Improved performance: Retrospect Management Console is faster and can handle larger the firm's instances, making it the easiest way to monitor and manage a large backup infrastructure.
Physical + virtual monitoring with Retrospect Management Console
Click to enlarge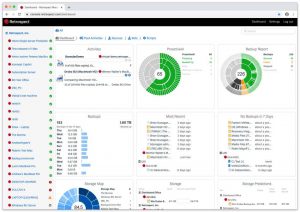 "We understand that businesses require support for the latest platforms on day one," said JG Heithcock, GM. "Consequently, we remain fiercely committed to delivering just that. With this announcement, Retrospect continues to be at the forefront of delivering the most comprehensive platform and cloud storage provider support, which now includes macOS Big Sur and Apple Silicon, as well as dozens of cloud storage providers. This provides our customers with greatest freedom and flexibility to choose the solution that can best meet their IT, business, and budgetary requirements."
Retrospect 17.5 for Windows and Mac is available and free to customers who have Retrospect 17. It is available in 6 languages: English, French, German, Spanish, Italian, and Japanese.
Read also:
Retrospect Backup 17 and Virtual 2020 Software
From $49 for Solo to $4,300 for Multi Server Premium
March 12, 2020 | Press Release
Availability of Retrospect Backup V.16.5 Software With Granular Remote Management Functionality
Starting at $3.99/month for single computer
October 29, 2019 | Press Release