Radian Memory Systems Integrates Zoned Flash SSD With Storage Performance Development Kit
Set of tools and libraries for writing performance, scalable, user-mode storage applications
This is a Press Release edited by StorageNewsletter.com on July 30, 2020 at 1:52 pm
Radian Memory Systems, Inc. announces a system integration of a zoned flash SSD with SPDK (Storage Performance Development Kit) including associated block level testing.
RMS-350 U.2 Zoned flash SSD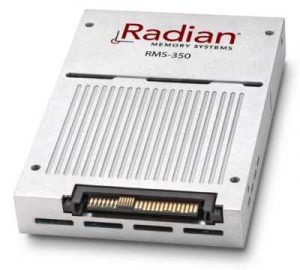 The primary effort required to complete this integration involved porting the company's host Block Translation Layer (BTL) for zoned flash from the Linux kernel to SPDK. The firm posted a technical deep dive video that discusses this effort, which includes a comparative, system level analysis between the kernel and SPDK implementations.
The firm's RMS-350 U.2 Zoned flash SSD that is targeting compliance with the NVMe spec for Zoned Namespaces (ZNS) was utilized in the integration with the fio tester. Configurations included a single SSD and six SSDs in a multi-drive volume.
Pioneered by Intel Corp., the Storage Performance Development Kit (SPDK) provides a set of tools and libraries for writing high performance, scalable, user-mode storage applications.
In addition to the integration and testing with SPDK, the company announces the completion of a JESD218 qualification for a zoned flash SSD. Using a JESD219 compliant overwriting workload, the firm qualified its RMS-350 Zoned flash U.2 SSD under the JESD218 testing requirements.
Resource:
Video: Porting a Zoned flash translation layer to SPDK
Read also:
Usenix FAST: Live Demonstration of Radian Memory Systems Zoned Flash SSDs With IBM Research Storage Stack
Will also include milestone for running user application MySQL database over Zoned flash SSDs.
February 27, 2020 | Press Release
Symphonic Cooperative Flash Zones for SSD From Radian Memory Systems
SSDs to provide flash zones, zone tiering, and an 'All Firmware' SDF implementation
February 22, 2019 | Press Release