IMT Expands Software Division Introducing Intelligent Data Mover With Predictive Cost and Data Transfer Speed Analytics
Enterprise software product, SoDA, provides real-time, actionable insights into customers' data management strategies.
This is a Press Release edited by StorageNewsletter.com on July 23, 2020 at 2:17 pm
Integrated Media Technologies, Inc. (IMT) expanded of its  software development division to bring to market software tools and applications that automate and simplify business operations, workflows and hybrid cloud data management.
It also announced the general availability of SoDA, an enterprise software application that streamlines the process of intelligent data transfers to and from the public cloud. For M&E workflows and other unstructured data environments, it provides predictive, actionable cost and data transfer metrics for optimizing on-premise and cloud storage.
"SoDA predicts the cost and speed of data movement between on-prem and cloud solutions, giving customers the tools they need to control their spend and understand the time it takes for data movement," said Greg Holick, VP of product management for software at IMT. "SoDA data management software gives users unprecedented insight into their total cloud storage spend."
Organizations with large amounts of unstructured data are increasingly faced with the challenge of balancing capital expenditures for on-prem storage against the OpEx of storage options available in the public cloud. Multiple cloud storage options, including different pricing models and SLAs, complicate the process of choosing the optimal cloud solution for an organization, especially when storage needs are dynamic and fluctuating based on project or production needs.
SoDA delivers simplicity, insight and control, enabling users to manage the operating costs of their storage and cloud services more efficiently.
Key benefits include:
Simplicity. Install and configure in minutes
Unlimited Data Movement. On-prem, hybrid, or cloud movement
Fixed Monthly Rate. SaaS Model
"IMT's SoDA provides a valuable, innovative planning and management feature set that supports organizations seeking to intelligently and cost-efficiently move data between storage tiers," said Tom Coughlin, president, Coughlin Associates. "SoDA will help enterprise users understand and contain costs."
This announcements is the result of the company's 13+ years of experience designing, engineering and building modern datacenters and hybrid clouds for Fortune 500 companies in the M&E industry.
Comments
IMT, well known in the M&E industry, starts a new company iteration with the expansion of it software business and release its first software product named SoDA.

It is a data mover targeting unstructured data transfers to and from public clouds. As of today it supports AWS S3 and any source with NFS, SMB and on-prem S3. The product can be used also for on-prem migration between NAS.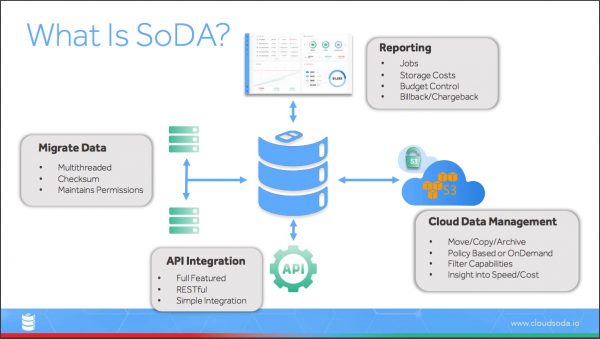 As a software solution, the firm picks 2 deployments models with a virtual appliance and 2 physical appliances. These 2 hardware models are available in 1U with model S100 and 3 x 1U for model S300.

The pricing model is based on a monthly subscription with a minimum of 12 months whatever is the volume managed.

There are already several products in that category. Read this especially this one published last March.

With more than 800 customers, IMT is ready to add SoDA to its installed base, real up-sell opportunities.