Nebulon Emerges From Stealth to Announce Cloud-Defined Storage
Providing on-premises, server-based enterprise storage defined and managed through cloud
This is a Press Release edited by StorageNewsletter.com on June 23, 2020 at 2:35 pm
Nebulon, Inc. announced Cloud-Defined Storage (CDS), on-premises, server-based storage for mission critical applications managed by the Nebulon cloud.
CDS is powered by the combination of a secure, cloud-based control plane and PCIe cards that are installed into customers' servers, providing the enterprise-class data services for critical applications. With it, customers can cost-effectively and simply address both workloads like containers and NoSQL databases as well as traditional workloads like VMware and clustered SQL databases, whilst eliminating the operational overhead of managing and automating storage operations at-scale. It's for server-based primary storage since the introduction of hyperconverged infrastructure.
Hybrid IT organizations pursuing cloud operating models must address a growing class of mission critical data that cannot or should not move to the public cloud due to service level, cost or compliance reasons. Although this data must remain on premise, CIO's are looking for technologies that enable a self-service approach to provisioning and maintaining infrastructure for their application owners much like is possible with the public cloud today. CDS provides the application owner a path not just to self-service enterprise-class storage, but self-service infrastructure over time. And by enabling self-service to other parts of the organization, it provides infrastructure managers a way to reduce time spent provisioning and administering specialized storage assets and instead increase the time dedicated to software development and other high ROI projects.
CDS provides all enterprise-class data services such as compression, encryption, deduplication, erasure coding, snapshots and data mirroring from the Nebulon Services Processing Unit (SPU). The SPU is a PCIe-based storage engine installed inside the customer's application server, where it is attached to the internal server SSDs much like a RAID card.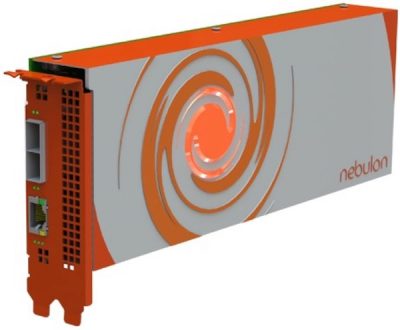 This cloud-managed, server-based approach for mission-critical storage reduces cost by leveraging commodity SSDs in industry standard servers. This solution also supports any server OS or hypervisor and requires no software on the server, thereby avoiding stealing CPU and memory resources from customers' applications.
CDS automates storage operations and delivers infrastructure and application insights through a secure, cloud-based control plane called Nebulon ON. The Nebulon SPU transmit tens of thousands of storage, server and application metrics per hour to Nebulon ON for AI-based analysis. CDS is a storage model that combines the management console and its associated metrics – which have typically been siloed on-premises – with AI analytics data into one view. This approach means IT managers and application owners can take advantage of capabilities previously not available for on-premise enterprise storage deployments, such as fleet management, automated software updates, predictive maintenance and faster troubleshooting. This zero-touch remote administration and monitoring is especially powerful in times of social distancing, as IT managers can easily perform their duties from home offices.
"Organizations are increasingly demanding a more cloud-like experience for their most critical on-premises applications," said Siamak Nazari, co-founder and CEO. "CDS delivers global insights, ai-based administration and API-driven automation making enterprise-class storage a simple attribute of the data center fabric with self-service infrastructure provisioning and storage operations as-a-service for application owners."
Customers will be able to purchase CDS through datacenter infrastructure vendors including Hewlett Packard Enterprise and Supermicro.
"HPE ProLiant servers deliver a secure, high-performing foundation for enterprises to optimize innovative storage capabilities across growing hybrid IT environments," said Neil MacDonald, senior vice president and general manager, compute, HPE. "By combining HPE ProLiant Servers with Nebulon's CDS, we are enabling customers to expand their hybrid IT solutions and further automate storage operations."
"Supermicro is a leader in high-performance, high-efficiency server technology innovation with the most optimized selection for IT, datacenter and HPC environments," said Eric Sindelar, GM of operations and advanced technology development, Supermicro. "Nebulon's CDS technology leverages Supermicro's Ultra systems to create an exciting new server-based storage solution, and we are excited to work with Nebulon and others to support customers for enterprise-class storage deployments."
Comments
Nebulon is just out of stealth this morning pioneering a new storage category they call Cloud-Defined Storage (CDS).
A group of ex-3PAR leaders is back with several of them having spent time at different companies since that adventure. HPE (HP at the time) acquired 3PAR in 2010 for $2.35 billion. And HPE continues to promote some product with the 3PAR brand today with HPE 3PAR StoreServ as the name is well respected and adopted.
Back to Nebulon, the idea here is to solidify on-prem applications with a storage offload engine offering multiple data services without any impact on central host processing power neither memory. The company has designed, developed and built a Services Processing Unit (SPU) that provides data-centric management services such compression, deduplication, encryption, erasure coding, snapshot and mirroring. The SPU is a PCIe card and supports any 2U/24 drives servers. All these functions works with local data and a file belongs to one server meaning is locally stored. External or cross servers striping or erasure coding will arrive later. Mirroring across servers is possible but not yet across npods, a npod being a cluster of 32 servers coupling 32 SPUs (1 SPU/server). Another way to put this in perspective is to imagine a dedicated features rich storage controller with the idea of internal disaggregated model i.e within a server. This concept introduces a notion of server within a server with the capability to be clustered together across systems they live in like a super powerful middleware layer that spans servers or like a super rich data bus.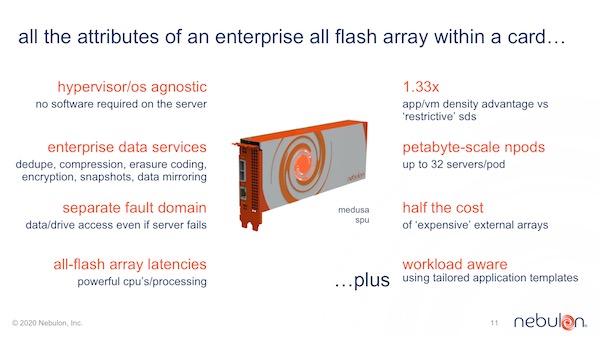 The SPU works with any OS and hypervisor and doesn't require any software to install. The approach is intrusive with a physical board but very flexible and standard. All storage media are seen through the card as it is located in the data/media path. In other words, like any HBA, devices are seen by the OS while the board is up and running. Today SAS/SATA drives are supported and NVMe will be added later. About performance impact and such connectivity, write operations are acknowledged in the cache as a non volatile memory exists on the board. The beauty of this resides in the fact that central CPUs are fully dedicated to applications serving users requests... while the SPU manages all storage related operations.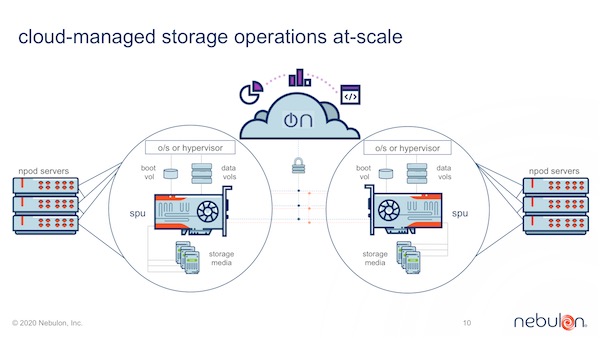 The SPU embeds a Broadcom SAS3408 Tri-Mode I/O controller, the card is recognized as Fusion-MPT 12Gb SAS/PCIe SAS3408 PCIe and includes famous MegaRAID features. On the Broadcom site, the product page mentions: "The SAS3408 is the sixth generation of SAS controllers based on the industry-leading Fusion-MPT (Message Passing Technology) architecture. The SAS 3408 host interface supports 8 PCIe lanes."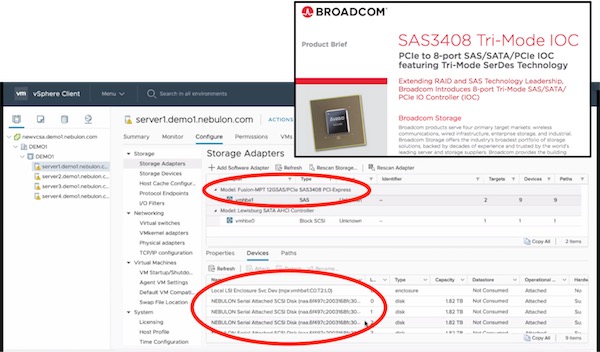 In 2005, Avago Technologies was founded from the former semiconductor products Group of Agilent. Avago acquired LSI in 2014 for approximately $6.6 billion and absorbed Broadcom for $37 billion in 2016. Avago renamed itself Broadcom and the Nasdaq ticket is still named AVGO.
The pool of cards is managed via a cloud-based console named Nebulon ON where you can create npods template to initiate npods and control and provision storage directly. As the SPU can be controlled via API we expect partners to embed this console within their global management UI. The demo is very straightforward to illustrate a very rapid storage provisioning. The UI also provides graphical information per capacity, performance... for a specific SPU, npod or globally.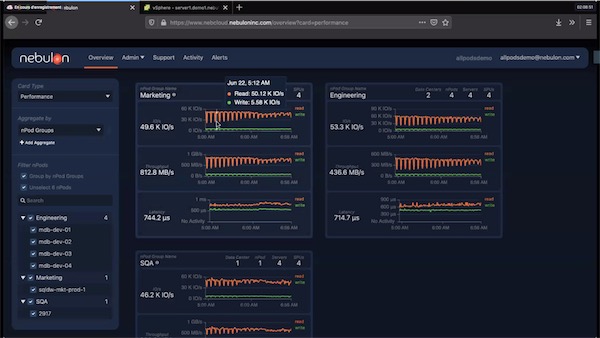 In term of go to market model, the team adopted an OEM model and already selected obviously HPE but also Supermicro and one more server vendor is in the pipe to be announced in the next coming months. The SPU has a SKU meaning charged as CapEx and Nebulon ON starts with a 3-year subscription.
This announcement brings something interesting as data center and infrastructure become very complex with lots of servers, (too) many layers, difficulties to optimize performance, capacity and cost with the need to harmonize advanced data services. The start-up provides a compelling approach with on-prem storage and cloud-based management that should take-off very soon thanks to key partners.
Beyond Nebulon announcement, the industry has introduced processing on board and uses the term Computational Storage (CS).
The SNIA gives this definition: "Computational Storage is defined as architectures that provide Computational Storage Services coupled to storage, offloading host processing, or reducing data movement. A Computational Storage Service (CSS) is a data service or information service that performs computation on data where the service and data are associated with a storage device."
The difference here is that Nebulon brings the card not the storage as CS implies a card with both processing and storage but the concept is pretty close as host CPUs are offloaded.
With CS in mind, several players can be listed in this category like NGD Systems, Eideticom and ScaleFlux, or even vendors like Swarm64, Pliops or Samsung with its SmartSSD and Bigstream dedicated to database acceleration. We can also list the Xilinx Alveo board here. Fungible will announce soon its Data Processing Unit aka DPU, we'll see if it will go in the same direction.
It illustrates that there is a real industry effort for such (data) storage services.
Read also:
Start-Up Nebulon in Stealth Mode Co-Founded by David Scott, Former CEO of 3par
In new approach called cloud-defined storage
by Jean Jacques Maleval | November 6, 2018 | News