Unified Unstructured Data Management Platform by Data Dynamics With Addition of Insight AnalytiX
And release of StorageX 8.2
This is a Press Release edited by StorageNewsletter.com on June 11, 2020 at 2:25 pm
Data Dynamics announced Insight AnalytiX 1.1 and StorageX 8.2 as part of its new Unified Unstructured Data Management Platform.
Insight AnalytiX is the newest addition to its product family and delivers file content analytics plus remediation actions for the privacy risk marketplace.
StorageX 8.2 simplifies and accelerates the movement of file data to S3 object storage, for both on-premise and cloud deployments.
This introduction of Unified Unstructured Data Management provides enterprises a single platform for unstructured storage and data governance leaders with both metadata and file content analytics. By providing clients insight into file attributes and file content, the platform delivers data driven insight for immediate financial cost savings, data risk classification, and remediation options. In Covid pandemic impacted world, the' platform and product family additions make up a comprehensive, secure, hybrid cloud, unstructured data management platform.
Insight AnalytiX 1.1 introduces 2 simple-to-use and new capabilities to the unstructured storage and file data custodians:
Privacy Risk Analysis: analyze the file content of unstructured data for key Personal Identifiable Information (PII)
Privacy Risk Classification: Classify key file data with industry standard compliance and governance templates such as HIPPA, GDPR, CCPA, etc.
Insight AnalytiX 1.1 accelerates include a series of new and enhanced capabilities that advance 3 critical aspects of unified unstructured data management: file data discovery, file content analytics, and templated file data workflows. It represents a software born out of years of product development and hundreds of client interactions.
StorageX 8.2 delivers 3 key data mobility capabilities for the file and object customers and a key reporting functionality to drive optimization:
File to Object Transform and Sync enables clients to move existing files data to any S3 compliant target platform. This capability allows companies to leverage the cloud for disaster recovery and data protection
Archive Restoration allows storage administrators to permission self-service recovery using existing RBACs
MD5 validation provides a standard validation on data moved using StorageX for compliance and regulatory requirements
Duplicate File Report provides customers insights to inefficient tier-1 storage use and identifies files appropriate for remediation
Helen Johnson, CTO, said: "Enterprise are under enormous pressure to modernize and cut costs. Since introducing StorageX Metadata Analytics 2 years ago, we have witnessed many of the world's largest IT organizations use the power of data insights to implement hybrid cloud and object storage while reducing legacy backup costs and freeing up existing tier-1 storage assets. The addition of Insight AnalytiX immediately provides clients the ability to discover, analyze, and manage providing Personal Identifiable Information as they act on governance and risk mitigation imperatives."
He continued: "Data Dynamics pioneered hybrid cloud data management to enable enterprises to move aggressively with IT transformations without the risk or cost of silos of data. More than 2 years ago we released StorageX 8.0, which was architected for the hybrid cloud world and set the industry standard for modern file data management. Today, with the release of StorageX 8.2 and Insight AnalytiX 1.1 as part of our Unified Unstructured Data Management Platform introduction, we now support 4 public cloud platforms, 8 storage vendors, and new file content analytics technologies to provide enterprises with one platform to efficiently manage their hybrid cloud environments. Data Dynamics' Unified Unstructured Data Management Platform introduction is a huge step ahead with a much broader range of data services, self-service enabled by automation, simplicity, and flexibility that no other technology can provide in a single software platform."
"Enterprises operate multi generation of file servers and NAS, often distributed across different sites, and recently associated with S3 storage. Even if NAS protocols are known and managed for decades, the explosion of data volumes brings new urgency in a compliance climate within a unique cloud era. Understanding file content coupled with modern machine learning techniques in addition to metadata analytics bring new capabilities for unstructured data management. Now you can take actions of specific words discovered in files. Clearly Data Dynamics raises the bar with a rich Unified Unstructured Data Management Platform release., said Philippe Nicolas, analyst at Coldago Research.
StorageX 8.2 is generally available in June 2020. Insight AnalytiX demonstration and POCs are also available in June 2020.
Our Comments
Data Dynamics has entered into a new era for the company but also for the market as they set the pace now with a rich solution.
At the company level, the team grows with new key people like Helen Johnson as CTO and Brijesh Kumar as VP of software development. New offices as well in Pune, India, London and expansion of Houston, the historical site even during the NuView time. We don't know exactly what was the trigger of this almost sudden wave of people and development as we didn't see - yet - any money injection.
The first reaction about this is the company's wish to go beyond a product approach as they're known for StorageX and StorageX had a long life already under different companies. Companies changed but the product persists, a good sign perhaps. The second info here resides in the company desire to build product families coupled under a platform model. This platform named Unified Unstructured Data Management platform is defined with key words, the term Unified is central here meaning an aggregation of various functions centered around file management but also covering object storage aspect. Of course the company is for unstructured data, nothing new here, but platform is essential as it invites users to understand a consolidation of usages and a central role in that data management aspect. It's even more critical today that enterprises live in an heterogeneous world with multi models and brands, file servers and NAS running Windows, Linux or "exotic" OS, deployed at local and remote offices and also connected to cloud entities. Having a wide solution that can cover this heterogeneity by nature with one file management umbrella is attractive.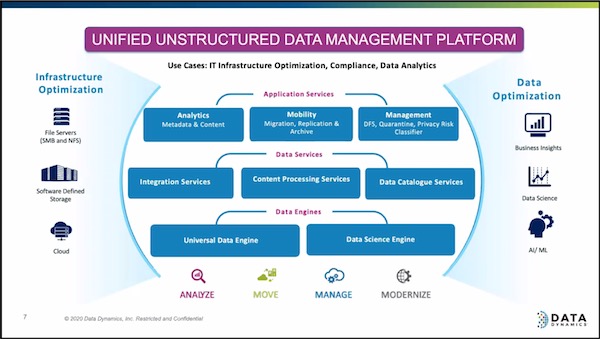 The market is very segmented as it exists several point products in different categories of file management and consolidating functions into one platform is key for IT operations efficiency and investment protection. Multiplying point product functions for every file management aspect creates complexity, introduces divergence, integration potential issues, compatibility questions and of course increases costs.
The firm understood some time ago that one of the key differentiator across these solutions should come from the content and how you take decisions from the info you discover in files. For sure discovering some financial words in a file should invite the engine to increase file redundancy, add security for access, classify and tag that file, and potentially promote it to an encrypt workflow... the reverse is also true, "basic" files have to be processed with regular policies and this alignment has to be transparent and homogeneous across the enterprise. For this reason and more globally for data governance needs, Data Dynamics made a clever acquisition with Infintus end of 2019 to feed this strategy and today the integration provide real fruit with Insight Analytics 1.1.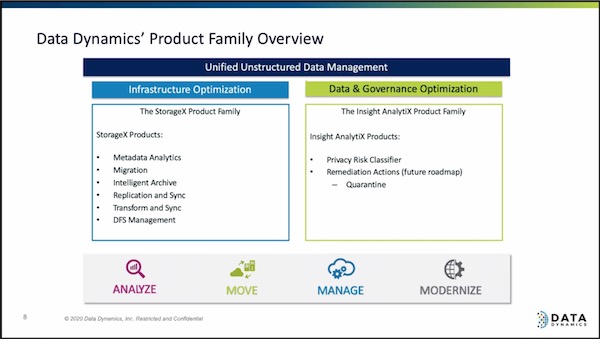 Current enterprise class file management products embed what was named many years ago SRM (Storage Resource Management) when you wished to understand users access patterns but also find duplicates and potentially create links to them, remove space and gain empty space thus delaying new purchases.
StorageX 8.2 brings new capabilities and one of them is the file to object storage copy feature, to local or remote, on private or public cloud finally, that finally extends sharing. The term used "Transform and Sync" can lost the reader as there is no transformation of the file, it is just a copy giving then the access of the content via a object protocol but there is some actions on metadata for sure. Platform supported are wide: any NAS exposing NFS or CIFS, Amazon S3 or EFS, NetApp StorageGRID or Cloud Volumes, Azure Blob or NetApp Files (NFS and CIFS again = NetApp Cloud Volumes), GCP Object Storage and IBM Cloud Object Storage. Other brands like Cloudian, MinIO, Pure Storage FlashBlade, Hitachi Vantara, Dell EMC ECS, PowerScale and Isilon should be supported as soon as NFS, SMB or S3 is exposed.
Data Dynamics expands its relationship with Lenovo, works with Dell EMC in the field and of course continues its partnership with NetApp. It seems that it is talking with IBM, illustrated by the support of IBM COS listed above, so the coverage is pretty large now. Azure should become a key cloud partner as Data Dynamics supports already several Azure storage services.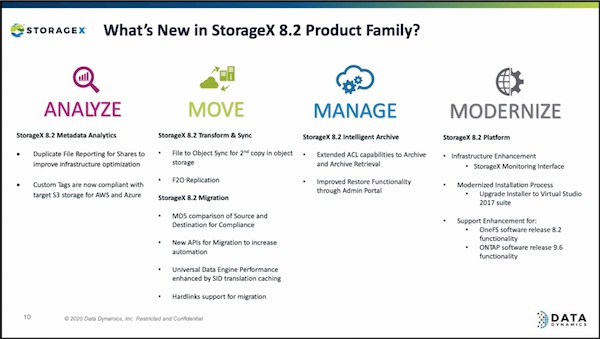 In a recent article about NAS migration challenge, last comment was: "The NAS migration battle is on and there will be in 2020 some new partnerships and developments as this is a common need and often a nightmare for admins". This Data Dynamics announcement confirms this anticipation.
Read also:
Exclusive Interview With Piyush Mehta, CEO, Data Dynamics
He anticipates momentum for StorageX boosted by coming Infintus acquisition
by Philippe Nicolas |  November 20, 2019 | News
Data Dynamics Intends to Acquire Infintus From India
For delivering analytics for data visibility, compliance and governance
October 30, 2019 | Press Release
Lenovo and Data Dynamics Partnering
To enable intelligent file management solutions for enterprises
September 30, 2019 | Press Release