Pavilion Hyperparallel Flash Array Systems Certification With vSphere 7.0
Demonstrating 400% greater speeds and VM density using NVMe-oF
This is a Press Release edited by StorageNewsletter.com on April 24, 2020 at 2:27 pm
Pavilion Data Systems, Inc. announced vSphere 7 certification and presence on VMware's Compatibility Guide.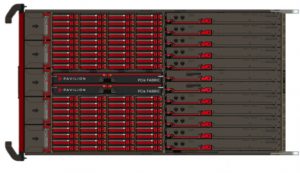 The company is one of a first storage array vendors to support vSphere 7 using RDMA-over-Converged Ethernet (RoCE v2).
With the firm's Hyperparallel flash array certification with vSphere 7.0 using introduced industry-standard NVMe-oF, applications can take advantage of the performance boost while increasing storage density for VMs and containers compared to previous gens using NFS as referenced in a company blog.
Backward compatibility for NFS and iSCSI lets customers run multiple protocols simultaneously in the company's Hyperparallel flash array maximizing storage performance and density for VMs and persistent containers. With multi-protocol support, organizations can consolidate VMs, migrate to containers and modernize their hybrid clouds.
"vSphere 7 is one of the most significant vSphere releases in a decade," said Sudhanshu Jain, director, product management, cloud mlatform, VMware, Inc. "We are pleased to work with Pavilion on NVMe-oF to support its Hyperparallel flash array for the benefit of our mutual customers."
"Certification for vSphere 7 extends our leadership from Webscale and HPC customers directly into Large Enterprises where VMware is a significant operating environment," said Gurpreet Singh, CEO, Pavilion. "Our proof of hyperparallel for the intersection of big and fast data is ideally suited to the hybrid cloud and modern applications and customer profiles VMware is targeting."
Read also:
HPCinnovation.com Educational Site Powered by Pavilion Data Systems
Site broadens understanding of how NVMe-oF can be used to achieve parallelism in storage, similar to processing, shattering performance expectations in HPC.
April 17, 2020 | Press Release
SC19: Pavilion Provides NVMe-oF Storage for SCinet'19 HPC Simulations
Hyperparallel flash array shown at event
November 25, 2019 | Press Release
VMworld Europe: Pavilion Achieves VMware Ready Status for Hyperparallel Flash Array
Showcasing Netherlands Central Bureau of Statistics customer deployment and NVMe-oF
November 7, 2019 | Press Release