NetApp Acquires Talon Storage
To enhance Cloud Volumes and Azure NetApp Files with global file cache for ROBO workers
This is a Press Release edited by StorageNewsletter.com on March 10, 2020 at 2:20 pm
NetApp, Inc. acquired Talon Storage Solutions, Inc., in next generation software-defined storage solutions enabling global enterprises to centralize and consolidate IT storage infrastructure to the public clouds.
The combination of NetApp Cloud Volumes technology and Talon FAST software, enterprises can seamlessly centralize data in the cloud while still maintaining a consistent branch office experience.
"As we grow our cloud data services offerings with solutions like Cloud Volumes ONTAP, Cloud Volumes Service, Azure NetApp Files and Cloud Insights, we are excited about the potential that lies in front of this new combined team to deliver complete solutions for primary workloads," said Anthony Lye, SVP and GM of NetApp's Cloud Data Services business unit. "We share the same vision as the team did at Talon – a unified footprint of unstructured data that all users access seamlessly, regardless of where in the world they are, as if all users and data were in the same physical location. And to do this without impacting workflow, user experience – and at a lower cost."
NetApp's acquisition of Talon enhances the company's cloud data services portfolio with a solution that solves all the ROBO challenges with file shares. Talon FAST is a cloud data service that provides a Global File Cache service for ROBO workloads, to enable file server consolidation into a secure, globally accessible file system on our public cloud platform.
Talon's software will integrate with NetApp Cloud Volumes ONTAP, Cloud Volumes Service and Azure NetApp Files solutions and give customers a faster path to the public cloud at a better TCO.
Comments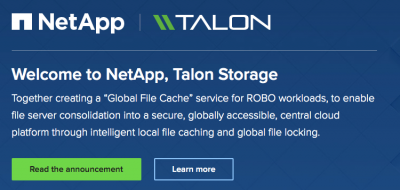 2020 start confirms predictions about M&As. After Quantum/Western Digital deal about ActiveScale, SwiftStack swallowed by Nvidia both related to object storage, Titan acquired by Mellanox, Waterline Data by Hitachi Vantara, of course Veeam by its investor Insight Partners, an other small player Talon Storage moves under the giant umbrella of NetApp.
It's a good deal for NetApp and an interesting for Talon. What a difference with SwiftStack/Nvidia deal communication as here we have a press release on both sites and even more details about Gobal File Cache around Cloud Volume ONTAP/Services and Talon Storage's product.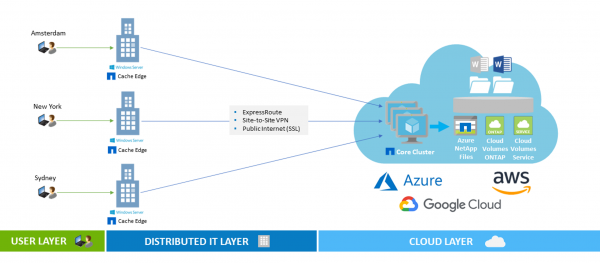 Talon was founded by a pioneer of WAFS, Shirish Phatak, currently CEO of the company, who co-founded in 2000 Tacit Networks. After several exits with different consecutive businesses, he started Talon Storage in 2010 with the still consistent mission to optimize data across sites. Phatak needs just a few financial funding: $2.5 million.
Solution and philosophy from Talon seem to be the nth iteration of same models we had for several years now to span, connect and bridge remote offices and ROBO with the central data center and site, starting with WAFS (Wide Area File Services), WAAS (Wide Area Applications Services) combining WAFS and network acceleration, some other players named this WAN Acceleration and Optimization and finally we got recently SD-WAN. All these developments cover some common features with of course differences but the idea to glue together distinct sites, optimize data traffic and logically merge them to offer a global view is essential. Here for Talon, FAST means File Acceleration and Storage caching Technology.
The table below shows some acquisitions during the last few years in various network and storage acceleration and optimization worlds.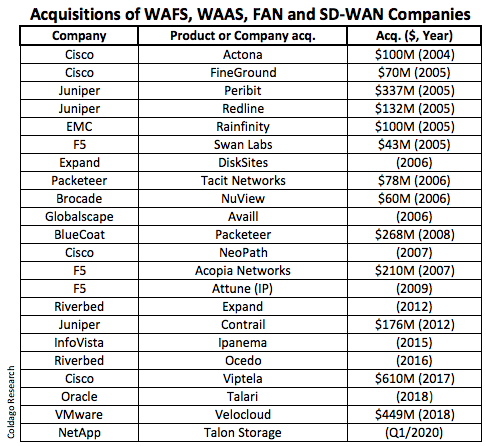 NetApp and Talon already partnered for quite some time as NetApp's users asked for such solution for their remote offices using Microsoft Windows Server, Windows File Server and SMB. NetApp also partners with several other players but finally picks this one, affordable, with a good market and product fit.
The idea is to couple Talon Storage file caching technology with NetApp cloud flavor such Cloud Volumes ONTAP and Cloud Volumes Service representing by Azure NetApp Files on Azure and their original name on AWS and GCP.
It will help to proxy and solidify NetApp presence on ROBO and complement its FlexCache product that supports only NFS.
We expect some sort of integration in the future between Talon and FlexCache, at least in the same product, even if protocols lines are independent, at least it will simplify deployment.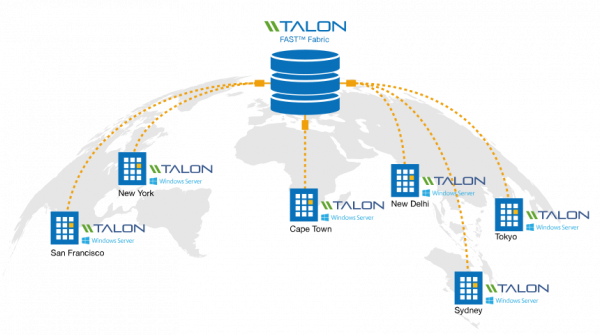 At the core exists a VM-based appliance and several FAST Edge VMs on ROBO. We understand that various configurations are possible to address data centralization and storage consolidation needs with hub-and-spoke, symmetric, or hybrid deployment.
The battle is on for a new grail quest for global file services and 2020 will be interesting to follow with some other players targeted by other giants. Among them CTERA Networks, Nasuni, Panzura, Peer Software and potentially Nutanix and Cohesity. And don't forget AWS Outposts with coming EFS who could offer ubiquitous data access. We can estimate that Azure studies similar model.
Read also:
Talon Storage Solutions and Microsoft in Partnership
Talon FAST and Azure NetApp Files streamline IT storage by centralizing unstructured data.
July 23, 2019 | Press Release
NetApp Insight: Talon FAST for Cloud Volumes NetApp Ontap
With global access to centralized, resilient, secure Cloud Volumes ONTAP storage repositories regardless of user geography or location, and without need for distributed file servers, replication or synchronization
October 29, 2018 | Press Release
Talon Storage Solutions Entering Into NetApp Alliance Program
To provide next gen enterprise software-defined storage
October 6, 2017 | Press Release