Nexsan E-Series 18F 2U 18-Bays Storage Platform With QLC NAND SSD Technology
With E-Flex architecture, connectivity over FC, iSCSI or SAS, HA, non-disruptive upgrades, snapshots and asynchronous replication across data centres using 10GbE, and third-party integrations
This is a Press Release edited by StorageNewsletter.com on February 11, 2020 at 2:16 pm
Nexsan, Inc., part of StorCentric, Inc.' family, announced the release of its E-Series 18F (E18F) storage platform.

The E18F is designed and optimised for QLC)NAND technology, allowing users to accelerate access to large datasets.
The E-Flex Architecture is the next iteration of the high performing E-Series architecture. It provides customers the flexibility to start with a small footprint and grow the same footprint to several petabytes of storage. This architectural extension simplifies how customers can deploy and grow their E-Series systems over time.
"Organisations understand the need to optimise the performance of their data lake architectures in order to monetise their data," said Mihir Shah, CEO, StorCentric, parent company of Nexsan. "The E18F delivers on these requirements with the best cost/performance ratio in the market. The E18F is one of the many new products we plan to announce in the next few months as we execute on our 2020 strategy."
Click to enlarge

Designed for diverse, high-performance applications
The E18F has been designed for a variety of applications, including real-time analytics and big data users who need a performance uplift for their big data, as well as business intelligence and decision support systems where users need to quickly mine massive data sets using faster, deeper queries.
Users of performance-intensive AI and ML applications can benefit from the data analysis speed they need at a cost-effective price point. Furthermore, for content delivery, video on demand, and content streaming applications, it can deliver additional content or video to more users with consistency with support for massive parallel requests and streams.
"Nexsan has demonstrated its capabilities for creating storage platforms that can be deployed in the most demanding enterprise environments while offering unrivalled price and maximum performance," said Surya Varanasi, CTO, StorCentric. "The E18F is ideal for customers who require capacity, performance and scalability. Our new E-Flex Architecture allows our customers to match the growth of their storage with the growth of their business."
E18F offers enterprise features to users, including:
High speed storage connectivity over FC, iSCSI or SAS connectivity and interoperability

HA, non-disruptive upgrades, snapshots and asynchronous replication across data centres using 10GbE

Third-party integrations including Veeam, Commvault, VMware, Windows and Xen

Active Drawer technology allows drives to remain active when the drawer is open for hot-swap drive management
Click to enlarge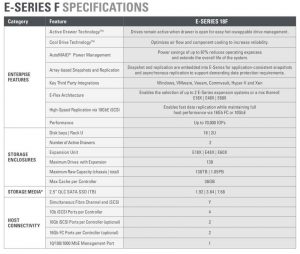 Read also:
Nexsan Assureon V.8.3 Active Data Vault Storage Solution With RoCE and Private Blockchain Technology
For organisations that need to implement regulatory and corporate compliance, long-term archiving of unstructured data, or storage optimisation
January 22, 2020 | Press Release
IBC: Nexsan and Tiger Technology Into Partnership
To deliver workflow platform to enterprise IT, surveillance and M&Et environments
September 18, 2019 | Press Release
Nexsan Launching NEXCouncil Partner Advisory Program
With 20 years of delivering storage solutions to channel and now having 750 channel partners internationally
March 6, 2019 | Press Release