Special Report on Hitachi NEXT 2019
Quiet and serious conference with 10,000 attendees and 26 exhibitors
By Philippe Nicolas | October 24, 2019 at 2:13 pm
Established as an annual rendez-vous, Hitachi NEXT 2019 conference, this year at the MGM Grand in Las Vegas, NE, was the opportunity for the company to unveil a train of announcements around data science and storage management.
Organizers told us that around 10,000 attendees globally have participated with limited exhibitors, in total 26 ones, playing in the Hitachi Vantara ecosystem.
Toshiaki Higashihara, president and CEO, Hitachi, Ltd, chose a life angle to position the role of Hitachi with the idea of Powering Good  in various aspects of our day life. One of the goal of Hitachi is to solve social issues with data and provide the tools and solutions to sustain positive initiatives.
Started in 2017 as the union of Hitachi Data Systems, Hitachi Insight Group and Pentaho, Hitachi Vantara, wholly owned subsidiary of Hitachi Ltd., is associated now with Hitachi Consulting.
Beyond products launches, some keynotes gave the audience the perspective on social impact of technology and human determination with two pretty good talks: Rainforest Connection with a compelling story by Topher White, its CEO, and of course, Alex Honnold, who climbed El Capitan without any rope, being a true hero, captured in the Free Solo movie.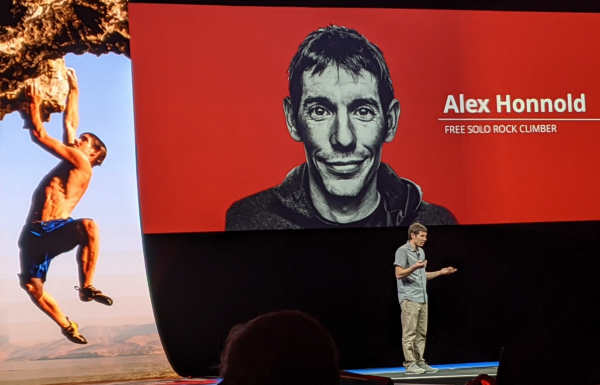 In addition, Hitachi Vantara formed a strategic alliance with Disney Parks helping them to control and manage all data associated with their IoT systems especially for security of rides.
The company has made a few majors products announcements around its storage and data sciences.
The first is VSP5000 line with new levels of specifications giving 21 million IO/S, close to 150GB/s, 70μs latency and 69PB with 12 controllers powered by a new Hitachi Accelerated Fabric and FPGAs. The model decouples compute and storage and each can scale independently. Storage device must be homogeneous within a block and could be heterogeneous across blocks. This new array supports SAS, NVMe and storage class memory (SCM) and is ready for NVMe-oF, SCM should arrive H2/2020 and it will be Intel Optane. Hybrid flavors are also available coupling HDDs. The vendor claims to be the fastest NVMe flash array. Data protection is delivered with RAID- 5, -6 and -10. De-dupe is processed in-line and post-process for a 7:1 ratio and leverages some ML algorithms. And finally the level of availability is 99.999999%. Today VSP 5100 and 5500 are available. Clearly the battle continues between Dell EMC with its PowerMax and this new Hitachi storage array iteration but also with Infinidat Infinibox depending of the requirements.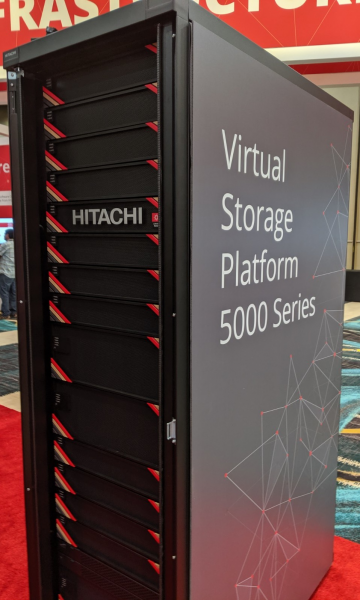 Hitachi confirms again with its conference that the company is essentially a block storage player continuing to innovate and build new high-end array with important R&D efforts and investments. This is the case with the VSP 5000 series mentioned above and nothing was unveiled about HNAS neither HCP.
But we learned a new edition of HCP should be ready for 1Q20. As said, as a spectator for many years Hitachi has decided to jump into a few sub-segments like file or object storage and acquired respectively BlueArc in 2011 and Archivas in 2007. Other acquisitions were Shoden Data Systems and Cofio in 2012, Sepaton in 2014, Oxya and Pentaho in 2015 and finally REAN Cloud in 2018, interesting pattern.
At the same time, HPE has silently jumped into the wagon with its new XP8 as its VSP 5000 flavor. Funny, the blog post completely ignores Hitachi or Vantara as we don't find any reference to it. Does HPE wish to hide the origin of its high-end array, we can't believe it.
We also discovered a new initiative around SDS based on very standard servers and still exposing a block interface, illustrating our first statement about block storage and Hitachi pure play.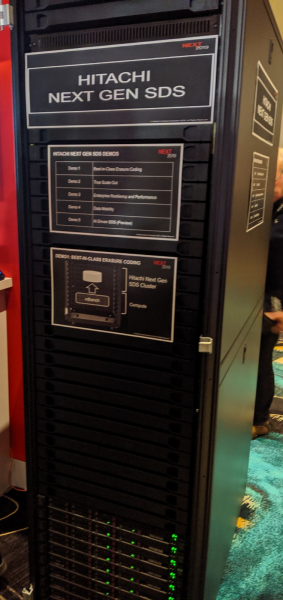 Coupled with the VSP 5000 announcement, Hitachi unveiled Ops Center fueled by AI to extend classic infrastructure management and operations and improve decision making and optimize resource delivery via a new level of automation and orchestration.
And of course Hitachi took advantage to release VSP to refresh its Hitachi Storage Virtualization Operating System.
The Japanese giant promotes DataOps, a data management methodology for the AI era with a key focus on the Edge – Core – (Multi-)Cloud model. The company expands Lumada portfolio with Lumada Data Services, with Pentaho 9.0 among others, and Lumada Data Lake to enable data-driven innovation in any industry plus Lumada Edge Intelligence to simplify edge-to-cloud data management.
One year ago, Hitachi completed the REAN Cloud acquisition to sustain and accelerate its cloud footprint through Hitachi Enterprise Cloud (HEC). Previously REAN has acquired in 2017 57Lining for its strong offering in cloud-based analytics and machine learning, this portfolio is now available via Hitachi Vantara. The Japanase vendor wishes to provide cloud migration and unified cloud management to align workloads across public, private and hybrid clouds adding Azure to existing AWS.
Talking with Hubert Yoshida, the long term CTO of the company, we learned that he will move to a marketing CTO role leaving technology as he did for years. The new Hitachi Vantara will have a new CEO starting January 2020 with Toshiaki Tokunaga currently chairman of the board of Hitachi Vantara and Hitachi Global Digital Holdings Corporation. Brian Householder, current CEO, should stay in the group but no precise role has been announced.
Read also:
NEXT: Hitachi Vantara Unveils Virtual Storage Platform 5000 AFA and Ops Center Software
Powered By Accelerated Fabric, solution delivers 21 million IO/s and scales to 69PB
October 14, 2019 | Press Release
NEXT: Hitachi Vantara Expands Lumada Platform Services and Solutions Portfolio to Accelerate Data Innovation Through DataOps
Including Lumada Data Services and Data Lake enabling data-driven innovation for customers in any industry, Edge Intelligence simplifies edge-to-cloud data management for commercial and industrial operations
October 15, 2019 | Press Release
NEXT: Hitachi Vantara Expanded and Enhanced Capabilities for Cloud Services
For cloud migration, application modernization and infrastructure needed for hybrid cloud managed services for private and public cloud resources, deliver an approach to hybrid cloud and multicloud
October 18, 2019 | Press Release