Greenliant Sampling 6Gb SATA ArmourDrive EX Series SSD
Including EnduroSLC technology
This is a Press Release edited by StorageNewsletter.com on September 6, 2019 at 2:24 pm
Greenliant Systems Ltd. is sampling its 6Gb SATA ArmourDrive EX Series products to customers that need robust data retention, high endurance storage capable of operating under heavy workloads in extreme environments.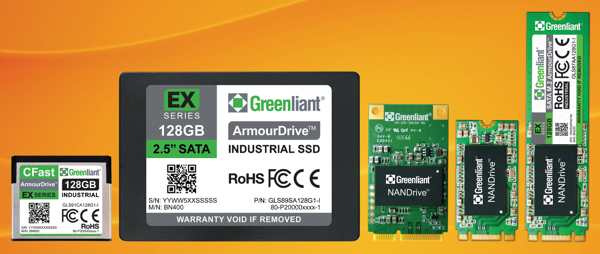 Designed with the company's EnduroSLC technology, SATA ArmourDrive EX Series solid state storage modules achieve 50,000, 100,000 and industry 250,000+ program-erase (P/E) cycles and provide enhanced data retention. EnduroSLC-enabled SSDs offer storage integrity and can withstand wide temperature operations without losing data.
Industrial temperature (-40°C to +85°C) EnduroSLC ArmourDrive products with SLC NAND include:
The SATA ArmourDrive EX Series expands the EnduroSLC product family, which also includes 6Gb SATA NANDrive and 100-ball/153-ball eMMC NANDrive ball grid array (BGA) SSDs.
"SSD and memory card users that need super-high endurance and long-term data retention over a broad temperature range have limited options, since today's NAND flash marketplace is highly focused on consumer applications," said Jim Handy, principal analyst, Objective Analysis. "Greenliant's EnduroSLC products should find a warm reception among these elite users."
The company is sampling select ArmourDrive EX Series products with 50,000, 100,000 and 250,000 endurance, and plans to start volume shipping in 4Q19. 3D MLC NAND-based ArmourDrive MX Series products are also expected to ship in volume in 4Q19 with sampling in early 4Q 2019.
Read also:
Greenliant Starts Sampling 6Gb SATA NANDrive EX Series BGA Up to 128GB SSDs
With EnduroSLC technology, performing 50,000, 100,000 and 250,000K+ P/E cycles
August, 16, 2019 | Press Release
Greenliant Starts Sampling NVMe M.2 ArmourDrive SSD in 2242 and 2280 Form Factors With TLC 3D NAND
Up to 512GB, 1,550/950MB/s sequential R/W speeds for M.2 2242, and 1.92TB, 3,470/3,000MB/s
sequential R/W speeds for M.2 2280
July 26, 2019 | Press Release