Greenliant Starts Sampling 6Gb SATA NANDrive EX Series BGA Up to 128GB SSDs
With EnduroSLC technology, performing 50,000, 100,000 and 250,000K+ P/E cycles
This is a Press Release edited by StorageNewsletter.com on August 16, 2019 at 2:46 pm
Greenliant Systems Ltd. is sampling its SATA 6Gb NANDrive EX Series Ball Grid Array (BGA) SSDs to customers that require data retention and high program-erase (P/E) cycles.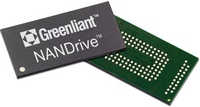 Designed with the company's EnduroSLC technology, 6Gb SATA NANDrive EX Series SSDs are capable of performing 50,000, 100,000 and 250,000+ P/E cycles.
This technology substantially enhances data retention and extends write endurance of 1-bit-per-cell (SLC) SSDs with hardware ECC capabilities and NAND flash management algorithms.
Developed with the company's DRAM-less controller, 6Gb SATA NANDrive has enhanced power loss data protection and offers 4 times the performance over the previous generation of SATA NANDrive products. 6Gb SATA SSDs support Native Command Queuing (NCQ) up to 32 commands and use NAND management techniques to optimize the device's performance during its lifetime. With faster R/W speeds and available in a range of capacities (2GB-128 GB), it is for performance computing, industrial, transportation, video and networking applications.
Operating at temperatures between -40°C and +85°C, SATA NANDrive gives customers long-life and reliability storage that can endure extreme environments. NANDrive BGA SSDs with EnduroSLC technology can withstand multiple passes of SMT high temperature process without losing data. SATA NANDrive is offered in a 14x24mm, 145-ball, 1mm pitch BGA package for reliable and cost-effective mounting to a system motherboard. For backward compatibility, SATA NANDrive has the same footprint across all capacities.
"Greenliant's NANDrive SSDs have been designed and tested to meet the durability and performance requirements of high-reliability industrial and networking applications," said Arthur Kroyan, VP, business development and marketing, Greenliant. "With the introduction of the SATA NANDrive EX Series, Greenliant now offers BGA SSDs with the industry's best data retention and endurance capabilities enabled by our EnduroSLC Technology. In addition to the advanced features of this new product series, embedded system designers can also rely on Greenliant's extensive technical expertise and best-in-class support-from the design-in process to our Long-Term Availability program."
Availability:
The company is sampling 50,000, 100,000 and 250,000 endurance SLC 6Gb SATA NANDrive EX Series SSDs to customers on select product engagements, and plans to start shipping in volume production in 4Q19.

3D MLC NAND based SATA 6Gb NANDrive MX Series SSDs are expected to sample in early 4Q19 and ship in volume production later in 4Q19.