Retrospect Backup and Retrospect Management Console Software Updated
Include improved to Management Console and Windows May 10, 2019 update certification.
This is a Press Release edited by StorageNewsletter.com on May 24, 2019 at 2:50 pm
Retrospect, Inc. announced the availability of its Backup 16.1 and new features in its Management Console.
Click to enlarge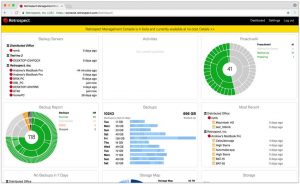 Customers, partners, and MSPs now have deeper insight into their Retrospect Backup servers that are integrated with the Management Console, with the ability to pause and stop activities. Backup 16.1 also includes certification for Windows May 10, 2019 Update. With the Management Console, IT administrators and MSPs can monitor and manage hundreds of installations from a single pane of glass, either at their desktop or on their mobile device.
Product enhancements:
Backup 16.1 for Windows and Mac and Management Console include the following features:
Interactivity: Customers are able to pause, unpause, and stop executions on any Backup 16.1 engine in their infrastructure from their Management Console online account.

Improved shared script deployment: Customers can enable or disable script deployment to specific Retrospect Backup engines.

Deeper engine information: Management Console now includes information about each connected Backup engine, including version, platform, and product edition.

Windows May 10,  2019 Update: The next version of Windows 10 will be released soon, and Backup 16.1 is certified for it.
"Retrospect Management Console enables customers and MSPs to have a complete bird's eye view of their backup infrastructure," said Jean-Christian Dumas, VP, WW sales. "These improvements help IT administrators interact with their backup executions and see which engines need to be updated to the latest release."
Availability:
Retrospect 16.1 for Windows and Mac are free to customers who have Retrospect 16 and are available. They are available in English, French, German, Spanish, Italian, and Japanese.

Retrospect Management Console is available as a free tier and a paid tier.
Read also:
Availability of Retrospect Backup 16 and Management Console for Remote Management and Virtual 2019
Fom $49 for Solo to $4,300 for Multi Server Premium, and upgrades from $29 to $2,700
March 6, 2019 | Press Release