Availability of Retrospect Backup 16 and Management Console for Remote Management and Virtual 2019
Fom $49 for Solo to $4,300 for Multi Server Premium, and upgrades from $29 to $2,700
This is a Press Release edited by StorageNewsletter.com on March 6, 2019 at 2:20 pm
Retrospect, Inc. introduced remote management capabilities for backup environments for small businesses and MSPs with its Backup 16 and Management Console.

The Management Console allows IT administrators and MSPs to monitor and manage hundreds of installations from a single pane of glass, either at their desktop or on their mobile device.
Click to enlarge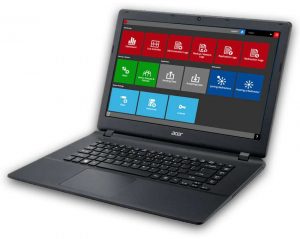 Backup 16
Small businesses depend on their computing infrastructure, but they lack the resources of a larger company's IT staff. They need backup software that just works and is accessible from anywhere, and the MSPs that they rely on need the same set of features.
Backup 16 is focused on enabling small businesses to monitor and manage their backup environment with tools:
Management console – With hosted service, customers can monitor and manage their entire Retrospect infrastructure from a single pane of glass, at their desktop or on their phone.

Storage groups – Protect an entire backup environment up to 16x faster with a single, centralized destination that Retrospect can use simultaneously. With 'Storage Groups', customers can run parallel backups to the same disk or cloud destination.

Deployment tools – MSPs and IT administrators have better tools to deploy and update their Retrospect clients automatically with built-in auto-updates and third-party workflow integration.
With Backup 16, small businesses have a set of tools to protect their entire environment, from servers to endpoints across Windows, Mac, and Linux.
Click to enlarge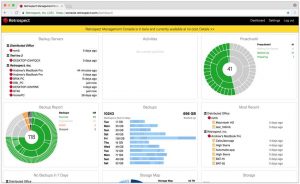 Management Console
Management Console is built for monitoring and managing your backups from anywhere from a single pane of glass. It is a hosted service with in-transit and at-rest encryption, enabling businesses and partners to securely monitor and manage their backup environment.
Monitoring – real-time view of backups, including live activities and predictive storage usage.

Distributed management – Deploy new backup configurations to every Retrospect engine or only a specific subset.

Access anywhere – Monitor an entire backup infrastructure or client base from any desktop or mobile device.

Management Console is free for basic monitoring – With a paid version for complete monitoring and management.
"With this product launch, small businesses around the world will have access to seamless backup management for their entire environment from a single pane of glass, on their desktop or on their mobile device," say Jean-Christian Dumas, VP, WW sales. "Moreover, the Retrospect Management Console enables our partner network to easily monitor their entire client base from the same interface."
Retrospect Virtual VM dashboard
Retrospect Virtual 2019
Virtual 2019 enables to protect VMware and Hyper-V environments from a single console-including vSphere (free ESXi) – with support for Office 365, VMware vCenter/ESXi 6.7, Hyper-V 2019, Windows Server 2019, and Exchange 2019.
Retrospect 16 for Windows and Mac are available. These versions are free updates for customers with current qualifying annual support and maintenance contracts and are available for purchase from resellers or at company's website as an electronic download.It is available in six languages: English, French, German, Spanish, Italian, and Japanese.
Pricing ranges: from MSRP $49 for Retrospect Solo, which protects a single non-server computer, to $4,299 for Retrospect Multi Server Premium, which protects as many Mac, Windows, and Linux servers and PCs as your bandwidth and storage capacity will allow. Upgrades range from $29 to $2,699. Special pricing is available for education, government, and non-profit settings.