StorCentric: Holding Storage Company Owner of Drobo and Nexsan
Total revenue goal to approach $80 million in FY19
By Philippe Nicolas | March 13, 2019 at 2:22 pm
You probably wonder who is StorCentric as the company is not so visible even after having acquired Nexsan and Drobo in August 2018. I recently visit the company HQs in Sunnyvale, CA, and meet Mihir Shah, its CEO to talk about the strategy and future of the firm.
Company
StorCentric is a holding company with no desire to develop and market any storage product under its name. It explains why its web site is very limited inviting the reader to navigate on Drobo and Nexsan sites.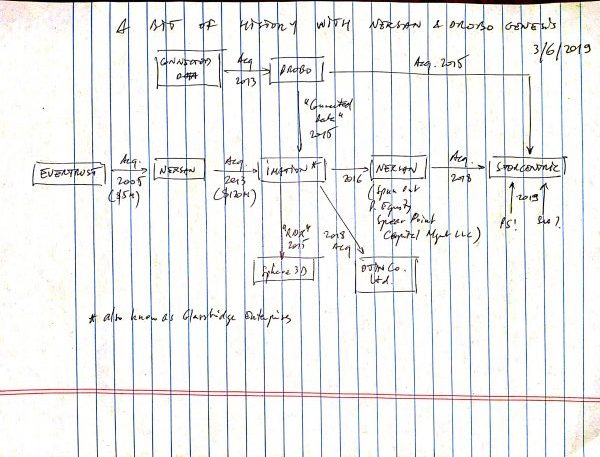 StorCentric has seven people in its management team, and approximately 40 people work for Drobo and the rest for Nexsan for a total of 180 employees.
Among these seven people,
five came from Drobo:

Mihir Shah, CEO,
Read Fenner, VP global sales,
Samina Subedar, VP marketing,
Rod Harrison, VP engineering
and John Apps, SVP operations,

two from Nexsan:

Gary Watson, CTO, who was CTO of Nexsan,
and David Bartizal, VP global service and support.
StorCentric acquired Drobo in 2015 and Shah was CEO of Drobo from May 2015 to August 2018. The company appeared only at that date when the Drobo and Nexsan announcement was published.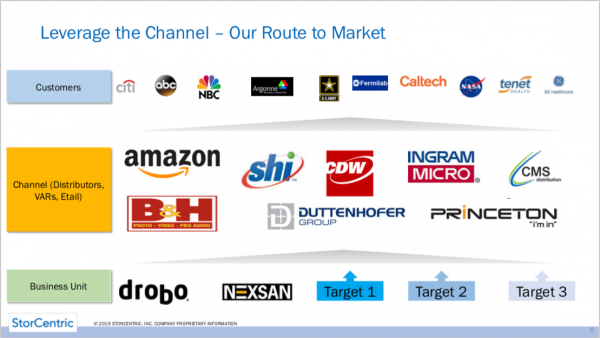 Priorities and products direction
Shah shared with us his five priorities for the next couple of quarters:
M&A as the management team realizes the necessity to add other pieces in the puzzle,
Grow existing footprint,
Develops a customer support function,
Expands internationally as EMEA, MEA and APAC grew significantly, and
Opex discipline.
With these two brands, in term of revenues, StorCentric realizes 1/3 with Drobo and 2/3 with Nexsan, and globally 60,000 Nexsan units are deployed and more than 400,000 for Drobo. Speaking about figures for FY19, Shah sais that total revenue goal should approach $80 million.
Both products lines play in low mid-tier storage array segment where cost is a key metric. Also many of these use cases are secondary storage meaning that SAS/SATA is largely enough and NVMe is not a direction for both companies. This statement is aligned with Shah point of view in August 2018 when he said that Nexsan will need NVMe drives and fabrics to play in primary storage. 
The other angle of the strategy is of course some synergies and products integration. On this part, Shah confirms that we'll see software copy data layer between Drobo and Nexsan to support configurations like Drobo deployed at the edge and Nexsan at the core. The company plans also to introduce a light version of Assureon on the Drobo side.
External growth soon
StorCentric plans to add at least one more product soon around data protection supporting the revenue distribution goal between hardware, software and professional services, each contributing 1/3 of the revenue. This future data protection product could be presented as a backup appliance aligned with the hardware strategy.
Zest of cloud
Shah also insisted on the company's cloud strategy promoting tier, copy, mirroring or disaster recovery to the cloud but never a pure software flavor of Drobo or Nexsan running in the cloud, in AWS or Azure. But these two cloud providers will be the first to be supported with their data management solution.
We'll track the next announcement from StorCentric, supposed to happen around NAB.
Read also:
Newcomer StorCentric to Acquire Drobo as Well as Nexsan
Combining 450,000 storage products sold to individuals, SMBs and enterprises
August 22, 2018 | Press Release