Dell EMC VxRail and XC Series HCI Appliances Based on PowerEdge 14th Generation Servers
For more processing power and higher internal bandwidth
This is a Press Release edited by StorageNewsletter.com on 2017.12.05
Dell EMC, part of Dell Technologies, received a boost with the availability of HCI appliances on PowerEdge 14th generation servers.
VxRail

With this latest PowerEdge server platform, designed and optimized for HCI, customers of all sizes can expect more powerful and predictable performance with greater configurability for hosting a range of mission critical software applications on VxRail and XC Series appliances.
"Customers transforming their IT are increasingly turning to hyper-converged infrastructure as an ideal foundation for simplifying IT today and for the future," said Chad Sakac, president, converged platforms and solutions division, Dell EMC "With HCI designed as a software-defined infrastructure, achieving ultimate performance and reliability relies on tightly engineering software with optimal hardware and its configurations. Dell EMC's turnkey, pre-integrated, tested and validated HCI appliances enable customers to simply stand-up and scale IT infrastructure, backed by trusted dependability and performance, to help IT organizations more easily meet the growing demands of their businesses."
According to IDC research, HCI is the fasted growing converged infrastructure segment with worldwide revenue growing 48.5% year over year in 2Q17, now accounting for nearly 25% of overall converged infrastructure solutions sold. The research shows the company is number one in global HCI systems with 29% of all 2Q segment revenue and year over year revenue growth of 149%. VxRail is one of the fastest growing HCI appliances worldwide with rapid customer adoption driving more than 275% year-over-year revenue growth, more than 5.7X the market growth rate.(1)
VxRail and XC Series offer advancements with PowerEdge 14th generation servers
The company combines the simplicity, agility and scalability of its industry HCI portfolio with the power and flexibility of next generation servers, designed and optimized for HCI. This offers performance and reliability to meet customer demands as HCI moves into core data centers and is relied on to run a wider range of applications and workloads.
PowerEdge 14th generation servers, based on Xeon Processor Scalable family, include 150 custom requirements for software-defined storage built-in, making it optimized for HCI. This includes improved support for SSDs in scale-out deployments; faster initialization and streamlined storage management; increased drive cooling for improved reliability; and, optional, common user interfaces across server and HCI platforms for company's systems management capabilities.
The upgraded HCI appliance portfolio offers customers faster access to applications and data thanks to higher core counts, faster clock frequency, more memory channels, and faster memory resulting in up to 1.7x more processing power and up to 62% higher internal bandwidth. (2)
Dell EMC HCI appliances include the VxRail Appliance, powered by vSAN and jointly engineered with VMware, Inc., and the XC Series, designed for customers seeking choice of hypervisors, including Hyper-V, or multi-hypervisor environments. These appliances help simplify the entire lifecycle with automation - with software that simplifies deployment, management, scaling, support and maintenance - making it easier for customers from day one.
VxRail Appliances on PowerEdge 14th generation servers
VxRail Appliances on PowerEdge 14th generation servers offer more predictable performance across millions of flexible configuration options to meet any HCI use case and more demanding, mission-critical workloads in VMware environments.
VxRail Appliance customers can expect:
Performance for the most demanding applications with up to 2X more IO/s, and more than 2x faster response times

Highly dependable performance with 9x more predictable response times sustained at sub-one millisecond

More options for right-sized deployments with millions more configurations including more processor options, SATA SSDs, additional network connectivity options, and more GPU expansion to precisely match customers' HCI requirements without over provisioning

Software-defined NAS support with Isilon SD Edge for remote office or edge-to-core file deployments, joining VxRail's remote replication, cloud object storage and manageability capabilities
Click to enlarge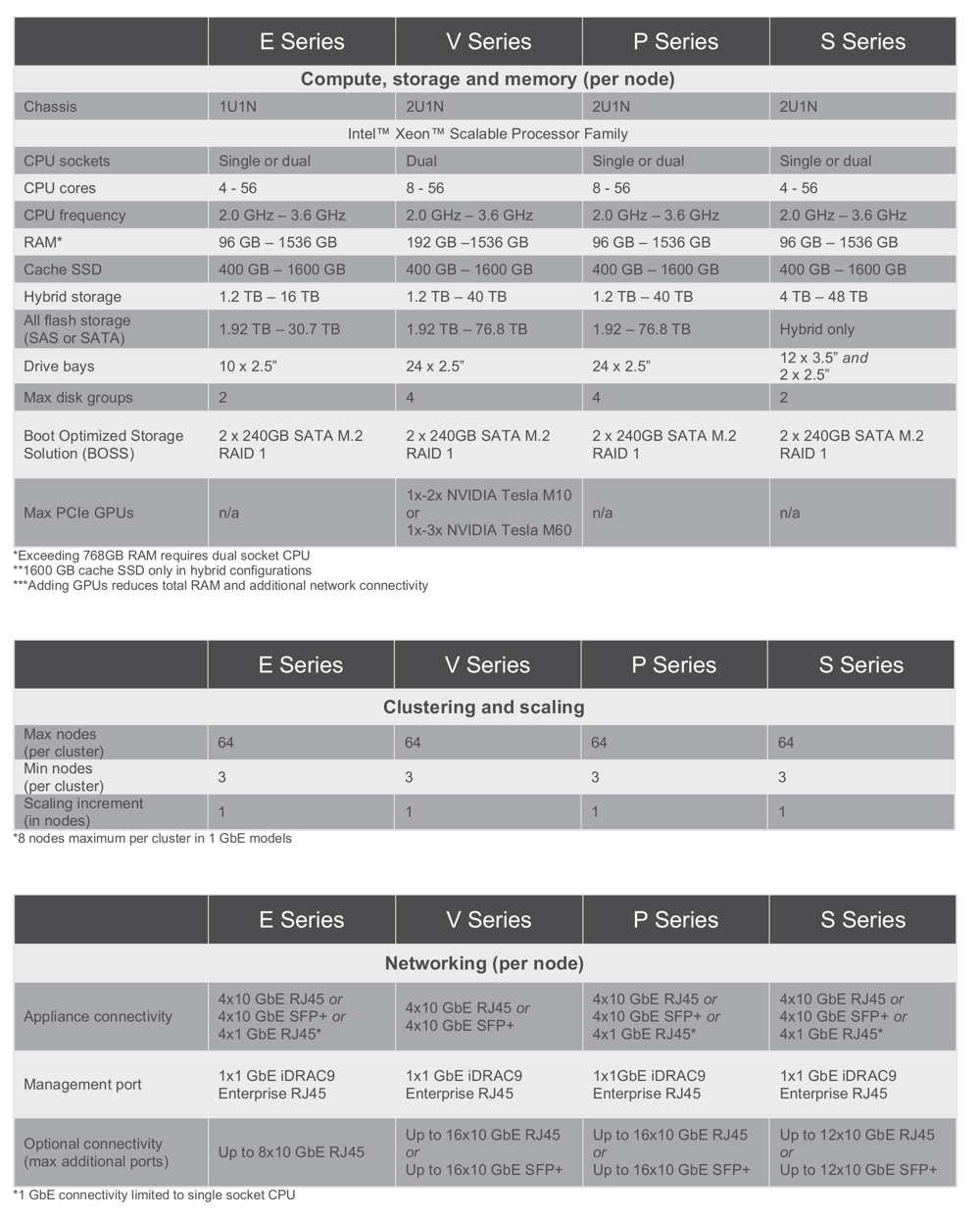 XC Series system

XC Series Appliances on PowerEdge 14th generation servers
XC Series on 14th Generation PowerEdge servers enables performance for workloads, faster networking speeds and NVMe/SSD configurations. More specifically, with the XC Series appliances, customers can expect:
Increased performance for compute intensive workloads with up to 50% additional cores per appliance

Up to 93% increased compute capability for workloads with storage density as a primary need

Expanded use cases in VDI environments for sophisticated compute needs with up to 50% more GPU power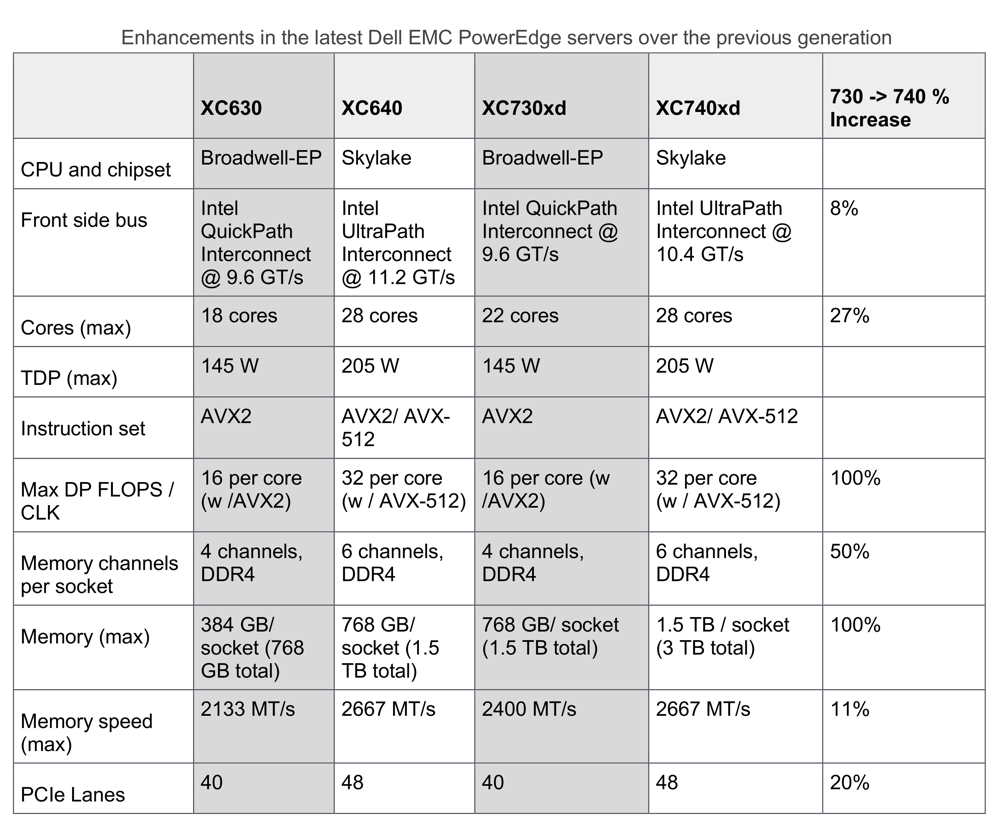 Availability:
VxRail Appliances on PowerEdge 14th generation servers are orderable and will be available starting December 12, 2017.

XC Series models XC640, XC740xd and XC740 on PowerEdge 14th generation servers are available.

Eric Sheppard, research director, enterprise storage and converged systems, IDC, said: "Hyper-converged systems make up the fastest growing segment of the converged systems market as we're seeing a sharp ramp of adoption across all kinds of industries, environments and use cases. Hyper-converged systems' simplicity of deployment, management and scale combined with tighter integration between technologies and proven architectures are key drivers for this growth. As the largest supplier of converged systems and hyper-converged systems, Dell EMC bringing to market more powerful and flexible HCI appliances should help meet the demands of customers looking to deploy even more enterprise workloads on Dell EMC systems."
Frank Oldale, VP, technology, First Credit Union, said: "It was time to replace our aging data center infrastructure, and our goal was to increase performance and scalability while lowering operating expenses. After a thorough review of options, we chose Dell EMC VxRail Appliances for our production and DR data center environments, working closely with Dell EMC and partner Turning Point on the migrations in July 2017. We already have seen a noticeable increase in virtual server performance, making interactions much faster for our employees, members and banking system processes. Our operating expense has reduced roughly 30%, power consumption is down 75%, and we now have an infrastructure in place to ensure performance, growth and lower overall costs to support our operational teams' goals."
Ryan Kennedy, academic computing team manager, University of Reading, said: "The Dell EMC XC Series has enabled us to provide academics at the University of Reading reliable access to self-service computing resources, allowing them to complete critical research in a timely manner. We're looking forward to the new platform's capabilities to help us provide even greater performance and efficiency for expanding our research cloud."
Resources:
Blog: The Best in Hyper-Converged Infrastructure Just Got Better      
Dell EMC HCI website for customer videos
Video: VxRail Appliances on 14th generation PowerEdge servers
More about how Dell Technologies is collaboratively solving customers' biggest challenges by visiting Annual Report to Customers

(1) Source: IDC Worldwide Quarterly Converged Systems Tracker, Q2 2017, September 26, 2017
(2) Based on Dell EMC internal analysis, October 2017, comparing a 13th generation PowerEdge server configured with an Xeon E5-2600-V4 processor, compared to a 14th generation PowerEdge server configured with an Xeon Scalable processor.