Teledyne LeCroy OakGate CD240-G5 CXL Compute Express Link Device Validation Solution
Offers performance and functionality testing for CXL memory devices, accelerating time-to-market of reliable memory devices.
This is a Press Release edited by StorageNewsletter.com on November 21, 2023 at 2:02 pm
Teledyne LeCroy, Inc. announces the OakGate CD240-G5 CXL Validation solution for PCIe 5.0-based Compute Express Link (CXL) memory expansion devices.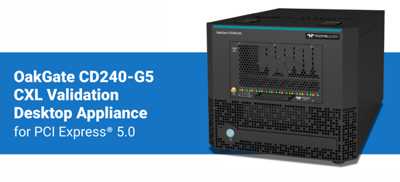 The OakGate CXL validation solution offers performance and functionality testing for CXL memory devices, accelerating time-to-market of highly reliable memory devices.
The emergence of AI and big data is propelling the trend toward heterogeneous computing, where multiple processors work in parallel to process massive volumes of data. CXL is an open standard industry-supported cache-coherent interconnect for processors and is supported on the PCIe 5.0 interface. CXL, a memory semantics technology, enables high-speed, low latency communication between the host processor and devices such as accelerators, memory buffers and smart I/O devices, while expanding memory capacity and bandwidth beyond what is possible today. Functional and performance validation testing is critical to the successful launch of CXL memory expansion devices, ensuring that new devices perform per the standard when released to the market. The OakGate CD240-G5, the latest company's test solution for CXL, is based on the firm's proactive collaboration with multiple data center, memory, and chipset manufacturers that develop next-gen CXL test and validation solutions.
Click to enlarge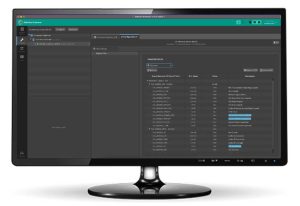 "Micron's collaboration with Teledyne LeCroy to prepare OakGate CD240-G5 for the real world has helped mature the CXL compliance test ecosystem, in addition to strengthening our own CXL innovation," said Siva Makineni, VP, advanced memory systems, Micron Technology, Inc. "Teledyne LeCroy's validation capabilities have played an important role in ensuring the quality and compliance of our developing CXL solutions. More importantly, enabling test and validation of advanced features while the software and hardware ecosystem prepare for this emerging standard is a critical step towards industry adoption of CXL."
Over the past 2 years, Micron has collaborated with the company to finetune its CXL validation capabilities by testing its nascent CXL solutions on the platform. Testing its CXL devices with Teledyne LeCroy's validation capabilities enabled Micron's CXL devices to make the CXL Consortium's Integrators List showcasing manufacturers with products that have met stringent CXL compliance standards. 
The company's OakGate validation test solutions for CXL spec provide a library of analysis and visualization capabilities.
The Endeavor validation software includes ability to:
Test up to 4 EDSFF E.3 or CEM CXL devices

Discover and enumerate CXL memory devices

Access the PCIe and CXL register spaces of connected devices

Exercise common memory traffic patterns

Allow CXL commands to be custom tailored and sent to connected devices through Endeavor's Passthrough Command Tool

Execute built-in security flows utilizing Security Protocol and Data Model (SPDM) over Data Object Exchange (DOE), SMBus and PCIe Vendor Defined Message (VDM)

Perform power control

Test sideband #PERST, #REFCLK, #PWRDIS control
A Software Development Kit (SDK) is included for all features listed including Representational State Transfer (REST) server with APIs allowing users to programmatically control all features available in the tool and automate. Additionally, company's customized, proprietary driver talks directly to the CXL device hardware. It provides the highest level of performance and lowest latency ensuring consistent and repeatable test performance.
OakGate CXL validation test appliances for PCIe Gen5 can be ordered.