Partnership Between Graid and ThinkParQ for HPC and Data Management
Including SupremeRAID GPU-accelerated data protection solution with ThinkParQ's BeeGFS parallel file system
This is a Press Release edited by StorageNewsletter.com on November 21, 2023 at 2:00 pm
Graid Technology, Inc. and ThinkParQ GmbH, developer of BeeGFS parallel file system, announced their collaboration to elevate the performance and fortify the data protection landscape across multiple industries.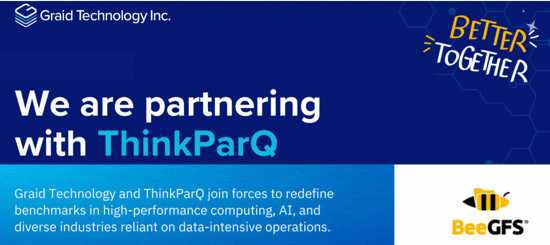 This strategic partnership joins the company's SupremeRAID, a GPU-accelerated data protection solution, with ThinkParQ's BeeGFS parallel file system, recognized for its performance, scalability, and simplicity in management. It aims to address the increasing demands in HPC, AI and DL, M&E, life sciences, and oil and gas industries.

The collaboration between SupremeRAID and BeeGFS represents a shift in the realm of storage, data management, and business resilience. It effectively sidesteps the performance limitations inherent in other RAID products, providing enhanced data protection, scalability, flexibility, and reduced TCO.
"By joining forces with ThinkParQ, we aim to redefine the benchmarks in high-performance computing, AI, and diverse industries reliant on data-intensive operations," stated Leander Yu, president and CEO, Graid. "The collaboration between SupremeRAID and BeeGFS creates an unparalleled synergy that not only enhances performance but also ensures comprehensive data protection, scalability, and flexibility."
"We are delighted to partner with Graid Technology and are really excited for our partners and customers to experience how they can benefit from the collaboration between SupremeRAID and BeeGFS" said Frank Herold, CEO, ThinkParQ. "The technical innovation between the two companies will further enhance, and accelerate our customers experience".
The strategic partnership between the 2 companies signifies a pivotal moment in the evolution of storage solutions, promising advancements to cater to the most demanding computational workloads across various industries.
Read also :