SC23: WekaIO Partners with Applied Digital
To supercharge GPU cloud for generative AI customers
This is a Press Release edited by StorageNewsletter.com on November 20, 2023 at 2:00 pm
From Supercomputing 2023, WekaIO, Inc. announced that it is working with Applied Digital Corporation, a designer, builder, and operator of next gen digital infrastructure for HPC applications and workloads, to provide an underlying accelerated software architecture underpinning its AI Cloud Service.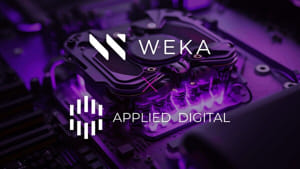 Applied Digital is developing a turnkey offering that allows enterprise customers to purchase and use GPU resources on-demand, at scale, across its data centers for AI model training and inference in virtualized, bare-metal, and containerization environments.
Weka has partnered with Applied Digital to improve GPU utilization and efficiency for AI customers.
AI holds significant business potential that many enterprises are eager to capitalize on, like supporting the creation of new value propositions, increasing operational efficiencies, and accelerating R&D or time to insight.
However, the high cost and complexity of owning and operating thousands of GPUs for AI is prohibitive. Customers turn to providers like Applied Digital for cloud access to support AI and HPC workloads. Applied Digital's customers use some of the world's largest GPU clusters, with plans to scale to 10,000 GPUs or more per cluster, requiring data access of one terabyte per second or more.
The Weka Data Platform optimizes data pipelines for generative AI and HPC workloads, boosting GPU data center efficiency. Customers can achieve 1.8TB/s of bandwidth in a single rack, lowering infrastructure costs and energy usage, improving GPU utilization by up to 20x, and reducing training time by 10-100x.
Applied Digital has partnered with Weka to improve GPU utilization and efficiency, deliver storage and management capabilities, simplify data onboarding, and allow customers to scale deployments ranging from a fraction of a GPU to tens of thousands of GPU servers.
"The rapid rise of generative AI has intensified demand for the GPUs required to build AI models and applications, but many businesses don't want to deal with the complexity or expense of owning and housing them," said Mike Maniscalco, CTO, Applied Digital. "Customers looking for a facility to provide access to large-scale GPU servers on-demand are hard-pressed to find it. Applied Digital's AI Cloud Service offerings were created to improve that access, and the Weka Data Platform has been key to helping our GPUs run more efficiently and cost-effectively at scale with exceptional performance – and pass those benefits on to our customers."
"Visionary companies like Applied Digital are wisely responding to skyrocketing demand for GPU-accelerated computing resources at scale by creating innovative 'GPU-as-a-service' offerings to support the development of generative AI applications on demand. But running large-scale, multi-GPU clusters is hugely performance and resource-intensive – if you can't fully maximize the potential of your GPUs or keep their energy consumption in check, you can't deliver optimal productivity, cost optimization, and value to your customers," said Jonathan Martin, president, WekaIO. "This is quite literally what the Weka Data Platform was built for. WekaIO is proud to be on the bleeding edge of this rapidly emerging market, helping to bring maximum performance, flexibility, efficiency, and sustainability to the world's leading GPU cloud providers."
Read also :