PNY CS3150 M.2 NVMe PCIe Gen5 x4 Up to 2TB SSD
$180 for 1TB with black heatsink, $190 for 1TB with black RGB heatsink, up to 12,000 MB/s and 11,000 MB/s sequential RW speeds
This is a Press Release edited by StorageNewsletter.com on November 20, 2023 at 2:03 pm
PNY Technology, Inc. announced the CS3150 M.2 NVMe PCIe Gen5 x4 SSD with integrated heatsinks.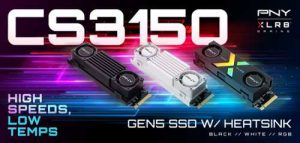 The CS3150 is at the forefront of cutting-edge storage, leveraging the NVMe PCIe Gen5 x4 interface with sequential RW speeds up to 12,000 MB/s and 11,000 MB/s (2) respectively, this technology catapults computing experiences to new levels, making it a choice for professionals, enthusiasts, and anyone seeking storage performance.


Innovative heatsink
The CS3150 at launch will be available in 1 and 2TB (3, 4) densities and will come integrated with 1 of 3 different dual-fan heatsinks – Black, White, or Black-RGB. These y heatsinks have an innovative design with not 1 but 2 quiet fans to maximize heat dissipation generated by intensive applications, prolonged workloads, and fast transfer speeds.
Dual-fan heatsinks white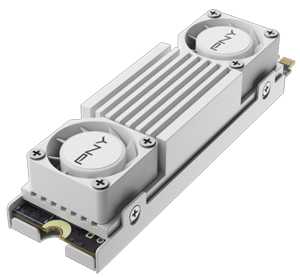 Enhanced gameplay with XLR8 gaming
Thee CS3150 SSD takes advantage of Microsoft DirectStorage(5), a feature that was introduced in Windows 11 that improves both the speed at which games load and the quality of their images. Combining the XLR8 Gaming CS3150 with Black RGB heatsink with XLR8 Gaming DDR5 DRAM and a performance graphics card such as GeForce RTX 4080 16GB XLR8 Gaming VERTO EPIC-X RGB Triple Fan will minimize load times, ensuring you spend more time creating or gaming (5). Additionally, the company's VelocityX software is able to synchronize the RGB lights on all 3 devices, as well as overclock all Nvidia graphics cards in PNY's catalog.
CS3150 SSD with RGB heatsink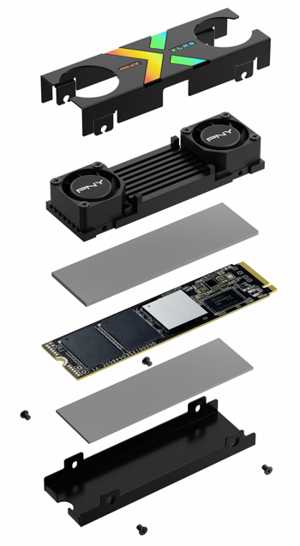 Features :
Next-gen speed: Superior performance compared to NVMe Gen4 x4 SSD with speeds of up to 12,000 MB/s seq. read and 11,000 MB/s (2) sequential write.
Productivity: With fast RW speeds, reduced load times, and better overall system responsiveness, it's a solution for PC enthusiasts, gamers, and content creators who demand the most from their computers.
Extreme cooling: Dual-fan heatsink designed to keep Gen5 x4 SSD running cool and prevent performance throttling, assuring consistent SSD performance in demanding situations.
RGB Sync with Velocityx: Plug-in the 9-pin (USB) power connector from the CS3150 RGB heatsink to customize color, lighting effects and fan speeds using Velocity-X software.
Data protection: TCG Opal 2.0 enabled for hardware encryption and storage security.
Availability (4)
The CS3150 M.2 NVMe PCIe Gen5 x4 SSDs with heatsink will be available December 2023 (4) at MSRP: 1TB with Black Heatsink: $179.99, and 1TB with Black RGB Heatsink: $189.99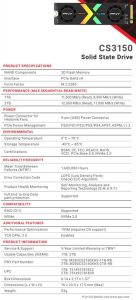 (1) The PNY logo is a registered trademark of PNY Technologies, Inc. All other trademarks are the property of their respective owners and no affiliation between PNY and such owners should be inferred.
(2) Sequential RW data transfer rates based on PNY internal testing using an NVMe PCIe Gen5 x4 host device; slower performance is expected when equipped in PCIe Gen4 x4 host devices. Performance may vary depending upon drive capacity, host device, OS and application.
(3) For flash media devices, 1MB=1 million bytes; 1GB=1 billion bytes. Actual useable capacity may vary. Some of the listed capacity is used for formatting and other functions, and thus is not available for storage.
(4) Product availability varies globally. At launch, AsiaPac region will have the 2TB drives with all versions of the heatsink. Europe/Middle East/Africa will have 1TB with Black or Black RGB heatsinks available.
(5) Requires Windows 10 version 1909 or higher, an NVMe PCIe 3.0 or higher SSD such as a PNY CS3150 Gen5 x4 SSD, and a graphics card that supports DirectX12 and Shader Model 6.0. Only PC games that support Microsoft DirectStorage will experience improved load times and game performance.
(6) For full details
Read also :