From Perifery/Datacore, OpenEBS PRO Datastore Solution for Enterprises Using Kubernetes
Enterprise-grade solution offers performance, resiliency, security, and support for stateful workloads.
This is a Press Release edited by StorageNewsletter.com on November 17, 2023 at 2:02 pm
Perifery, a division of DataCore Software Corp., announced OpenEBS PRO, a datastore solution for enterprises using Kubernetes.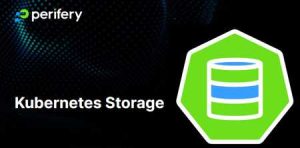 OpenEBS PRO offers cutting-edge, enterprise-grade data management by integrating stateful persistence capabilities into the Kubernetes platform, enabling enterprises to handle mission-critical stateful workloads with container-native storage.
"Kubernetes is an exceptional platform for deploying stateless applications such as microservices and ML; however, it is not designed to handle persistent datastores required by traditional stateful workloads," said Abhi Dey, GM and COO. "Perifery OpenEBS PRO addresses this critical gap by integrating stateful persistence capabilities into Kubernetes and provides a holistic solution with enterprise-level flash performance, resiliency, data security, and global support."

OpenEBS PRO is based on OpenEBS, the most ubiquitously deployed stateful persistent open-source datastore platform in the Kubernetes market, with more than 500,000 users. It offers an array of stateful persistence capabilities for Kubernetes, including cloning, replicated volumes, snapshots, thin provisioning, high performance, virtual datapools, and HA. The solution empowers enterprises to manage stateful workloads, enabling scaling and storage sharing across their entire Kubernetes ecosystem.
According to Gartner, more than 90% of global organizations will be running containerized applications in production by 2027, a significant increase from fewer than 40% in 2021. OpenEBS PRO intends to address these new emerging workloads with its performance and Kubernetes-native architecture compared to non-native, external legacy solutions.
Keeping with the company's commitment to excellence and extending support to enterprise customers, the firm has designed an extensive array of solutions through the provision of data protection options, bolstered security functionalities, and seamless integration with enterprise-grade data management systems. OpenEBS PRO provides 24/7 customer support, security protocols, and vigilant monitoring. Furthermore, the solution offers SLAs that guarantee performance and uptime, along with invaluable indemnification benefits. Perifery's solution is tailor-made to suit the demands of mid-market, government, and large-scale corporate customers, providing them with customized Kubernetes-native datastore services that are second to none in the industry.
The company will continue to invest in the development of OpenEBS and support open-source users of OpenEBS via its CNCF OpenEBS project, while addressing the critical needs of the enterprise market with high-level features and data management services on OpenEBS PRO.