Qnap Bundle Discounts AMD Ryzen Quad-Core 2.5Gb/s NAS and QSW-1105-5T 2.5GbE Switch
Including TS-473A, TS-673A or TS-873A NAS models with QSW-1105-5T 5-port 2.5GbE switch
This is a Press Release edited by StorageNewsletter.com on November 16, 2023 at 2:01 pm
Qnap Systems, Inc. launched discounted bundles for the TS-473A-SW5T, TS-673A-SW5T and TS-873A-SW5T.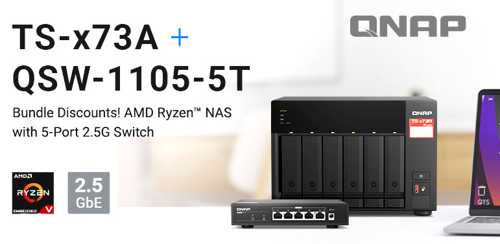 Each bundle contains a TS-473A, TS-673A or TS-873A NAS with a 5-port 2.5GbE Switch QSW-1105-5T. To break through gigabit bottlenecks in connecting 2.5GB/s LAN/WAN devices, the QSW-1105-5T allows connecting to multiple 2.5GbE gaming PC/laptops, and also TS-x73A NAS for fast data transmission, such as file backup, multimedia transfer, VM/Container and video surveillance high-bandwidth applications.
"As ISPs now offer home users with multi-gigabit internet connections and faster Wi-Fi 6 requires multi-gigabit wired networking, we need to upgrade our networks to take advantage of this huge bandwidth. Qnap's 2.5GbE Switch and NAS take full advantage of this bandwidth to provide a smoother networking experience for home and work needs." said Jerry Deng, product manager."Qnap now offers a discounted bundle for 2.5GbE switch and NAS, allowing users to upgrade to high-speed networks and file center in homes or offices at an affordable price."
TS-x73A series: AMD Ryzen quad-core multi-tasking 2.5GbE NAS
TS-473A bundle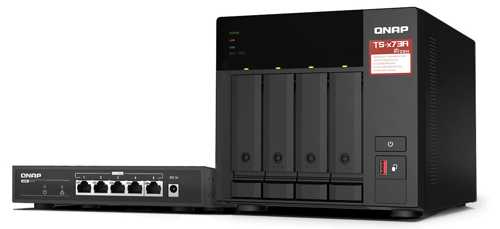 TS-x73A series includes 2x2.5GbE RJ45 ports which can be combined to achieve up to 5Gb/s bandwidth using SMB Multichannel; 2xM.2PCIe NVMe SSD slots for SSD caching or high-speed storage pools; 2xPCIe Gen 3 x4 slots for installing 5/10GbE network cards, connecting to Qnap storage expansion units, or supporting entry-level graphics cards for boosting video editing performance or passing through GPU functions to VMs.
TS-673A bundle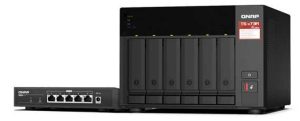 The TS-x73A series incorporates QTS 5 to offer an all-in-one backup and restoration solution supporting versatile cloud-based services for simple hybrid cloud deployment. IT staff can regularly take snapshots to protect NAS vs. ransomware and create VPNs using the QVPN service for secure remote data access to your NAS. Windows, Linux, UNIX, Android VMs can be hosted using Virtualization Station. Docker, LXD, and Kata Containers can be run using Container Station. Users can find and install a multitude of apps from the App Center to expand the application potential of the NAS.
TS-873A bundle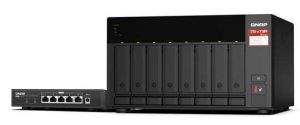 QSW-1105-5T: budget-friendly 5-port 2.5GbE Switch

The QSW-1105-5T unmanaged switch features 5x2.5GbE/NBASE-T RJ45 ports that support 2.5Gb/1Gb/100Mb transfer speeds. With no complex settings required, it supports auto-negotiation that optimizes transfer speeds and performance for each connected device, while its built-in management mechanism ensures smooth transmission of network packets. It also features network loop detection that can automatically lock looped ports to ensure the network environment quickly resumes normal operation.
Key specs:
TS-473A-8G, TS-673A-8G, TS-873A-8G: Tower model with 4/6/8 drive bays; AMD Ryzen V1000 series V1500B quad-core 8-thread 2.2GHz processor, 8GB DDR4 memory (1x8GB); 2x DDR4 SODIMM dual-channel RAM (up to 64GB, ECC RAM supported); hot-swappable 2.5-inch/3.5-inch 6Gb SATA HDDs or SSDs; 2×2.5GbE RJ45 LAN ports (2.5Gb/1Gb/100Mb); 2xM.2 2280 PCIe Gen3 x1 slots; 2xPCIe Gen 3 x4 slots; 3xUSB 3.2 Gen 2 Type-A ports, 1xUSB 3.2 Gen 1 Type-C port

QSW-1105-5T: 5-port 2.5GbE unmanaged switch, compliant with IEEE 802.3x, Auto Negotiation
Read also :