SC23: Hammerspace and Vcinity Join Forces
To give users faster data access, independent of location and type of applications
This is a Press Release edited by StorageNewsletter.com on November 15, 2023 at 2:00 pm
Vcinity, Inc. is collaborating with Hammerspace, Inc. to allow organizations to access and use data more efficiently, regardless of where it is stored.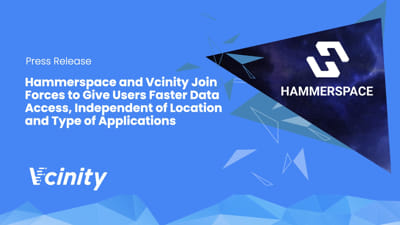 The combination of the Hammerspace software-defined file storage and data orchestration solution and Vcinity's ability to accelerate time-to-data access at scale across diverse datasets and long distances empowers Hammerspace users to unlock data beyond boundaries and expedite time to insights, action, and outcomes.
Hammerspace performed its data-in-place assimilation, which is normally done locally, over a WAN (simulated) by leveraging Vcinity. This enables customers and service providers to orchestrate 3rd-party file data from remote locations to centralized resources such as GPU farms.
"Vcinity and Hammerspace share a common mission to make enterprise data a global asset. The combination of the Hammerspace global file system and data orchestration with Vcinity's high-performance access to remote data empowers our customers to utilize their data in new and better ways than ever before," said Tony Asaro, SVP of strategy and business development, Hammerspace. "Together, we revolutionize high-performance AI/ML workloads by enabling businesses to orchestrate their distributed data to their centralized GPU resources propelling them towards quicker insights and greater business outcomes." 
"Hammerspace immediately understood that the joint solution with Vcinity is a huge win for customers," said Harry Carr, CEO and chairman, Vcinity. "In an AI/ML world, Hammerspace's ability to unify, orchestrate, and automate global unstructured data is complemented by Vcinity's unparalleled performance for moving or accessing data. A global namespace and immediate access to data truly enables the next data cycle."
Hammerspace provides organizations with a vendor-neutral, software-defined file storage and data orchestration solution that can run in any combination of cloud, data center and edge locations to break down storage silos and put data in motion to where it is most valuable. By integrating with existing infrastructure and leveraging advanced technologies such as AI and ML, it empowers businesses to unlock the potential of their data. Vcinity's ability to move and access data extends that reach and power to derive value from data even further.
Examples of use cases that benefit from the joint Vcinity and Hammerspace solution include:
AI/ML Applications: Expedite data transfer into Hammerspace or allow applications to compute on data remotely upon creation, increasing speed and efficacy of intelligent decisions.
Distributed Data Centers: Accelerate data movement at scale across distributed locations while applications operate without disruption, enabling data consolidation, federation, and orchestration.
Remote Workforce: Provide remote employees or authorized users the ability to interact with distributed data as if it were local, easing data management, improving data security, and optimizing workforce productivity.
Edge Compute: Enable the ability to run applications in Hammerspace on data outside of the Hammerspace environment, unlocking new workloads, data, and insights.
To see demonstrations of the joint solution, visit Hammerspace at SC23, taking place in Denver, CO, November 12-17. To learn more about the joint solution, visit the solution page.