SC23: DDN and Next Silicon Bring Next Gen Computing to At-Scale AI and HPC Accelerating Workflows and Science
Accelerator chip delivers high speed RDMA performance over IB and Ethernet.
This is a Press Release edited by StorageNewsletter.com on November 15, 2023 at 2:00 pm
DDN (DataDirect Networks Inc.) and Next Silicon Ltd., a Tel-Aviv, Israel-based company specializing in next-gen computing, announced an optimized end-to-end compute to network to storage solution which optimizes data center I/O performance for today's complex and demanding workflows.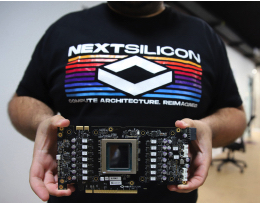 "At Next Silicon we believe that technology will allow humanity to break boundaries, not set them," said Elad Raz, founder and CEO, Next Silicon. "We are thrilled to have a trusted storage technology partner such as DDN alongside us to deliver an optimized and flexible data path that will allow our customers to continue their work around ground-breaking scientific progress, free from the constraints of existing technology."
The combined DDN and Next Silicon solution achieves performance increase by connecting DDN's AI400NVX2 Storage appliance simultaneously and directly to IB and Ethernet networks. Next Silicon is making its debut of the next-gen Maverick processor at SC23, the International Conference for HPC, Networking, Storage, and Analysis, at the Colorado Convention Center in Denver, CO. Using RDMA on both the DDN side and Next Silicon side, system CPU bottlenecks are bypassed and data is passed directly from the DDN storage to the accelerated Next Siliconprocessing unit.
"As AI and HPC workloads require more and more processor resources, ensuring that the data path is free from bottlenecks is key to making application acceleration possible," said Kurt Kuckein, VP of marketing, DDN. "This joint DDN and Next Silicon testing demonstrates the significant end-to-end I/O optimizations we have made for most data-intensive workloads, enabling data scientists and researchers to achieve better results and faster time to insight and innovation. DDN remains at the forefront of AI and HPC."