Backblaze Serves Demand for Storing Data in More Places with CoreSite Colocation and Connectivity Solutions
Storage cloud platform ensures local availability and data resilience with CoreSite's scalable facility, native cloud onramps and Open Cloud Exchange.
This is a Press Release edited by StorageNewsletter.com on November 15, 2023 at 2:02 pm
CoreSite, subsidiary of American Tower Corp., announced that Backblaze, Inc. is now leveraging CoreSite's colocation and connectivity solutions.

Managing over 3 billion gigabytes of data capacity, Backblaze supports more than 500,000 customers in over 175 countries, on a cloud storage platform designed to make it for businesses, developers, IT professionals and individuals to build applications, host content, manage media, and back up and archive data.
While it utilizes multiple data centers globally, it announced in December 2022 that it selected CoreSite as its colocation and connectivity partner for the cloud storage company's expanded service in the eastern U.S. data region. The infrastructure expansion enhances Backblaze customers' cloud storage options and strengthens data resilience.
Click to enlarge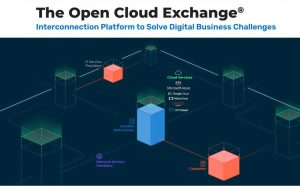 The company's Reston, VA (VA2) data center establishes the East Coast location, providing Backblaze with further geographic diversity and contributing an exabyte of capacity to support growing customer needs. To protect the integrity of firm's operations and its customers' data, VA2 offers redundant infrastructure and robust security.
In addition, the company offers the on-net carriers Backblaze requires, as well as native cloud onramps that allow its customers to replicate their data from hyperscale cloud providers, including AWS and its Amazon S3 platform, to the company's platform without egress fees.
"We are committed to making cloud storage and data replication easy for our customers," said Chris Opat, SVP, cloud operations. "CoreSite serves as a partner in this mission, helping us move forward and achieve powerful results."
The company helped Backblaze rapidly deliver its suite of cloud storage products to East Coast customers while also providing integration to Backblaze's network and public cloud partners via the CoreSite Open Cloud Exchange.
Resources:
CoreSite Open Cloud Exchange Solutions Brief     
Watch the Open Cloud Exchange video to see how this interconnection platform can solve digital business challenges
More about CoreSite's VA2 data center