History 2003: WW Storage Management Software Market Declined for First Time in 2002
By 6% Y/Y at $4.7 billion, EMC remaining ≠1
By Jean Jacques Maleval | November 14, 2023 at 2:01 pm
The WW storage management software market reported its first Y/Y decline in 2002, according to the report from Gartner, Inc., 2002 Storage Management Software Market Share (148 pages, $9,995).
The market reported license revenue of $4.7 billion in 2002, a 6% decline over 2001.
EMC remained the ≠1 storage management software vendor in 2002, with market share of 25.6%, while its nearest rival, Veritas Software, garnered 18.6%.
Gartner analysts said if the $1.5 billion in array- and switch-based software were excluded from the analysis, Veritas would be in the lead, and EMC would move to the ≠3 slot behind IBM.
"Only 3 of the top 10 vendors were able to grow software revenue in a very challenging year," msaid Carolyn DiCenzo, VP Gartner's storage group. "Hitachi/Hitachi Data Systems, which sells its storage array software directly, and through HP and Sun, saw 77% growth in 2002."
Hewlett-Packard acquired Compaq in 2001, and even though revenue declined 2% in 2002, the combined company moved into the ≠4 slot, up from the ≠5 position earned by Compaq in 2001.
"The depressed economy, resulting in tight spending and pressure on product pricing, has finally taken its toll on the storage software market," DiCenzo said. "Infrastructure and data management software will remain under pressure as long as server and array sales are depressed."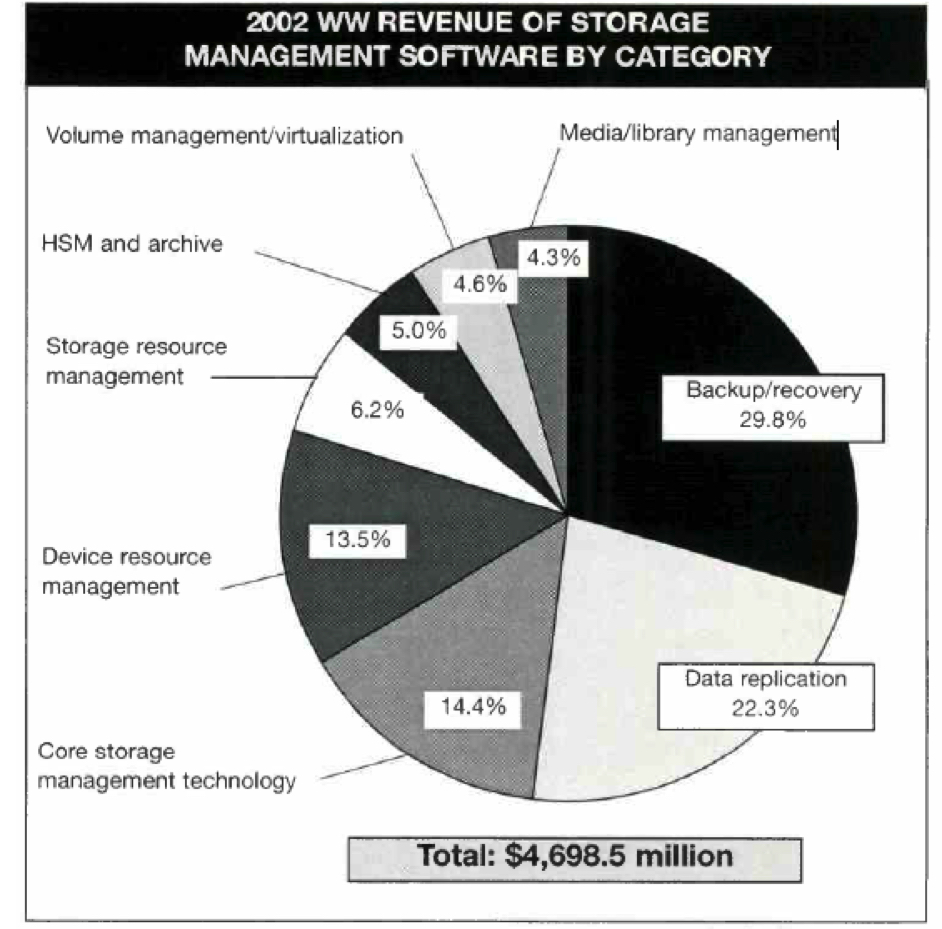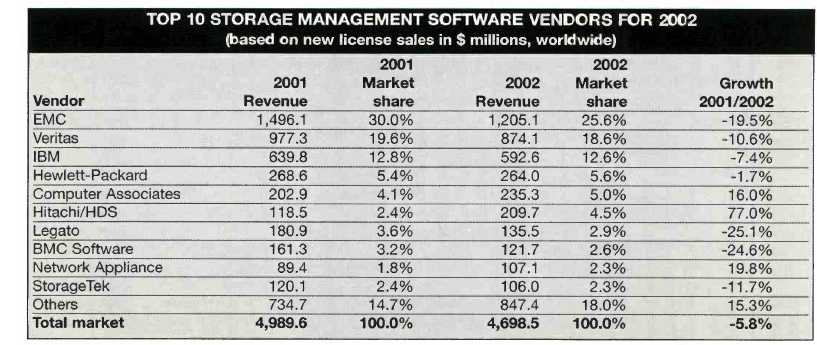 This article is an abstract of news published on issue 184 on May 2003 from the former paper version of Computer Data Storage Newsletter.