Infinidat Gains Ground with Veeam and Kasten by Veeam to Advance VMware Environments and Container-Based Workloads
Integration at VMware Explore in Barcelona, Spain, and at KubeCon 2023 show in Chicago, IL
This is a Press Release edited by StorageNewsletter.com on November 2, 2023 at 2:01 pm

By Eric Herzog, CMO, Infinidat Ltd.
The integration of Veeam and Kasten by Veeam modern data protection solutions and Infinidat enterprise storage solutions has been put to the test – often in several virtual events. The results have turned heads in the enterprise sector.

Infinidat's InfiniGuard platform recovered a 20PB Veeam backup repository in 11mn and 55s. It also has recovered several times in virtual events 175,000 video files of 200TB on an InfiniBox in 4s.
The company's platforms have proven to be a backup target for Veeam. The integrations between the 2 companies' platforms have resulted in over a hundred mutual, high-end enterprise customers, showcasing real market traction with joint solutions. The formula is comprised of rapid cyber recovery, advanced cyber resilience, excellent integration capabilities, automation, and maintaining persistent storage in a container environment.
Click to enlarge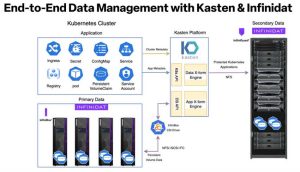 Working tightly across the Veeam portfolio, the company is well-positioned as an enterprise storage choice to complement Veeam solutions for end-to-end backup at scale. In early 2023, it expanded its strategic collaboration with Veeam, provider in modern data protection, and Kasten by Veeam, the market leader in Kubernetes backup, DR and mobility.
Integration
It will be presenting in the Veeam booth at VMware Explore in Barcelona, Spain, to give more enterprises the opportunity to see the power of the joint solutions in person. then 2 partners like a challenge, and it's been shown time and time again that both companies, who match up well with each other, rise to the challenge.
Infinidat will also be presenting in the Kasten by Veeam booth at the KubeCon 2023 show in Chicago, IL. The firm has partnered with Kasten by Veeam to ensure that customers can leverage Infinidat's storage at scale in all aspects of their Kubernetes environments. When paired with InfiniBox enterprise-grade primary storage and InfiniGuard secondary storage, users can expect reliable, scalable, and high-performance storage for stateful application workloads.
InfiniGuard is a efficient, purpose-built secondary storage backup and recovery solution that provides high data reduction, fast backup, and HA − all without compromising on recovery speed.
Joint customer
One of the joint customers that Infinidat and Veeam have together is a manufacturing enterprise that is one of the largest, most mission-critical and most demanding environments in the world, using SAP S4/HANA to manage their manufacturing processes and their entire enterprise resource planning. These are extremely demanding workloads. SQL server environments can get very demanding, too. This enterprise is able to protect its enterprise infrastructure and keep it safe from ransomware by using the joint Infinidat/Veeam solution.
Veeam delivers the modern data protection, while, in a complementary manner, Infinidat delivers on the cyber side. In this customer success story, Infinidat replaced the incumbent storage vendor, and the enterprise switched to Veeam for backup.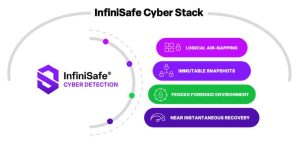 The firm's InfiniSafe software is used for the immutable snapshots of the data in case of a cyberattack. InfiniSafe is run on the primary storage workloads and on the backup datasets. They back up with Veeam, all those datasets to the InfiniGuard, a purpose-built backup appliance, and then they replicate to another physical location for DR protection. If a disaster strikes, the enterprise has the backup datasets and the primary datasets replicated to that secondary data site.
Cybercriminals don't walk in like King Kong pounding their chest and shouting. It's all done surreptitiously. When a ransomware attack happens, you create a fenced forensic environment. This environment enables your enterprise to do cyber analytics and make sure you have a known good copy of data before you do the restoration.
The last thing you want to do is recover a 20PB Veeam backup repository in minutes and then find out that it's replete with ransomware or other forms of malware. Infinidat solves this problem with InfiniSafe software that is built into both the InfiniBox and InfiniGuard, supported by guaranteed SLAs.
Automation plays a major role in an Infinidat/Veeam implementation. Basically, there is almost no management needed. It's a completely automated play. This lowers operational manpower. The storage system manages itself. There's no fooling around with the storage at all. And there is heavy integration between Infinidat and Veeam and between Infinidat and VMware. Infinidat has invested heavily in integrating with the universal storage API. A significant amount of engineering has been done between Veeam and Infinidat.
According to a Data Protection Trends survey that Veeam conducted, 82% of enterprises either already have critical production workloads running on Kubernetes environments or will have by the end of 2023.
Click to enlarge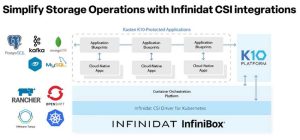 Containers
Unlike VMs in the container space, the issue is how do you get persistent storage when you remove a container – also remove the storage and the data associated with it. In a virtual world, that doesn't happen. Infinidat has developed a CSI driver and is certified in the Kubernetes environment and with Kasten by Veeam. The CSI driver support enables the company to maintain persistent storage. And that's highly valuable. In fact, it's necessary in the container world that the storage solution provider needs to provide.
InfiniBox and InfiniGuard have been validated with Kasten K10 Kubernetes backup software as source and target devices to provide enterprise-grade Kubernetes data protection at scale. This product portfolio-led approach reinforces Infinidat's commitment to Kubernetes, which is gaining more traction among enterprises. Kasten K10 provides enterprise teams a simple, scalable, and secure system for backup/restore, DR and mobility of Kubernetes applications.
Certifications
The 'Veeam Integrated' status of InfiniGuard increases Infinidat's momentum in data protection, building on 2 other certifications that Infinidat has secured with Veeam. InfiniGuard was verified last year as Veeam Ready, which affirmed InfiniGuard as a strong and performant repository for Veeam customers.
Earlier, InfiniBox was Veeam Integrated, providing Veeam the ability to trigger snapshots on InfiniBox, then backup from those snapshots. This is a critical function for backup because it offloads the impact of backup operations from production systems and minimizes end-user performance impact.
With this latest certification with Kasten by Veeam, InfiniGuard is selectable as a de-dupe storage appliance directly from the Veeam console. While customers could use Infinidat solutions in the past, the process to set up InfiniGuard was manual and has now been automated. This puts Infinidat in a small group of Veeam partners with this level of certified capability.
Resources
Video: full interview between Veeam and Infinidat executives on Veeam's 'Industry Insights' channel
Presentations:
At VMware Explore in Barcelona, spain, (6−9 November, 2023), on November 7 for the presentation: Protect Your Most Valuable VMware Environments with Infinidat and Veeam.
At KubeCon in Chicago, Il, (November 6-9 2023), presentation: Infinidat and Kasten: Application-Centric, Lightning-Fast Backup and Recovery at Multi-Petabyte Scale.