SIOS Technology Cloud Availability Symposium 2023
3 featured speakers at SQL Server session on November 8
This is a Press Release edited by StorageNewsletter.com on October 27, 2023 at 2:01 pm
SIOS Technology Corp. announced the lineup of featured speakers for the SQL Server Session of its SIOS Cloud Availability Symposium 2023: DR Mastery, the industry's only event dedicated to HA/DR for critical applications in the cloud, held on November 8.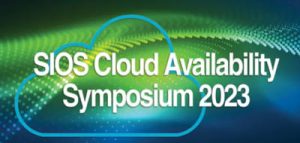 The symposium is a global virtual conference for IT professionals focusing on the availability needs of the enterprise IT customer. Whether attendees are interested in learning the fundamentals of availability in the cloud or hearing about the latest developments in application and database protection, this event will deliver the information needed on application HA clustering, DR, and protecting applications now and into the future.
As technology advances, IT teams need to adapt their thinking about application availability, performance, and efficiency.
"The SIOS Cloud Availability Symposium offers valuable insights and the guidance of industry leading experts to help IT professionals implement effective SQL HA/DR strategies for both their current and future SQL Server Session environments," said Margaret Hoagland, VP, global sales & marketing, SIOS Technology.
Cloud Availability Symposium for SQL Server/Windows – November 8
DR Mastery – With real-world examples and practical insights, HA/DR expert speakers will discuss the nuances and best practices of HA/DR for SQL Server environments specific industries and use cases as well as guidance on optimizing configuration and management.
Featured Sessions include:
Understanding SQL Server Storage Options in Cloud. Speaker: Joey D'Antoni, principal consultant at Denny Cherry & Associates Consulting
Navigating Cloud SLAs and Ensuring Application-Level Resilience. Speaker: Dave Bermingham, director of customer success, SIOS Technology and MS MVP Emeritus, Windows Server Failover Clustering and cloud and data center management
HA Strategies for 24/7 Operations in Financial Services Organizations. Speaker: Todd Doane, solutions architect, SIOS Technology
Mastering DR for SQL Server in Building Management and Security. Speaker: Todd Doane, solutions architect, SIOS Technology
The Cloud Availability Symposium is a free virtual event sponsored by SIOS Technology.
Twice a year, this company brings together industry experts to discuss insights trends, challenges and best practices for application HA/DR in fast-changing environment.