WD Black SN770M NVMe M.2 2230 Up to 2TB SSD for Mobile Gaming
$75 (500GB), $110 (1TB), and $220 (2TB)
This is a Press Release edited by StorageNewsletter.com on September 19, 2023 at 2:02 pm
To help consumers get the most out of their handheld gaming PC experience, WD_Black from Western Digital Corp. is introduced as a premium, high-performance M.2 2230 solution architected for handheld PC gamer.

Building upon the WD_Black legacy of performance storage for all kinds of competitive gamers, the company is introducing the WD Black SN770M NVMe SSD.
According to a recent Gartner report, the handheld gaming console market is expected to reach 14.8 million by 2027. (*) As the mobile gaming market continues to grow and more AAA titles are released, new and innovative storage solutions are being released and developed to ensure mobile gamers are able to make the most of their on-the-go gaming experience.
"With game sizes continually becoming larger, it's easy for handheld game consoles to fill up over time with new games and regular updates," said Eric Spanneut, VP, client SSDs, WDC. "The new WD_Black SN770M NVMe SSD boosts available storage up to 2TB (2) and is specifically designed to handle the peak performance of demanding games for handheld gaming PCs."
The WD_Black SN770M NVMe SSD in M.2 2230 form-factor gives consumers a way to expand their handheld gaming PC internal storage so they can take their game library anywhere they go. By offering a range of capacities, consumers now have more options to expand their game libraries, with up to 2TB (2) of WDC TLC 3D NAND. This new drive also offers an immersive experience with gaming features including PCIe Gen 4.0 (3), the company's nCache 4.0 technology, and Microsoft's DirectStorage support. This is an option to supercharge compatible handheld devices, such as the Asus ROG Ally, with speeds up to 5,150MB/s (1) (1 and 2TB(2) models) for quick game installations and level loads.
"The ROG Ally takes handheld gaming to new heights. AAA game titles reach over 150GB in size, so play more of your best games by expanding your internal storage with the WD_Black SN770M, a gaming-optimized mobile SSD for the ROG Ally," said Shawn Yen, VP, gaming, Asus.
"Our Ryzen Z1 Series processors are advancing the future of handheld gaming. The latest WD_Black SN770M NVMe SSDs will be yet another example of how AMD is working with leading partners to redefine the mobile gaming landscape," said Renato Fragale, senior director, product management, AMD. "Together, we are expanding the handheld gaming ecosystem by creating a new generation of powerful, portable, and affordable systems that deliver an exceptional experience no matter where you game."
The WD_Black SN770M NVMe SSD is available in 500GB, 1, and 2TB capacities (2) and features the company's 5-year limited warranty.
The 500GB is available for purchase on the firm's online store, etailers, retailers, and resellers for $74.99 (U.S. MSRP).
The 1TB is available for purchase exclusively on the company's online store and at Best Buy for $109.99 (U.S. MSRP).
The 2TB is available for purchase exclusively at Best Buy for $219.99 (U.S. MSRP).
click to enlarge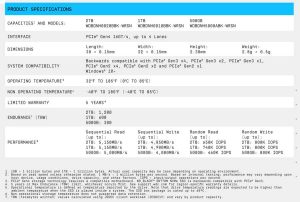 (*) Source: Gartner, Semiconductors and Electronics Forecast Database, Worldwide, 2Q23 Update, 30 June 2023.
(1) 1MB/s=1 million bytes per second. Based on internal testing; performance may vary depending upon host device, usage conditions, drive capacity, and other factors.
(2) 1GB=1 billion bytes and 1TB=1 trillion bytes. Actual user capacity may be less depending on operating environment.
(3) PCIe Gen 4.0 storage technology requires a compatible motherboard. WD_Black SN770M NVMe SSD is backwards-compatible with PCIe Gen3.
Read also :