History 2003: Horoscope 2003
StorageNewsletter.com decided to consult a psychic.
By Jean Jacques Maleval | September 19, 2023 at 2:01 pm
Why pay thousands of dollars for exclusive market research? StorageNewsletter decided to consult a psychic. Looking into the crystal ball, you wouldn't believe the things that are going to happen this year!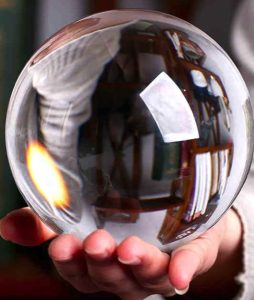 The number of HDD makers will go down from 8 to 6. Castlewood Systems will disappear and Fujitsu will sell its activity to a competitor.
Independent disk head maker Read-Rite or disk media producer Komag will be acquired by a disk drive manufacturer.
Seagate and Maxtor will enter into 2.5-inch HDDs.
Still no holographic disk drive reaches the market.
By the end of 2003, nearly all PCs will be equipped with Serial ATA drives and USB 2.0 interfaces.
Seagate and/or Maxtor decide to drop SCSI hard disk drives, while Hitachi Global Storage Technologies ceases in desktop units.
The Travan tape format disappears.
SDLT continues to lose market share vs. LTO, but perks up a bit at the end of the year, thanks to a 300/35 drive, the SDLT600. The big winner of the year: Sony's S-AIT (500/30), that will be OEMed by Dell and Sun, and adopted by virtually all the library manufacturers.
Philips and Sony leave the DVD Forum to found the Blue-ray DVD Consortium.
More disk-to-disk and less disk-to-tape backup.
First announcement of a library with removable HDDs.
The market for wireless storage will still be non-existent.
IT budgets continue to be restrained during the first half of the year, with users preferring to replace their disk drives with higher capacity models or adding low cost DAS configurations.
Lots of price pressures on storage software; a number of users renegotiate their contracts downward.
With its new Windows.NET Server 2003, Microsoft will begin to be a significant player in enterprise storage software.
At the end of the year, Cisco will be the leader in high-end intelligent director switches, just ahead of McData and Brocade, which may merge.
A lot of storage start-ups disappear, a few are lucky enough to be acquired, and very few new ones appear.
Lots of acquisitions: Auspex and Astrum Software by unknown companies, Bocada and Legato by EMC, FalconStor by Fujitsu, DataCore by Hitachi, Dot Hill by Sun, Exabyte by a Japanese company, Distrilogie by Bell Microproducts, and Comdex by CeBIT.
EMC is not acquired, neither by IBM nor by Sun.
IBM does not separate its server and storage divisions.
Seagate Technology will not go private again. Shares tank at $4.53, just after the LBO investor group, Silver Lake Partners, sells 65% of their stake. Shares settle at $7.13 in the late 3CQ03.
The new Symmetrix 6 does not enjoy the success of its predecessors. EMC tries desperately to woo back former CTO Moshe Yanai, but the latter refuses all offers and remains in Israel.
With pressure from users, iSCSI gains momentum.
The words "interoperability" and "open" still haven't been struck from the storage industry vocabulary, and still don't mean anything.
John Toigo publishes another book on storage, but we're still waiting for one from Jim Porter; Steve Duplessie saves the life of yet another storage executive, who had been enlisted to help the U.N. with Gulf War II in Iraq; IDC's John McArthur becomes senior VP at Dataquest/Gartner; Bob Peyton, IDC's director of European storage research, still refuses to leave his remote mountain village of Filzmoos, Austria.
EMC's demo's a connection between 2 Symmetrix via an FC-to-Sonet WAN from Hopkinton, MA, to Hopkinton, MA. What's the catch? The connection goes around the world.
DataCore's CEO George Teixera drives around in his new Porsche car, the one EMC refused with DataCore's wager.
Former Microsoft COO Rick Beluzzo leaves Quantum to become CEO of Veritas.
Mark Lewis will not return to the new HP, but will be promoted from CTO to CEO of EMC. Interviewed on the subject, HP's storage VP Howard Elias declares: "I can't comment on that."
Gigastorage's Bisser Dimitrov is finally found guilty, condemned to 6 months prison and €200,000. He appeals.
Removable storage specialist Iomega adds to its catalog a VHS VCR than can record computer data as well as movies to its catalog. But the proprietary VHS cartridge (20MB, 30s to 4mn access times) costs $30 a piece.
After taxing writable CDs, DVDs and HDDs, the French Minister of Culture rolls out new duties on flash keys, high-end servers and mousepads.
Al Shugart chooses not to enter his dog Ernest in the 2004 Congressional elections, but opts instead for his cat, Whiskers.
J.-J. M.
This article is an abstract of news published on issue 180 on January 2003 from the former paper version of Computer Data Storage Newsletter.