Data Management Professionals South Africa Recognised as Commvault Authorised Support Partner
For technical competency
This is a Press Release edited by StorageNewsletter.com on September 19, 2023 at 2:01 pm
Data Management Professionals South Africa (DMP SA) has been recognised for their superior technical competency and has met the stringent requirements necessary to be recognised as a Commvault Authorised Support Partner (CASP).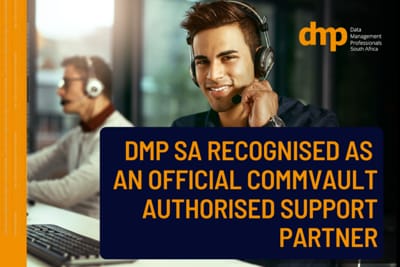 This accreditation is awarded due to DMP SA's skills and specialisation, enabling the company to offer complete Commvault solutions and services, from design and deployment to 24/7/365 support and managed services.
"As a Commvault Elite partner, the CASP accreditation was a natural progression, as it is important for us to be able to provide the highest levels of support and professional services. While we have always had access to the necessary skill sets through our close relationship with Gabsten Technologies, who is also a CASP, achieving this level of competency allows us to fulfill this role independently as well. We invest extensively in skills development and technical excellence, and are proud to have achieved this milestone recognition from Commvault," says Iniel Dreyer, group MD, DMP SA.
To become certified as a CASP, it is necessary to have a minimum of 5 certified engineers and to maintain a SLA of solving at least 70% of customer cases without escalating to Commvault. In addition, monthly reporting must be submitted to ensure that these requirements are continuously met. Partner tier status is also reviewed every 6 months. This gives customers peace of mind that the service being delivered by DMP SA is of high caliber and that the company has the necessary skills and knowledge to render support and services for the Commvault platform. Over and above these requirements, DMP SA also offers 24/7/365 support, ensuring that help is always available.
"Over the years we have built our reputation and grown alongside Commvault in South Africa. It is an important part of our strategic model to continue to invest in our skills around their products, to ensure we can continue to fulfill the role of trusted advisor for our customers and offer them the right service and support structure. DMP SA is now a truly empowered one-stop data management provider, with all the formal accreditation to demonstrate our commitment and competence to our customers. Our end-to-end data management solutions offering now incorporates the full value chain from sales through to project scope, deployment, and post-deployment support," Dreyer concludes.
Read also :