OVHcloud US Launches Nutanix on OVHcloud Solution
US customers can bring existing Nutanix licenses onto dedicated OVHcloud US infrastructure.
This is a Press Release edited by StorageNewsletter.com on September 15, 2023 at 2:01 pm
OVHcloud US LLC has launched Nutanix on OVHcloud Bring Your Own License (BYOL) service, providing pre-configured Nutanix Cloud Platform on its dedicated servers in a few hours.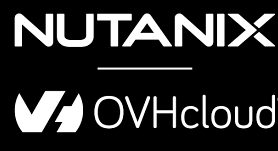 Nutanix enables OVHcloud US hybrid multicloud solutions and expands its Hosted Private Cloud offerings for faster migration from on-premise to the cloud on a scalable, performing, and easy-to-use private cloud platform. Available in US data centers, customers can bring their existing Nutanix licenses onto dedicated OVHcloud US infrastructure with a pre-configured, hyperconverged environment on OVHcloud US' most powerful Nutanix-qualified High Grade HCI range of servers.
Designed for organizations that need to extend application deployments to the cloud or would like to implement a hybrid multicloud cloud strategy, Nutanix solutions are interoperable by design. The Nutanix on OVHcloud cloud solution enables users to transition their legacy architecture to the Nutanix Cloud Platform and experience flexible and powerful infrastructure for better performance, and resilience, and deploy highly scalable environments based on seasonal infrastructure peaks.
The Nutanix Cloud Platform provides a consistent cloud operating model with a single platform for running applications and data across hybrid multicloud endpoints. To best support application deployments from mission-critical workloads to AI-driven innovation, performance, and capacity to scale linearly, resilience is delivered from the ground up with self-healing nodes, and natively integrated persistent storage.
"Customers are looking for a single platform to run applications and data anywhere," said Lee Caswell, SVP, product and solution marketing, Nutanix. "Nutanix on OVHcloud delivers customers even more choice when looking for a simplified solution that delivers the performance, flexibility, and scalability to support the most mission-critical workloads."
Nutanix on OVHcloud's Hosted Private Cloud also gives customers access to additional OVHcloud US products, such as vRack for private network in a global multi-datacenter environment, native anti-DDoS on all entry points, and free public egress/ingress bandwidth to support BC and DR plans for critical workloads and applications.
Customers can leverage Nutanix's native DR features between their on-premises infrastructure and OVHcloud data centers without the need to maintain or purchase a secondary site and will benefit from OVHcloud data centers as DR sites for their automated failovers.
By leveraging vRack, customers can also seasonally scale by connecting Nutanix clusters to other services to run additional workloads, including bare metal, private cloud, and public cloud offerings. This allows organizations to use this solution to manage their peak loads in the cloud without relying on high-cost, hard-to-maintain, on-premises infrastructure.
"We believe in an open cloud, and our new solution in partnership with Nutanix provides our customers with just that," said Jeffrey Gregor, OVHcloud US GM. "Nutanix on OVHcloud solution supports organizations in making the best cloud strategy for their companies and is further supported by OVHcloud US' honest and transparent approach with our customers. With OVHcloud US being vertically integrated and having our own private network, we can provide our customers with predictable pricing and no ingress/egress fees, allowing our customers to fully embrace this new solution, without the risk of an unpredictable monthly bill for moving their data."