UltraBac Software Supports IBM TS1170 Tape Drive
Up to 150TB compressed capacity on cartridge
This is a Press Release edited by StorageNewsletter.com on September 14, 2023 at 2:01 pm
UltraBac Software announces support of IBM TS1170 high density tape drive and 3592 JF1 native capacity 50TB tape cartridge.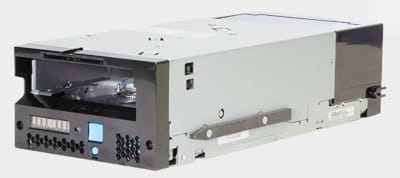 With the TS1170's built-in hardware compression a single 3592 JF tape can hold up to 150TB with an average 3:1 compression ratio.  When UltraBac is used with the TS1170 in autoloaders, amounts of data spanning multiple tapes can be protected in a single backup job or for multiple backup jobs without clearing the media.
UltraBac provides native tape backup of individual files, folders, partitions and/or block based image backups for bare metal DR with dissimilar hardware restore directly to tape. Tapes can be restored from anywhere in the world using a no charge copy of the company. Supported formats include full, incremental and differential backups with optional 256 bit AES encryption.
It should be noted that aside from inexpensive storage, a major benefit of using tape for backup is unrivaled onsite immutability for the ultimate protection vs. ransomware infections. Additionally, the firm supports media pools to inhibit accidentally using a tape from a protected set.
For users reluctant to use tape for primary storage, the vendor offers UltraCopy for hybrid tape backup that provides 2 levels of DR protection.  With UltraCopy, a user can perform backups to local storage (e.g. UNC/NAS/SAN) and then duplicate the backup to tape. As an example, an admin could schedule 50 server backups to NAS and upon completion (which releases held resources) have UltraCopy concatenate the 50 individual backups to tape as one new backup. This creates both an online index for direct tape retrievals and writes the index to tape so restores can be made from any Windows machine by reading the index from tape to perform immediate restores, BMR operations, or P2V/V2V/V2P migrations.
Download a 30-day evaluation at www.ultrabac.com
1 Fujifilm has commenced production of a high-density tape cartridge for use with IBM TS1170. The 6th-generation IBM 3592 JF tape cartridge incorporates a newly developed technology featuring fine hybrid magnetic particles to enable higher capacity.