Qsan XCubeSAN & XCubeNAS Series Achieves Veeam Ready Repository v12 Certification
v12 update introduces security features designed to safeguard vs. cyber threats.
This is a Press Release edited by StorageNewsletter.com on September 13, 2023 at 2:00 pm
Qsan Technology Inc. announces that Qsan XCubeSAN and XCubeNAS solutions have both been certified by Veeam Ready Repository v12.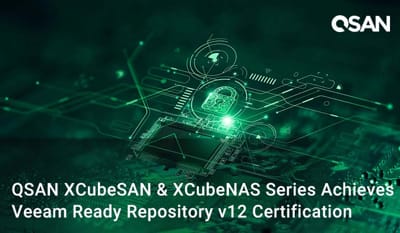 This achievement solidifies Qsan's commitment to delivering solutions that exceed industry standards and empower businesses with elevated data protection and security standards.
Veeam continues to make strides in improving its security measures vs. the improving ransomware and hacker attack landscape. The integration of VeeaMover ensures that Qsan customers can migrate their data, especially direct-to-object storage, from on-premises to object storage without disrupting the connection with corresponding backup jobs.
The v12 update introduces a host of essential security features designed to safeguard vs. cyber threats. With trusted immutability for every workload, Veeam guarantees that backups remain restorable even in the aftermath of a cyberattack. Enhanced cyber resiliency is achieved through Veeam ONE, which selectively restores clean data while incorporating improved secure restore mechanisms. Automation and proven recovery orchestration fortifies businesses across various workloads.
With the XCubeNAS and XCubeSAN products, businesses can navigate the modern digital landscape, knowing they possess reliable, certified solutions that counteract cyber risks.
Read also :