Culture of Innovation and Technical Achievement at Ampex
Founded in 1944 by Russian émigré Alexander M. Poniatoff and his partner T.I. Moseley
This is a Press Release edited by StorageNewsletter.com on September 12, 2023 at 2:01 pm
This article was written by Peter Hammar and Bob Wilson.
Welcome to Ampex History
A Culture of Innovation and Technical Achievement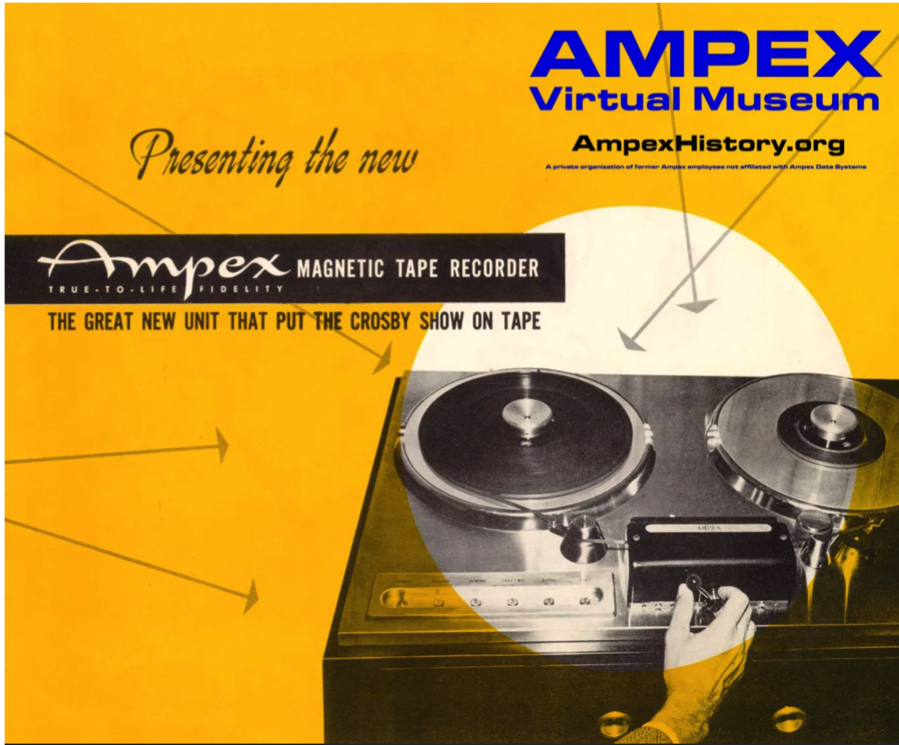 What's the connection between legendary singer Bing Crosby and Atari video games? Or the first home stereo audio and the Pixar movie, Toy Story? Or Stanford University and the videocassette recorder? Or the microwave oven and Dolby theater sound?
The connections between these and many other seminal technical achievements can be traced, in part, to one pioneering company in Redwood City, CA, Ampex Corporation.
This website and a new and vibrant technology exhibit and learning center at the San Mateo County Museum in Redwood City, CA, will celebrate the area's innovative genius, featuring Ampex and its famous pioneering alumni and their companies that continue to drive new technologies in Silicon Valley and in the rest of the world.
Ampex was founded in 1944 by Russian émigré, Alexander M. Poniatoff, and his partner, T.I. Moseley, as a subsidiary of Dalmo-Victor Co. in San Carlos, CA. The small start-up company built compact motors and generators for Dalmo's airborne radar sets used during World War II. At war's end in 1945, looking for postwar products, the 2 founders focused on Poniatoff's greatest area of interest, high-fidelity professional audio.
Poniatoff sought advice from people in local companies and universities who helped him find the talent that eventually transformed Ampex from a small wartime equipment maker into a major international force in electronics and one that "seeded" the creation of other important Silicon Valley start-ups and their key technologies.
Stanford University professor Frederick Terman is often cited as one of the "fathers of Silicon Valley". His engineering students, Russell, and Sigurd Varian invented the klystron tube, the basis for advanced radar and all microwave ovens. During World War II, the Varians' compact klystron design enabled for the first time airborne radar-lightweight Dalmo-Victor sets relying on parts designed and built by Ampex.
Motor expert Myron Stolaroff, a former Terman student, provided Poniatoff with key design ideas for the company's first postwar product, the Ampex Model 200, America's first professional audiotape recorder, introduced in 1947 to great fanfare in Hollywood. Other talent helping make that first product a success included Lawrence Berkeley Labs alumni Walter Selsted, who later became the company's VP engineering, and audio expert Harold Lindsay. Poniatoff's friend Charles Litton of Litton Industries in San Carlos (now Northrop Grumman), connected him with other engineering talents for key roles in future Ampex research and product development.
Earlier in 1947, film, radio and recording star Bing Crosby had provided the struggling company with an unsecured loan of $50,000 to help them complete the development of the Model 200. Hz correctly believed the new, high-fidelity tape-recording technique would help his radio career. Bing Crosby Enterprises then became the exclusive West Coast distributor of Ampex audiotape machines.
Frank Sinatra and Bing Crosby in "The Edsel Show" from an October 13, 1957 Ampex Videotape recording remastered to 13 Type C by CBS Television City Engineer John Ramstadt in 1981.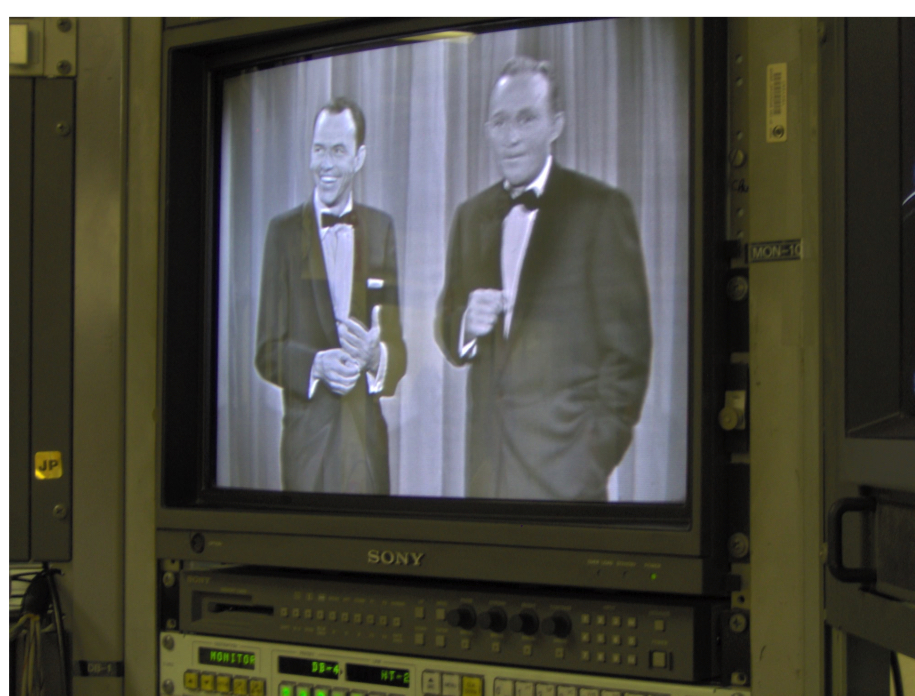 The successful 1949 Ampex Model 300 revolutionized recording in American broadcasting, film audio production, and in the recorded-music industry. It also led to one of the first magnetic-tape data recorders for military and civilian use, the Ampex Model 3000 series. From the Model 300 came the first multi-track, eight-channel professional audiotape recorder, designed by Ampex's Ross Snyder and popularized by "sound-on-sound" pioneer and guitarist Les Paul. The company's multitrack recording invention was later adopted by musicians and their recording companies worldwide.
Always looking for new audiotape applications, Ampex introduced in 1957 the first-ever commercial home stereo system, predating the stereo LP record-the Model 620 tape player and loudspeakers, based on their professional portable Model 600 recorder. The company also licensed music for Ampex-brand prerecorded stereo tapes to play on the new home stereo system.
In 1951, Ampex hired Charles P. Ginsburg to develop what would become the world's first commercially successful videotape recorder or VTR, starting with just one team member, model-maker Shelby Henderson. A year later, Ginsburg added to his R&D team Ray Dolby, a young Redwood City native. The group finally totaled just 6 members with the addition of mechanical wizard Alex Maxey, FM-signal pioneer Charles Anderson, and recording-head expert Fred Pfost. In 1956, the 6-member VTR team demonstrated the prototype of what became the Ampex VR-1000. The Emmy award-winning recorder started a tape-based revolution in TV broadcasting and video production.
The VR-1000 "quadruplex" transverse-scan VTR also led to the first helical-scan or "slant-scan" video recorder in 1961, the Ampex VR-8000, the technical basis for all later home and professional videocassette recorders (VCR). The company pioneered consumer videotape in 1963 with the Ampex Signature V, an expensive console system that opened the door to affordable home video from Japan a dozen years later, with Ampex patents enabling Sony's 1975 Betamax home VCR and the JVC/Panasonic VHS system.
Video producers today use various editing techniques to turn clips of "raw" footage into finished programs. The first versions of the Ampex (and later, RCA) VTRs lacked the ability to edit, only to record and playback with no breaks. Ampex engineer Joe Roizen invented the first mechanical editing device allowing the 2-inch-wide videotape to be precision-sliced and the various pieces taped together to create a finished show, including one of the most famous heavily-edited series, NBC-TV's "Laugh-In", with its dozens of quick cuts per show, all edited mechanically. Electronic editing from Ampex and others later became the standard for all video production. Soon after, Roizen and fellow video engineer Bill Barnhart developed Ampex's first color VTR.
After leaving Ampex, Dolby founded Dolby Laboratories in San Francisco, CA, developer of the Dolby Noise Reduction system for consumer and professional analog audio tape. For movie theater sound, the company introduced the analog Dolby Surround Sound system, followed by Dolby Digital (AC-3), Dolby Cinema, and Atmos. The company's theater-sound systems were logical continuations of Ampex's original 1953 Todd-AO 6-channel analog surround sound system that enhanced Mike Todd's Cinerama and Fox's CinemaScope widescreen theater experiences.
Almost every computer magnetic and optical disc recording system, including HDDs, floppy discs, high-density recorders, and RFID devices, owes its core technology to Ampex engineer Armin Miller, who developed "delay encoding", commonly called the "Miller Code", a 1963 Ampex patent. Miller left Ampex to start Data Disc Corporation, developer of metal-film HDDs and super-fast head-arm assemblies. Ampex VTR R&D team member Fred Pfost later joined Data Disc and then helped develop with former Ampex engineer Kurt Machein the world's first disc-based slow-motion/stop-action video recorder, the Mechatronics VDR-210. IBM further developed the Miller Code for their seminal Winchester drives.
Yet another Ampex spinoff, recording-tape manufacturer Memorex Corporation, later bought Data Disc. In 1961, Ampex executive Laurence Spitters had co-founded Memorex in Santa Clara, CA, with 3 Ampex engineers: Arnold Challman, Donald Eldridge, and Lawrence Noon. Memorex was one of many companies inspired to use the "ex" suffix for "excellence" that Ampex founder Alexander Poniatoff had originated.
Only in the 21st Century were audio, video, and data recording tape superseded by solid-state recording and computer servers, enabled in part by Ampex patents, the basis for today's growing "on-demand video" industry, led by local companies including Google/YouTube, Netflix, Facebook, and Apple.
Ampex's Oracle Project created new technologies based on relational databases, as well as imaging technology and error-correction methods later used on everything from consumer cameras to copiers and printers. With Ampex management's blessing, project team leader, Larry Ellison, along with Ampex engineer Robert Miner, left the company to co-found Oracle Corporation in Redwood City, CA, makers of advanced relational database systems.
Pioneering radio and television engineer James Gabbert, a Stanford grad and former Terman student and the first broadcaster in California to broadcast FM in stereo, started at Ampex designing tape recorders. Like Ray Dolby, who joined Ampex at age 19, he was one of many promising young engineers Alex Poniatoff brought under his wing.
Company engineer John Ryan left Ampex to co-found Macrovision Corporation, inventors of the anti-copy process for VHS and DVD and the PhaseKrypt scrambler for HDTV used to prevent video piracy. Macrovision became Rovi Corporation and merged with TiVO Corporation, while Ryan later founded Command Audio Corporation in San Mateo, CA, a precursor to Sirius XM Satellite Radio.
Ampex developed the first slow-motion/stop-action color video recorder/player for network television, the HS-100, using a hard-disk recording method originally developed for computers. The production version of the HS-100 was first used for ABC Television's coverage of the 1968 Mexico City Summer Olympics. In 1976, helical-scan videotape recorders from Ampex and others took over the task of slo-mo/stop-action still featured in TV sports coverage today.
The company partnered with the New York Institute of Technology to develop the Ampex Video Art system (AVA), used by ABC for the first time at the 1976 Montreal Summer Olympics. Participating engineers, Ed Catmull, and Alvy Ray Smith, went on to co-found with George Lucas the Lucasfilm Computer Division in Marin County, CA, and later co-founded Pixar Animation Studios in Emeryville. Pixar was subsequently acquired by Steve Jobs of Apple and full-length, digitally animated movies like Toy Story were born. Meanwhile, Ampex AVA engineer Glenn Entis co-founded Pacific Data Images (PDI), which later became PDI Dreamworks, producing full-length animated hits, including Antz, Shrek, and Madagascar.
In the 1980s, Ampex led the development of a digital video effects system for TV networks and producers. Ampex Digital Optics (ADO) mimicked expensive, film-based special effects. To the delight of TV producers and performers, ADO could instantly resize video images and add multiple layers to television pictures with no loss in quality. It quickly became popular with MTV and other music video producers, and on network programs such as The Tonight Show With Johnny Carson. Many at the time considered ADO something of a video-imaging miracle.
Ampex engineer Nolan Bushnell created a prototype of a video game with parts from the company's storeroom. He showed his invention to the Ampex chief engineer, who congratulated him, but suggested it was not a business. He left Ampex and co-founded Atari with Ampex engineer Ted Dabney. Atari helped ignite the video gaming industry. For assistance, Bushnell hired 2 young microcomputer experts, Steve Wozniak and Steve Jobs, who later co-founded Apple Computer.
Other Ampex spinoffs included Pinnacle Systems, makers of video production gear used in live production and in edit suites, co-founded by Atari Alumnus Ajay Chopra and run by Ampex alumnus Mark Sanders. Pinnacle later became part of Avid Technologies, a mainstay of Hollywood feature-film editing.
Abekas Video Systems in Redwood City, CA, inventor of many key professional video products, was co-founded by 3 Ampex alumni-Junaid Sheikh, Phil Bennett, and Yeshwant Kamath. Abekas is now owned by Ross Video, makers of video production equipment used by NBC, Univision, ESPN, Fox, and others. The Abekas A-62 digital disc recorder-the first-ever commercial DDR-was based on the Ampex "Pegasus" data/signal system, a DDR prototype based on the Ampex ESS-2 earlier used by Hanna-Barbera Productions for their cartoon production.
Throughout its history, Ampex has developed products for law enforcement and for nations defending their interests, with data recording systems used on land, sea, air, and in space. Early Ampex technologies starting as government-funded programs became commercial products, including image recognition systems that led to barcodes and relational databases, such as the Ampex Videofile system developed for Scotland Yard fingerprint recognition. Today, Ampex Data Systems, a small division of Delta Information Systems in Hayward, CA, supplies high-density recorders used primarily in the intelligence and defense industries, products based on original Ampex patents.
For the last half of the 20th Century, American and international broadcasters have benefitted from Ampex's major engineering achievements in video and audio. One notable company leader stands out: Charles A. Steinberg, who joined Ampex as an engineer and completed his service to the company as its president and CEO. The award-winning innovator has traveled all over USA and the world helping broadcasters achieve their vision of ever-better television, including ABC, CBS, NBC, PBS, BBC (UK), RAI (Italy), NHK (Japan), CCTV (China), ARD (Germany), and the CBC (Canada).
San Mateo County, Silicon Valley, and, indeed, the whole world owes much to a pioneering Redwood City company called Ampex, and its many talented people.
Editor's note: "Videotape" is an adjective, as in "the first videotape recorder", originally a trademark of Ampex Corporation that has since become a common adjective "Video tape" is the recording medium, as in, "2-inch wide video tape was used in the first videotape recorder." The same applies to "audiotape recorder" and "the recording medium of audio tape", following the "videotape" adjectival convention. Most corporate and trade names are not in "ALL CAPS", but rather upper- and lowercase, e.g.: Ampex, not AMPEX; Emmy, not EMMY; Dolby, not DOLBY; Sony, not SONY. However, the all-caps format may be used in headlines and signage, as long as all other letters are also in "ALL CAPS".
Presentation of Ampex History in association with Ampex OldTimers and The Quad Videotape Group