Flash Memory Summit: Vinpower Introduces USB-C Flash Drive that Supports iOS Storage Applications
Including iXflash, iXflash Cube, and upcoming iXCharger series
This is a Press Release edited by StorageNewsletter.com on August 8, 2023 at 2:01 pm
Vinpower, Inc. will be exhibiting its iXflash, iXflash Cube, and upcoming iXCharger series at the Flash Memory Summit on August 8-10, 2023.
iXflash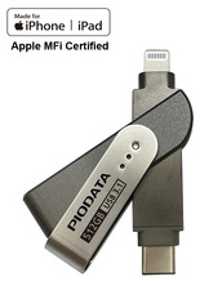 The iX series are storage devices that provide valuable backup for iOS devices but offer so much more.
Firstly, the latest version of the MFi licensed iXflash series offers a dual head, Lightning connection on one side and a true native authentic iOS supported USB Type C on the other. The Lightning connected side will continue to work with all supported iOS Lightning connected devices. However, with the EU mandating a USB-C port to become mandatory for all mobile phones and tablets in 2024, the iPhone and iPad will have to switch from a Lightning connection to USB-C connection in the near future. Currently, there are no other devices which offer a MFi USB-C connection that can natively work with an iPhone or iPad's internal APPs to access and backup internal content other than the firm's iXflash series. Other USB-C connected devices are limited to only accessing the iOS files app, whereas the iXflash's USB-C connection can access Photos, Contacts, Files, and more. This gives assurances that those who purchase an iXflash now, can rest assured that it will work with previous, current, and future iPhone and iPads.
iXflash Cube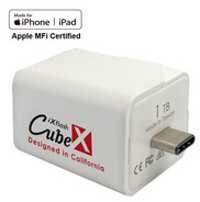 Next, the company will highlight the first of its kind combination hard drive and charger combo that works with virtually all cell phones, tablets, and laptops. This device will soon come with 2 versions wherein they will offer 65W or 100W PD fast charging capability while offering up to 1TB of digital storage with a USB-C connection that allows interchangeable cable connections to work with multiple devices. The iXCharger is a forward-thinking environmentally sustainable ESG product by reducing multiple charging and storage devices to a single product. It will offer the ability to share, view, edit, and store all content across multiple formats, including iPhone/iPad, Android cell phone/tablets, PC laptops, MacBooks, and Chromebooks. That way, user will never have to worry about whether user have a file user need or if charger will work with the device again. The iXCharger creates a single entity that handles all power and storage needs with reliability and security, one device for all.
Last, but not least, the iXflash Cube, which offers the Trust Circle secure feature as the ultimate in user data protection. Not only can the iXflash Cube provide automatic iOS backup functionality through company's proprietary App, but it can also ensure user's digital treasures are protected from being viewed or misused by those not in the Trust Circle's, circle of trust. Thus, user is protected even if iXflash Cube were to be lost or stolen.